When you shop through retailer links on our site, we may earn affiliate commissions. 100% of the fees we collect are used to support our nonprofit mission.
Learn more.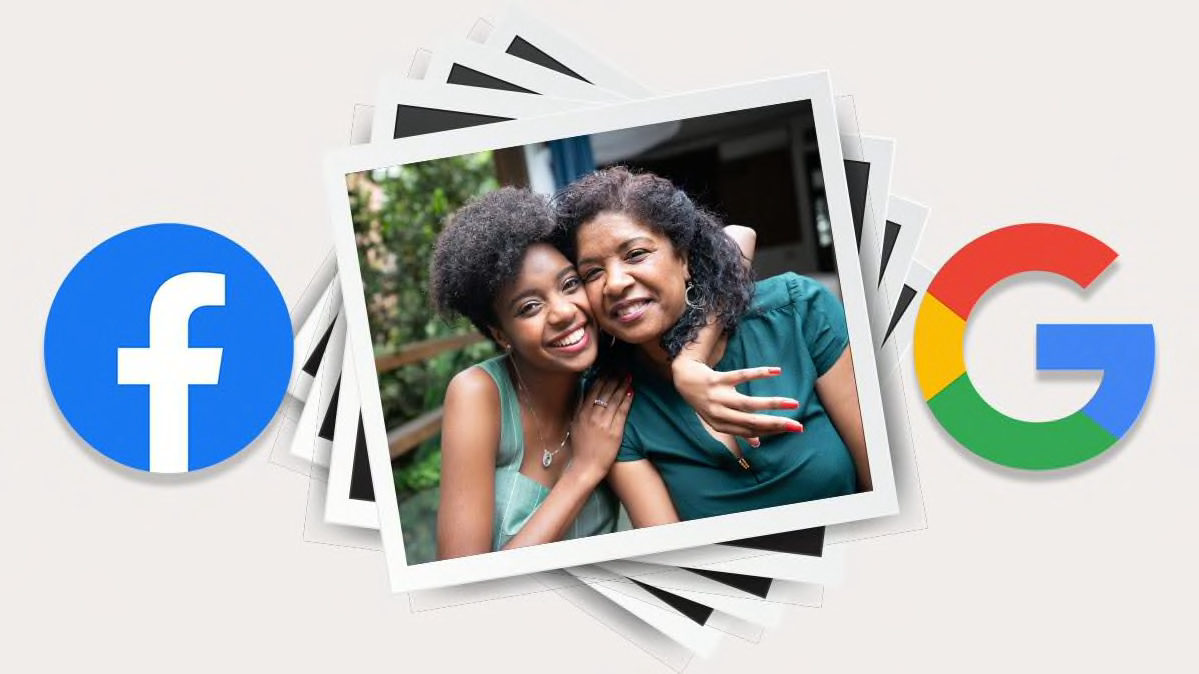 It's easier than ever to move your Facebook photos to a different platform. A tool recently updated by the social media platform lets you transfer photos and videos with a couple of clicks to Google Photos, Dropbox, or a smaller service called Koofr.
You've been able to download Facebook photos in a single batch for years, and it's always been easy to then upload a folder of files into services like Google Photos or Dropbox. But the new data transfer tool does the work for you. It's faster and more efficient. Perhaps most important, it keeps the photos organized the same way you have them on the social network, a useful feature if you've spent time sorting your pics.

There are a number of reasons you might want to do this. It's always a good idea to have a backup, and making a copy of your data is an essential step if you decide to quit Facebook for good.
Facebook started letting users send files to Google Photos in 2019, but the new options could appeal to established Dropbox users. Koofr, a cloud-storage service based in Europe, is most likely to attract overseas users. Among other security features, Facebook says it encrypts all photos stored on its servers. Facebook will add other services to the list soon, according to a company blog post.
To initiate the transfer, follow the steps below or go to Facebook to get started. (You'll be asked to log in or re-enter your password.)
In a desktop browser: Click the down arrow in the top right corner and select Settings and Privacy > Settings > Your Facebook Information > Transfer a Copy of Your Photos or Videos > Choose a Destination > Select the service you want to use > Select Photos or Videos > Next.
From there you'll be prompted to log in to your account on the destination service. Once you do, hit "Confirm Transfer" to get started.
During this process, you might get a security alert notifying you that Facebook has new permissions related to the account where you're sending your photos.
According to a Facebook spokesperson, Dina El-Kassaby, it won't have access to any information from the other accounts and will erase its record of the transfer within 90 days. You can revoke the permissions you grant during the process; just make sure you wait until the file transfer is complete. Adjust permissions anytime using your settings on Google, Dropbox, and Koofr.

The time it takes for the transfer may vary. It took close to an hour for around 100 photos from my Facebook account to show up on Google, but it was much quicker when I sent them to the other two services. The number of photos could affect the wait time.

You'll get a notification on Facebook when the transfer is done. Then you can log in to your accounts on the other services and view your photos or videos.

Your photos or videos will be sorted in folders with names that mirror how they're arranged in your Facebook account. The image quality in the photos and videos will be the same as they were on Facebook. Google limits image quality unless you pay for an upgraded account, but Facebook downgrades high-quality images in the first place, so this won't be a problem.
You'll want to keep the storage limits on other services in mind. Free accounts on Dropbox and Koofr get just 2 gigabytes of storage. Google gives users a combined 15 gigabytes of storage space across a single Google account, including services such as Google Drive and Gmail. (You do get more free photo storage if you have the Google Pixel smartphone.) If you have a ton of photos on Facebook or a particularly full account on the destination service, you might not be able to transfer your files.
The photo-transferring feature is a small step toward data portability, the ability to easily move your data from one service to another. It's a big topic for groups advocating for consumer rights in the U.S. "At Facebook, we believe that if you share data with one service, you should be able to move it to another," the company wrote in a blog post. "We want to build practical portability solutions people can trust and use effectively."
But Facebook isn't yet providing a way to transfer your network of friends and how you've communicated with them to another platform.
If you want to move your photos or videos to a service other than Google, Dropbox, or Koofr, you'll need to download them onto your computer, then upload the files manually. That's not hard to do, but it takes a few extra steps.
The files won't be available from Facebook immediately, but you'll get a notification once they're ready to download.
In a desktop browser: Click the down arrow in the top right corner and select Settings and Privacy > Settings > Your Facebook Information > Download Your Information > Select Photos and Videos > Create File.