When you shop through retailer links on our site, we may earn affiliate commissions. 100% of the fees we collect are used to support our nonprofit mission.
Learn more.
The digital photography revolution has dramatically improved the art of picture taking. It's allowed us to shoot scores of images, see the results without delay, and edit, crop, or manipulate our work on a computer. But the tech has a downside, too.
It has all but destroyed the old-school pleasure of sifting through a stack of photos. For many of us, that's not part of the equation anymore. Prints don't even end up in that shoebox in the attic. They're simply consigned to cyberspace.

Maybe that explains why we're witnessing a renewed interest in the instant camera—a sudden longing for the days of the Polaroid picture. The new cameras, which include a Polaroid, do not use the same analog technology to produce prints, but the effect is the same: You snap (or scan) a photo and then have the device spit out a print.
To see what all the fuss is about, we bought three instant cameras (ranging in price from $80 to $160) and a $160 instant scanner/printer.
The Bottom Line: Although we didn't formally test the models in our labs, it's clear they don't deliver very high picture quality (see the side-by-side image at the end of the article), performance, or versatility. But they are fun to use. And they do gratify your snapshot cravings.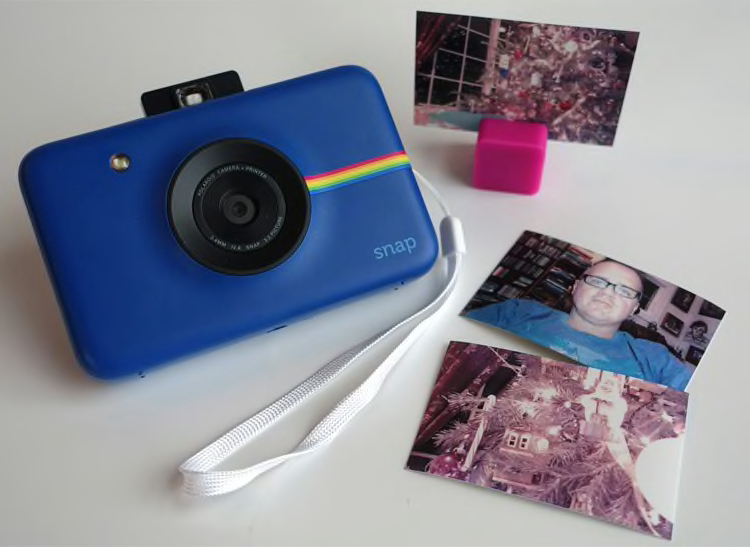 Polaroid Snap (Instant Print Essential Bundle), $100
Before you begin, you'll need to charge it (via a USB cable to a computer). You'll also need to load the Polaroid Zink (Zero Ink technology) paper, which will record your image. Set up is pretty straight-forward. Just make sure the paper is loaded correctly.

To turn the camera on, you flip up the viewfinder (a basic optical viewfinder like those on the two cameras below). On top of the camera, you have several controls: one that lets you switch between black-and-white, color, and sepia prints; another that lets you decide if you want a border; a self-timer button; and a shutter button.

Of the four cameras I looked at, this one produced the most disappointing images. All were grainy. The colors were not very vibrant and the tones could have used more contrast.
The camera runs on rechargeable, non-removable batteries. It comes with 10 sheets of Zink paper and six brightly-colored rubber cubes, which function as stands for displaying your photos.
Fujifilm Instax Mini 8 Film Camera (Orange), $80
The first thing that struck me about this camera was the cool design. I like the bold colors (orange, pink, and red), and the funky look. The all plastic body was a little disconcerting, though. I worried about what would happen if I dropped it. (Sturdiness seems to be an issue with the other cameras, too.)
Setup was so easy I was up-and-running pretty quickly. And yet, despite its basic functionality, the camera does offer five exposure settings (depending on the brightness of the scene), including sunny to "Hi Key." Overall, it performed better in bright light than in dim situations.
The camera uses 2 AA batteries and shoots with Fujifilm Instax Instant Film.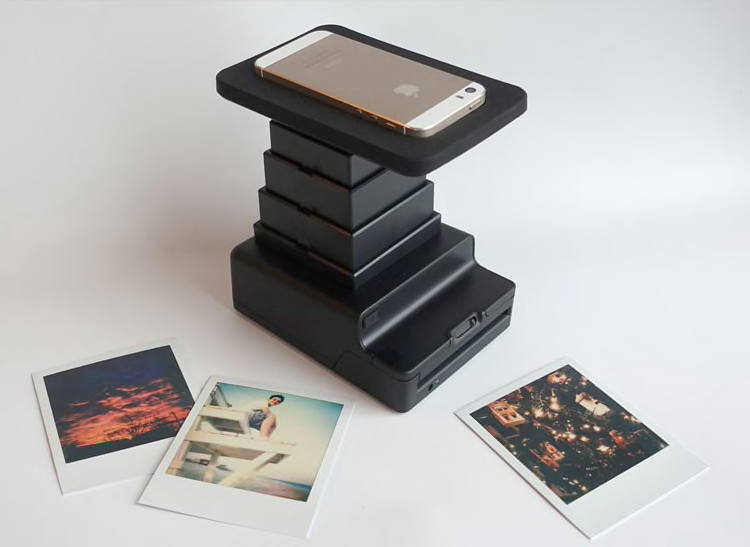 Impossible Instant Lab, $160
This one is actually a scanner that allows you to print images directly from your smartphone. And, of all the devices I tried, it produced the best result, perhaps because it relies on the decent camera found in your phone.
Here's how it works: To get started, you need to download an app on your phone. Next, open the app and follow the instructions, which includes choosing the photo you'd like to print. Then extend the lab's tower to its full, upright position, and lay your phone, face down, on top of the unit. And, finally, follow the instructions to produce the image.
I loved the audio guide, which walked you through the steps. The voice-over actor spoke with an artsy, German accent, which makes it feel a little like you're creating an Andy Warhol Polaroid! I also thought the images looked pretty decent, although they were slightly washed out and could have used more vibrant color.
The Impossible Instant Lab is powered by a USB cord, which you can connect to a computer. You need the Impossible Project App to properly orient your images on your mobile device. The prints appear on 3 1/2" x 4 1/4" Polaroid paper. (There are a number of color or black-and-white films to choose from.)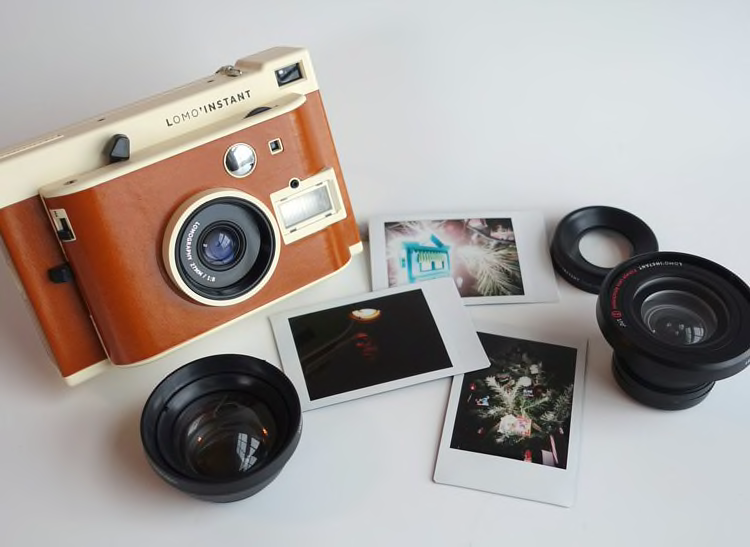 Lomography Lomo'Instant Camera (Sanremo), $160
Lomo film cameras (and lomography) have been around since the early 1990s. (There's actually an international Lomographic Society dedicated to experimental snapshot photography.) In fact, the company's logo is "The Future is Analog."
Its offerings include an array of low-end/low-tech cameras that shoot on film. So, it's no surprise that an instant model has been added to the mix.
Overall, I liked the variety of features available on this camera. It even comes with three additional lenses for close-ups, portraits, and fisheye images. But they're all made of plastic, so you need to be careful not to strip the threads when installing them.

The camera also has three shooting modes (two with the on-board flash and one without) and an exposure compensation mode with five settings. There are options for night shooting, long exposures, and even multiple exposures. And if you're into shooting selfies, there's a self-portrait mirror on the front of the device.
The camera requires 4 AAA batteries, and, like the Fujifilm camera, it uses Fujifilm Instax Instant Film.