When you shop through retailer links on our site, we may earn affiliate commissions. 100% of the fees we collect are used to support our nonprofit mission.
Learn more.
If you bought a digital camera in the past decade, chances are it stores its images on an SD—short for Secure Digital—memory card. At first glance, these postage-stamp-sized devices don't appear to have changed much over the years. But cameras have changed a lot, and SD cards are now faster and can hold more data than those from just a few years ago.
"Video has been the driving force in the demand for more capacity on memory cards," says Brian Pridgeon, director of consumer marketing at Western Digital, parent company of SanDisk, which makes many different types of memory cards.
A decade ago, for example, an 8GB memory card would have cost about $100. Today, you can buy a 128GB card—with 16 times the capacity—for about the same price. Or buy a 32GB card that's four times the size for as little as $10.
Video-Driven Innovation
Memory cards have been changing in others ways, due partly to shifting standards, particularly in terms of video capture. Before you buy a new memory card you'll need to consider how much video you'll be shooting, and in what format—HD or memory-intensive 4K.
The first step is to figure out what card format your camera or smartphone accepts, which can usually be found in the owner's manual or on the manufacturer's website.
There are three SD formats: SDXC, SDHC, and SD. If you shoot video, you'll most likely need an SDXC card, which is the newest type and has a maximum capacity of 2TB—which is huge.
SDHC cards have a capacity ranging between 2GB and 32GB—bigger is better if you're shooting video. SD is the oldest format and has a maximum capacity of just 2GB, so it's primarily used for still photos.
Some devices, such as smartphones and tablets, use smaller Micro SD cards for storage. These tiny cards usually come with an adapter that allow them to be used in devices that take full-sized SD cards. The same specs apply to these cards as to their larger brethren.
Though you can buy SD cards in the drugstore or even a supermarket, you're likely to get a better value and selection if you shop at a camera shop or an electronics store. If you're not sure which card you need, you might bring your device with you when you shop.
If you're shopping online, beware of counterfeits. Some consumers have been fooled into what seemed like a great deal on a fast 32GB card only to find out that it was a re-labeled 8GB card that just didn't work. If you're ordering from Amazon, protect yourself by making sure the product is shipping directly from the manufacturer rather than from a potentially sketchy third-party vendor.
Full to Capacity
To find out how a pro shooter uses memory cards, I asked Michael Rubenstein, an editorial and advertising photographer based in New York. He suggests that consumers should first focus on capacity: "For most people, a 32GB or 64GB memory card should be just fine," he says. A midsized card should be able to capture hundreds, even thousands of photos, and scores of video clips.
However, if you shoot with an SLR or mirrorless camera and you want to shoot RAW files, which can yield the best quality images but are larger in size than JPEGs, you'll either need to buy a larger card or several smaller ones and be ready to swap them as they fill up.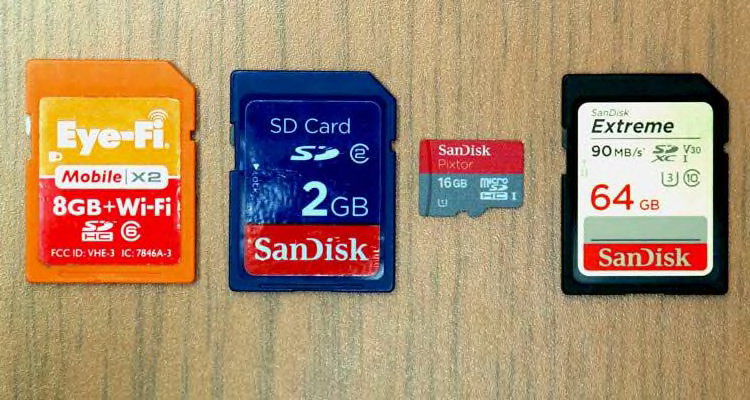 If you shoot video, you can run up against real-world storage limits that could affect your shooting. For example, you can capture 80 minutes of HD video on a 32GB card, but that same card can hold roughly a quarter of that—about 20 minutes—if you shoot 4K (or ultra HD resolution) video.
The Need for Speed
Because some of today's most sophisticated still cameras, like the Sony a9, can fire off up to 20 frames per second, manufacturers have increased the speed of newer memory cards. "The higher the megabytes per second (MB/s), the faster the card will be," Pridgeon says.
Card speed is made up of two components: write speed and read speed. Write speed determines how quickly the card can capture and transfer an image or video file from the camera to the card. High write speeds can be helpful if you have an advanced camera that can fire off many frames at one time.
"A lot of SLRs and mirrorless models now can shoot in burst mode, which means when you hold the shutter down, it'll capture as many images as possible," Pridgeon says. He explains that all of those frames are first temporarily stored in the camera's internal memory, known as a buffer. The camera then writes the data from those photos on to the memory card. But a camera that's shooting in burst mode needs to transfer this data very quickly and efficiently, which is why having a fast card is important. "The card needs a fast write speed in order to keep that buffer from jamming up," he says.
Read speed is the second component of card speed. "This spec, which is also measured in megabytes per second, refers to how quickly you can offload the content off your card on to your computer or other device," Pridgeon says. The fastest memory cards have maximum write speeds up to 260 MB/s and read speeds up to 300 MB/s.
You won't always see both figures listed, and sometimes it's hard to tell them apart. Check the product website for both speeds before you make your purchase.
The Right Specs for Great Video
If you're shooting video, you also need to consider a card's sustained speed. But the problem is that there are three different specs that more or less mean the same thing. "This is confusing," Pridgeon says. "But if you're shooting HD video, you need at least 6 MB/s." If you shoot with a slower card, your video quality will be compromised, if it records at all.
Despite the hard-to-decipher specs, here's what consumers need to know to shoot either HD or 4K video:
If you're shooting HD-resolution video, your memory card should be at least a Class 10, U1, or V10—all of these have a minimum sustained speed of 10 MB/s.
If you're shooting 4K-resolution video, your memory card should be at least U3 or V30. Both of these have a minimum sustained speed of 30 MB/s.
Check the Card's Warranty
If you're looking to buy a new memory card for your older digital camera, check the device's documentation to see what type of memory card it accepts. Although newer SD cards are backward compatible, they may be limited by the camera's capabilities.
That means you might not be able to access all of the storage capacity on the card. For example, if you insert a 128GB SDXC-type memory card into an older camera, it may allow you to use only 32GB of storage.
Last, check your card's warranty. For a pro shooter like Rubenstein, this is essential. "Most decent memory card manufacturers guarantee their cards for a long time. Some for life," he says. "If they break, send them back, and they will send you new ones. I do it all the time."
However, if your cards do break, in most cases you'll be unable to recover the data from them. That's why it's important to back up your images frequently, even if you have a big SD card in your camera.