How to Use Ring's Control Center for Better Privacy and Security
CR explains how to use the Control Center settings, including the ability to opt out of law enforcement video requests Ring makes some of the most popular home security products on the market.
In fact, its namesake video doorbells are so popular that 53 percent of Americans who own a video doorbell own one made by Ring, according to a nationally representative CR survey (PDF) of 1,142 U.S. adults conducted in January 2020.
But Ring and its parent company, Amazon, have been facing some controversy. Amazon has come under criticism for the use of video from consumers' Ring devices in connection with law enforcement partnerships.
Digital rights groups such as Fight for the Future have joined with social justice groups such as Color of Change to challenge the law enforcement program as unfairly targeting communities of color and have asked media outlets including Consumer Reports, CNET, and Wirecutter to rescind their recommendations of Ring products.

Ring has also been the subject of hacked user accounts and multiple security vulnerabilities. Those incidents prompted Ring to create a privacy and security dashboard, called Ring Control Center, which became available to users in early 2020.
The Control Center lets you opt out of law enforcement video requests, and it can also turn off Neighbors by Ring, the company's neighborhood watch-style social network. It can also help you determine whether a hacker has logged on to your account, as well as which devices, such as computers, smartphones, and tablets, are logged in to your account.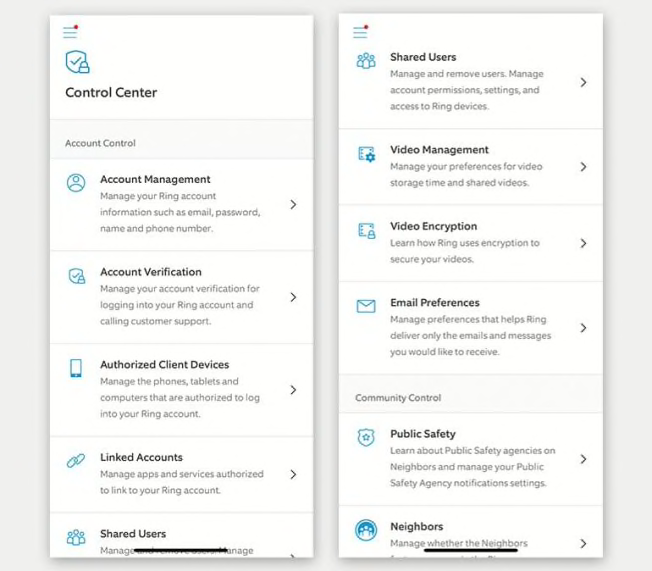 Other features include the ability to view and remove linked accounts for products and services connected to your Ring device (such as digital assistants like Amazon Alexa), mandatory two-factor authentication for all users, end-to-end encryption for select cameras, and settings for adjusting how long your videos are stored by Ring.
1. Check Account Verification Settings
Two-factor authentication (2FA) is mandatory for all Ring users. That means anytime you attempt to access the Ring app, you'll be prompted to enter a randomly generated secondary passcode, which can be sent to your phone via an SMS text message or to the email address associated with your Ring account. You'll need to input a new secondary passcode from your phone or email each time you log on to your account.
From the Account Verification page in the Control Center, you can change whether 2FA secondary codes are sent via text message or email. It's good to make sure Ring is using the method you prefer and not sending the codes to a phone number or email address that you no longer use.
You can also use this page to generate a verification code for Ring Customer Support, which allows Ring to temporarily access your account information if you have a technical problem.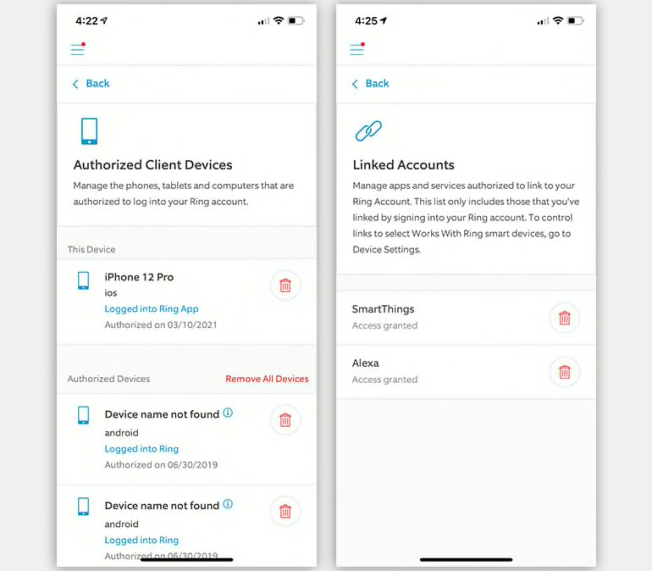 3. Review Your Linked Accounts
Linked accounts are for third-party smart home devices and services that connect to Ring products, such as a Schlage Encode smart lock or the Amazon Alexa digital assistant. This setting lets you view the third-party accounts that are linked to your Ring account. If you see any that you don't recognize, or even old accounts that you no longer use, revoke their access by tapping the red trash can icon. It's a good idea to remove old linked accounts because if they're ever hacked, people could potentially view your live camera feeds without actually breaking into your Ring account.
5. Check Video Management Preferences
Ring lets you store your video recordings online through its Ring Protect subscription service ($3 per month for one camera or $10 per month for unlimited cameras). By default, your videos are stored for 60 days, but you can opt for shorter time frames. (All videos are encrypted, but the longer they stay online, the longer they could technically be vulnerable to a hacker.)
The company allows you to shorten the storage time to 30 days, 21 days, 14 days, seven days, three days, or one day. To do so, tap Video Storage Time, followed by Edit next to your camera(s). Then select a new storage length and tap Save Changes.
You can also manage whom you share your videos with. By selecting Shared Video Management, you can view all your shared videos. It's a good idea to review them to see whether there are any videos that you no longer want people to be able to view, and unshare them. This will prevent anyone who received the videos from being able to view them again.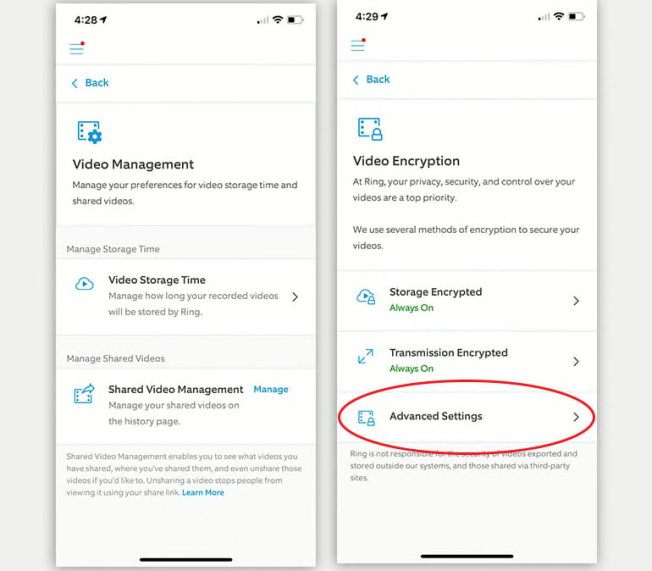 6. Consider Enabling End-to-End Encryption
Ring automatically encrypts your videos, but for a higher level of security, the company recently started rolling out end-to-end encryption for select Ring cameras. End-to-end encryption makes it so that only your personal smartphones and tablets that you enroll in the feature can access your videos. Hackers won't be able to view your videos (without physically getting your devices), and neither will Ring or Amazon. The only downside is that end-to-end encryption disables a number of other Ring features, including shared user accounts and Amazon Alexa voice control.
The relatively new feature works only with certain models of Ring cameras and doorbells. You can check to see whether it's available to you by tapping Video Encryption, then Advanced Settings, and finally End-to-End Encryption. For more information on the security feature and compatible Ring cameras, see our article on Ring end-to-end encryption.
7. Check Your Video Request and Neighbors Settings
One of the many features of Neighbors by Ring (and one of the most controversial) is the ability for Ring's partner law enforcement agencies to create "Request for Assistance" posts on the network asking users to share videos that might be relevant to their investigations.
The Public Safety page of Control Center allows you to opt out of receiving notifications about these posts. In the past, law enforcement agencies could have Ring personally send you emails requesting footage, but Ring recently removed that functionality in favor of the more public Request for Assistance posts.
"It's up to you whether you want to share video footage with the police," says Justin Brookman, director of technology policy at Consumer Reports. "Just keep in mind you won't have any control over how long they retain the data or what they do with it."
Ring states that local police can't view live video feeds or control Ring devices. It also says that the only video the police can see is video that consumers either post on the Ring Neighbors network, which is built into the Ring app and available as a standalone app, or share with law enforcement via Request for Assistance posts. You can find out more about how Ring works with law enforcement in Ring's FAQ page.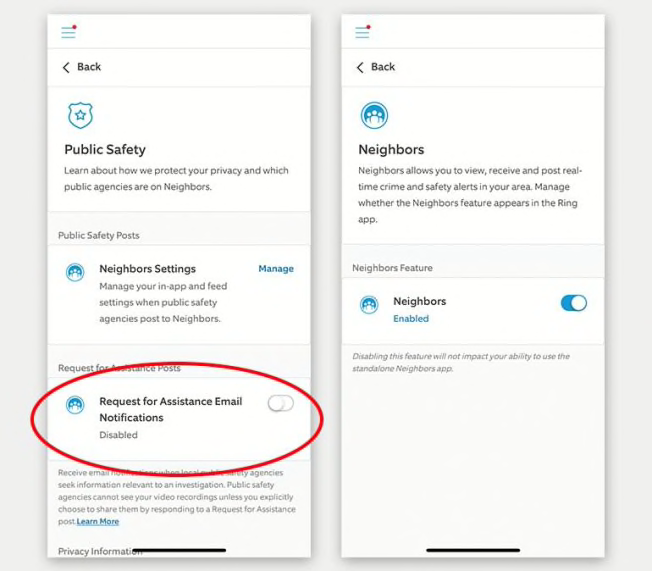 To opt out of police requests, tap the Video Requests button on the Public Safety page, followed by the Disable button. From this menu, you can also view a map of Ring's 1,700-plus partner police departments and 300-plus partner fire departments. We've embedded the map below so that you can see which departments in your area are working with the company.
You can also disable the Neighbors network feed by tapping Neighbors in the Control Center, followed by the Neighbors toggle button, followed by "Yes, disable now." Doing so will prevent you from being able to create posts and receive posts from neighbors and police. These posts don't affect your own privacy per se, but you can opt out if you are concerned about posts possibly contributing to racial profiling.
8. Opt Out of Amazon Sidewalk
With Amazon Sidewalk, the company is aiming to use select Ring cameras (and Amazon smart speakers) to form a kind of continuous wireless network so that Sidewalk-compatible devices are never out of reach of an internet connection.
That may sound pretty cool—Amazon points to the example of how Sidewalk could help find a lost pet wearing a tracker across town through the network—but do you want Amazon and other people's devices to be able to tap into the internet connection you pay for, even if the usage is negligible? Right now, you're automatically signed up for Amazon Sidewalk with your Ring camera. But it's easy to opt out.
Just select Sidewalk from the Control Center, followed by the Sidewalk toggle button and the Disable button. For more information on Amazon Sidewalk, see our story about the pros and cons of the Sidewalk network.
9. Turn Off Third-Party Service Providers
In early 2020, it was discovered that Ring was sharing user data with a number of third-party tracking services. In response, the company added the ability to opt out of third-party tracking (this is different from the third-party devices mentioned above) to Ring Control Center. You can do so by tapping on Third Party Service Providers toward the bottom of the Control Center menu. From there, toggle off Web and App Analytics, as well as Personalized Advertising. Each toggle button will prompt you to confirm your choice, which you can do by tapping the blue "Opt out" button.
Editor's Note: This article has been updated with information on new features and changes in the Ring Control Center. It was originally published Jan. 31, 2020.