Can You Get a Deal on a Gift Card?
It may be possible to find discounts if you look in the right places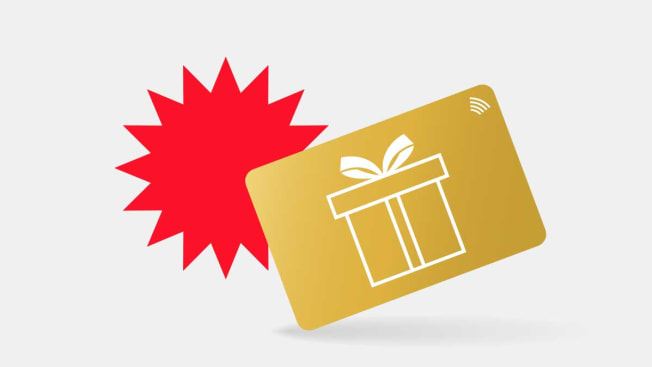 Whether you wait until the last minute, absolutely hate holiday shopping, or just don't know what to get someone, a gift card can be the perfect present for anyone on your holiday shopping list. And if you opt to go that route for gifts this year, you're not alone.
A recent report by Blackhawk Network, a global payments provider, predicted that 45 percent of holiday spending will be on gift cards, a 27 percent increase compared to 2020. Given the volatility of the supply chain and resulting inventory shortages and shipping delays, it's no surprise more people are turning to gift cards to get their shopping done this year.
But will getting a gift card put a smile on your recipients' faces? It's a good bet: A nationally representative Consumer Reports survey of 2,184 U.S. adults conducted in July regarding people's holiday shopping expectations this year found that 41 percent of Americans would actually prefer getting a gift card than an actual item as a present. This is compared with only 15 percent who preferred gifts—and a whopping 44 percent said they had no preference. So a gift card is a relatively safe option if you're out of time to find a gift or just unsure of what to get someone this year.
Shopping at a wholesale store like Costco, BJ's, or Sam's Club, is one of the easiest ways to find discounted gift cards—if you're a member. You can take advantage of member-only discounts on a wide variety of gift cards that can extend up to 30 percent off the value of the gift card. This includes everything from restaurants and retail to travel and digital services.
Costco, for instance, is selling $50 Nintendo eShop gift cards for $45, and BJ's has a holiday promotion on $50 GameStop gift cards for $39.99. Sam's Club has discounts available in stores and online, but the online discounts tend to be on the smaller side, though there is a bundle of three $10 Coldstone Creamery cards for only $21 available online right now. A rep from the company explained that the in-store promotions tend to see bigger discounts, so it may be worth venturing to a brick-and-mortar location to find the best deals.
Membership does come at a cost, however, which may offset the money you'd be able to save if you're not planning to shop at any of these stores beyond this. Sam's Club memberships start at $50 per year, and Costco starts at $60 annually. BJ's basic membership lands in the middle at $55, but this retailer also offers a free one-day trial membership. It may allow you to take advantage of gift card prices, but is only available for online shopping, not in-store shopping, so your options may be limited.
You can find gift cards at virtually any major retailer these days as well and some of them may have special promotions around the holidays. Best Buy, for instance, is running a promotion right now that gives shoppers a $10 Best Buy e-gift card when they purchase a select specialty gift card worth $50 or more. This offer includes stores like Apple, Build-a-Bear, Chipotle, Fandango, and more, but it's only one $10 Best Buy gift card per customer, regardless of how many cards you buy. Target also recently had a weekend sale giving Target Circle members a chance to save 10 percent off all Target gift card purchases.
Sites like Groupon and LivingSocial can be great resources to find discounted gift cards as well. Options tend to be more limited here, but you may find something unique or hyperlocal by browsing the sites. If you're shopping for someone far away, enter their location to see if any small businesses in their area have special offers. This can lead you to a unique gift you might never have thought of otherwise. When I plugged in my own zip code, for example, I found a gift card for a local hair salon at 20 percent off and a wine cellar gift card that was 46 percent off.
Tread carefully with gift card resale sites that buy and sell unused gift cards for less than the value of the cards themselves. This may sound great in theory, but the risks often outweigh the potential savings. 
There are countless sites out there that buy people's unused gift cards and resell them at a discount.  If you have any unused gift cards or digital gift card codes you know you'll never use, you can sell them to get some of the value back in cash. The cards are then made available to buy at a discount.
"My advice to consumers is to only buy discount gift cards from sites that are well-established in the space, offer a money-back guarantee, and have customer service available if there is an issue," says Shelley Hunter, founder of Gift Card Girlfriend, a website where you can find insights and tips on the gift card industry. CardCash.com or Raise.com currently meet those criteria, Hunter says.
The problem comes when you buy a secondhand gift card only to find out it carries no value when you try to use it. This is because scammers often sell gift cards on these sites but quickly spend the balance after the value has been confirmed. Or they'll save the information and, once the new buyer activates a card, they'll spend the total value before the buyer can. If that happens, you may be able to get your money back or you might not, depending on the site's policies. But even if you are able to get your money back, it's still a lot of hassle. 
"When buying discounted gift cards from the reseller market, consumers should use the cards immediately, lessening the opportunity for the original seller to use the value after the card has been transferred to the new owner," Hunter told CR. "Reputable gift card resellers have security processes in place to prevent this from happening plus money-back guarantees to compensate buyers if it does."
Hunter recommends researching any resale site before buying, by clicking around on the site and looking for egregious errors like typos, missing pages, and a lack of customer service contact information. You can also read customer reviews on sites like Google and TrustPilot to get a sense of whether other shoppers have encountered issues with a reseller.
When you shop through retailer links on our site, we may earn affiliate commissions. 100% of the fees we collect are used to support our nonprofit mission. Learn more.