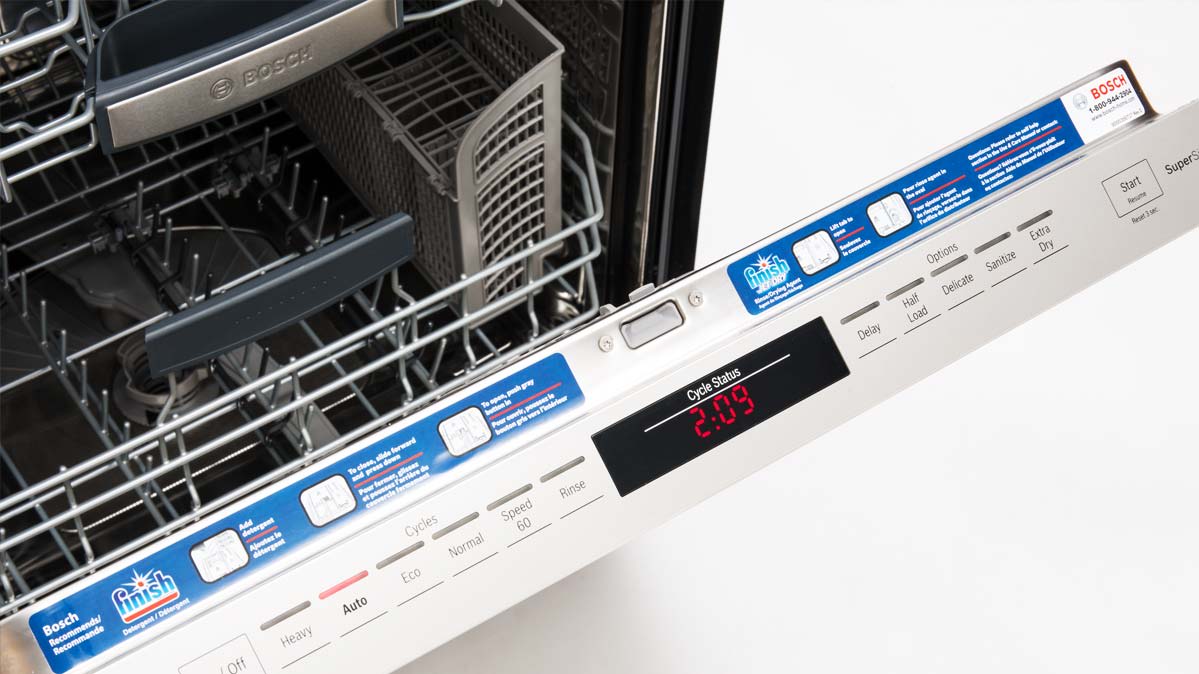 There are more than 130 models in our dishwasher ratings, from $245 to nearly 10 times that. So what's the sweet spot when it comes to price?
"At the $600 to $900 price range, you can find a model that does a great job cleaning, and you'll get more peace and quiet in the form of a quieter dishwasher," says Min Kim Bryant, a senior market analyst covering dishwashers for Consumer Reports.
You can also get superb cleaning and drying, sleeker styling, and convenient features that make the dishwasher easier to load.
Performance varies widely in our tests, and so does brand reliability. To make it easier for you to find the best dishwasher for your budget, we now combine lab test results, predicted reliability, and owner satisfaction in one Overall Score, as you'll see in our dishwasher ratings.
Here are some of the features you'll find on dishwashers in the $600 to $900 price range:
Features You May Like
Adjustable racks. These move up and down and have adjustable tines to accommodate large and odd-sized items. Plus, there are silverware baskets that you can move as needed. Most baskets have individual slots for silverware to prevent utensils from nesting, allowing the water to circulate.
Flexible flatware slots. They fit more place settings than the 10 that budget dishwashers typically hold.
Soil sensor. This can improve cleaning and water efficiency by adjusting the cycle time and amount of wash water to the load's soil level.
Stainless steel tub. It tends to resist stains better than plastic.
More finishes. You can find dishwashers with a stainless steel finish even for $500 or less, but if your budget is between $600 and $900, you'll have more options, including matte black and black stainless.
Extras to Think Twice About
Not every feature on dishwashers from $600 to $900 is worth the additional money. So if you need to make a trade-off, consider skipping these features:
A third top rack that allows you to spread out large utensils. You can remove it to accommodate taller items on the middle rack.
Wash zones for items that need a special cycle. For example, there are bottle-wash jets in the upper rack that send water deep inside bottles and travel mugs, and heavy-duty wash zones for pots and pans. In our tests they worked as promised, but keep in mind that the special cycles on some models run for just a few minutes.
Lab Tested for Your Home
We spend 28 hours evaluating each dishwasher in our ratings and identifying its features. Our testers load each machine with 10 place settings of white ceramic dishes with baked-on food, then run the normal cycle or its equivalent. Then they scan each dish with a photo-imaging machine to determine precisely how clean it is. We also test a dishwasher's drying capabilities, judge noise levels, record cycle time, and calculate water and energy use.
5 Dishwashers for $600 to $900
We selected the five dishwashers below, which appear in alphabetical order, because they all rated Very Good or Excellent in predicted reliability. This rating estimates the likelihood that newly purchased models from a given brand will break within the first five years. The data come from our exclusive survey of CR members' experiences with 74,880 dishwashers purchased between 2007 and 2017 and not covered by a service contract. Here's how they performed:

Bosch 800 Series SHPM78W55N
Price: $855
CR's take: This Bosch earned Excellent ratings in our tests for cleaning, plus it's an energy miser and runs very quietly. This dishwasher's cycle time is 160 minutes. It comes in white, black, stainless, and black stainless, and the pocket handle allows this dishwasher to blend in regardless of the handle style on your range and refrigerator. The controls are tucked away on the top edge of the door, and a small red light shines a spot on the floor when the dishwasher is running.

Bosch 300 Series SHEM63W55N
Price: $720
CR's take: Bosch stands out as one of the most reliable dishwasher brands in our survey and gets high marks for owner satisfaction—one of only three brands to earn this distinction. Cleaning is top-notch and energy use was rated Excellent. It's not quite as quiet as the 800 series Bosch above, meaning you'll hear the dishwasher from about 2 feet away but not from across the room. It takes 155 minutes to do a load. The interior is stainless, and as for the exterior, it's available in stainless, white, and black.

Ikea Renlig IUD8555DX [20288920]
Price: $800
CR's take: Whirlpool makes Ikea's dishwashers, and this model rated Excellent in our tests for cleaning without using a lot of energy. It's not as good at drying as the Kenmores, but it runs fairly quietly. It takes 145 minutes to get the job done. The controls are hidden, and you'll need to add a custom front panel that matches your cabinetry. The interior is stainless, and there are ample flatware slots. Ikea distinguishes itself by offering a five-year warranty, while the others in this group offer the typical one-year warranty. The brand ranks above average in CR's reliability survey on dishwashers.
Kenmore 14573
Price: $650
CR's take: While Kenmore is not as reliable as Bosch, according to our member survey, it is more reliable than 13 other brands in our tests. This dishwasher cleans like a champ and earned an Excellent in our drying tests. It needs 145 minutes to complete a normal cycle, and gets through it without using much energy and without making a lot of noise. This Kenmore comes in white, black, and stainless. The controls are on the top edge of the door and hidden when the door is closed for a look that's clean and sleek. A small indicator light on the front turns green when the machine is running and shuts off when the cycle is complete. The interior is stainless.
Kenmore 14543
Price: $700
CR's take: This dishwasher performed similarly to the Kenmore above in all of our tests, and also takes 145 minutes to do a load. It also has the same features as the Kenmore above, such as a soil sensor, a stainless interior, and an adjustable upper rack. For the extra $50, you get a pocket handle instead of a bar handle, meaning this dishwasher can blend in with appliances from other brands. A time-remaining display keeps you up to date. It's available in white, black, stainless, and stainless with Active Finish, which Kenmore claims is resistant to fingerprints and smudges.
For more choices, see our full dishwasher ratings and recommendations, and use the filters to narrow your options by price, brand, features, and more.
Dishwasher Tips and Tricks
Shopping links are provided by eBay Commerce Network and Amazon, which makes it easy to find the right product from a variety of online retailers. Clicking any of the links will take you to the retailer's website to shop for this product. Please note that Consumer Reports collects fees from both eBay Commerce Network and Amazon for referring users. We use 100% of these fees to fund our testing programs.