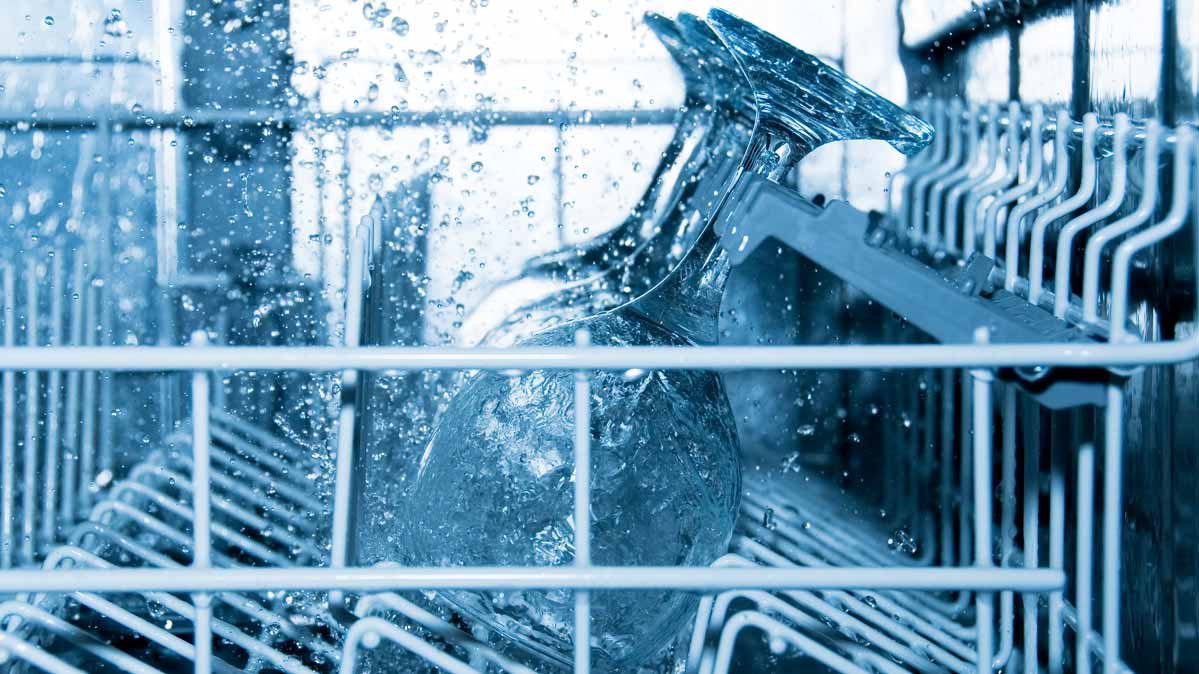 Due to tougher federal water- and energy-efficiency standards, today's dishwashers use about half what dishwashers used 20 years ago. Less water—most modern dishwashers use 4 to 6 gallons for a load—means less energy to heat that water.
That explains why most dishwashers in Consumer Reports' ratings earn a rating of Excellent for energy efficiency.
"Manufacturers reduced the water use to meet the standard, and extended the wash time so that dishes would still get clean," says Larry Ciufo, an engineer who oversees CR's tests. Dishwashers in our ratings take 95 to 205 minutes to do a full load, using the normal cycle or its equivalent.
To help fine-tune the cleaning process, manufacturers added soil sensors—which detect how messy plates are—to most machines. "Soil sensors adjust the amount of water and cycle time needed to get plates clean," says Ciufo. "That improves water and energy efficiency."
You'll see more than 130 dishwashers in our ratings, and a quarter of them deliver Excellent ratings for cleaning and energy efficiency, and drying that's impressive. Here's a peek at four such dishwashers that sell for less than $800. The annual energy costs notes are based on the national average electricity rate.
Bosch Ascenta SHX3AR75UC
Price: $540
Annual energy cost: $33
CR's take: The superior performance and features you get on this entry-level Bosch is the stuff of pricier dishwashers. That's one of the reasons this model is a great value. It scores among the top of the budget class for washing, drying, and quiet operation, and its 95-minute cycle for a normal wash is almost the shortest of any washer that CR tests. In our CR member surveys, owners give Bosch dishwashers top marks for reliability and satisfaction.
Bosch 300 Series SHEM63W55N
Price: $720
Annual energy cost: $33
CR's take: With controls boldly planted on its front, this Bosch defies the conventions of the midpriced dishwasher, which more often hides the buttons on the top edge of the door. Otherwise, this model carries most of the features common among its competitors and delivers above-average performance on CR's tests for washing and efficiency. As mentioned above, owners rate Bosch dishwashers highly on both reliability and satisfaction.
Kenmore 14573
Price: $650
Annual energy cost: $32
CR's take: This Kenmore dishwasher is one of the best performers among budget washers, earning a rating of Excellent in CR's tests for washing, drying, and energy and water use. It also rates well for its quiet operation. The downsides are that this model comes up short on silverware space (even with a third rack), and its tines are not adjustable.
Whirlpool WDF540PADM
Price: $520
Annual energy cost: $34
CR's take: This stripped-down Whirlpool, a top performer in the budget category, offers a lot of value. It rates Excellent on CR's tests of washing and drying, and it boasts one of the shortest cycles of any dishwasher in our ratings. Whirlpool dishwashers get top marks for reliability from CR members. One negative: Though some models at this price have stainless steel interiors, this interior is plastic.
Make Your Dishwasher Even More Efficient
Energy Star dishwashers are certified by a third party to be water- and energy-efficient, and can earn you a rebate from your utility company. But no matter which dishwasher you have, there are ways you can improve its efficiency. Here's what CR experts and the Department of Energy suggest:
• Check the owner's manual for the recommended water temperature. If the dishwasher has a heating element, and most do, you can set your home's water heater to a lower temperature, say, 120° F.
• Run a full load. Even if you have to wait a few days to run the dishwasher, it makes sense to not do a load until it's a full one. If you're concerned that the dirty dishes will produce a funky odor, use the rinse-and-hold cycle.
• Don't prerinse dishes. It uses up to 20 gallons of water, according to Energy Star, and energy is needed to heat that water. Instead, just scrape food from plates, then load the dishwasher. If your dishwasher has a soil sensor, rinsing dishes can actually work against you; if the sensor detects that the load is fairly clean, the dishwasher will run a light wash, which can leave pieces of food stuck on bowls and plates.
• Air-dry dishes. If your dishwasher has a heated-dry option, experiment with skipping it. Turn off the option before you press start. At the end of the cycle, crack open the dishwasher door so that the moist air escapes and dishes can air-dry. If your dishwasher isn't great at drying, check out five ways to improve drying.
Consumer Reports is an independent, non-profit organization dedicated to helping consumers. We make it easy to buy the right product from a variety of retailers. Clicking a retailer link will take you to that retailer's website to shop. When you shop through retailer links on our site, we may earn an affiliate commission – 100% of the fees we collect are used to support our mission.
Learn more.
Our service is unbiased: retailers can't influence placement. All prices are subject to change.