What a DIY Home Security System Really Costs
CR's experts find you're likely to need more than what's included in a $200 starter kit
When you shop through retailer links on our site, we may earn affiliate commissions. 100% of the fees we collect are used to support our nonprofit mission. Learn more. Property owners have long put up with the pricey multiyear contracts, extensive wiring, and ugly sensors that home security systems have traditionally required. But today's do-it-yourself security systems are changing all that.
These systems are sleek and wireless, and can be quickly installed—without tools—by just about anyone. (Stand-alone security cameras and video doorbells don't provide the whole-house protection that do-it-yourself security systems do, but they can be added to the systems to enhance their capabilities.)

Professional Monitoring vs. Self-Monitoring
Cost: $10 to $50 per month for professional monitoring
"The biggest difference between DIY and traditional security systems is that most DIY systems allow you to self-monitor," says Bernie Deitrick, CR's test engineer for home security products. "That can save roughly $10 to $50 a month compared to professional monitoring, depending on the company and the services provided."
With professional monitoring, a call center dispatcher alerts you and the police whenever an alarm is triggered. With self-monitoring, you'll receive a notification on your phone, but it's up to you to call the police.
"If you've done a good job of securely installing the door and window sensors, our tests suggest you should receive notifications almost immediately when an alarm is triggered," Deitrick says. Still, some homeowners—such as those who travel frequently or have spotty cell-phone reception—may find that professional monitoring provides peace of mind that's worth the added price. Just note that not all DIY systems offer professional monitoring services, so check with the manufacturer before you choose your system.
Professional monitoring can be offered on a short-term or month-to-month basis or on a contract of one year or more. Long-term contracts generally lock in a price; short-term or month-to-month monitoring allows you to cancel without penalty, but the company could raise prices at any time. If you opt for professional monitoring, make sure to factor the recurring cost into your total purchase price.

Installing a Basic System
Cost: $70 to $450 for a starter kit; $300 to $840 total to secure an average-sized home with a starter kit and additional sensors
Our test engineers determined that a basic home security system should offer six key components: a base station, a keypad or touch-screen control panel, contact sensors for windows and doors, motion sensors, key fobs, and range extenders. Most of the kits we test offer these basic components; many of the companies offer online tools to help you design the optimal system for your home.
The prices of basic home security kits could make you think you can protect your house for about the cost of taking the whole family out to a nice dinner. But that's often not the case. "While basic kits might have enough sensors for a small home or apartment, many homes will require at least a few more door and window sensors or motion detectors for adequate coverage," Deitrick says.
Adding Specialty Components
Cost: $20 to $400 per device
Homeowners can beef up basic DIY home security systems by adding a number of specialty components. These aren't required for protection, but adding them allows you to monitor for additional threats, such as fires, carbon monoxide, and leaks. Keep in mind that costs can quickly escalate: Adding just a security camera to monitor, say, your pool or garden can cost up to $400. (For prices of specialty components, see "The Layout of a DIY Security System," below.)
CR experts also caution consumers to be mindful of the threats to privacy that security cameras and video doorbells can pose. "There have been multiple highly publicized incidents of hackers gaining access to security cameras," Brookman says. To decrease chances of such a privacy breach, the most secure systems let you use two-factor authentication when logging in to your account.

The Layout of a DIY Security System
In the interactive graphic below, you'll see the basic and specialty components that make up a DIY security system. Hover your mouse over each component or tap on it on your mobile device to reveal information about what each component does. You'll also find price ranges for the add-on specialty components.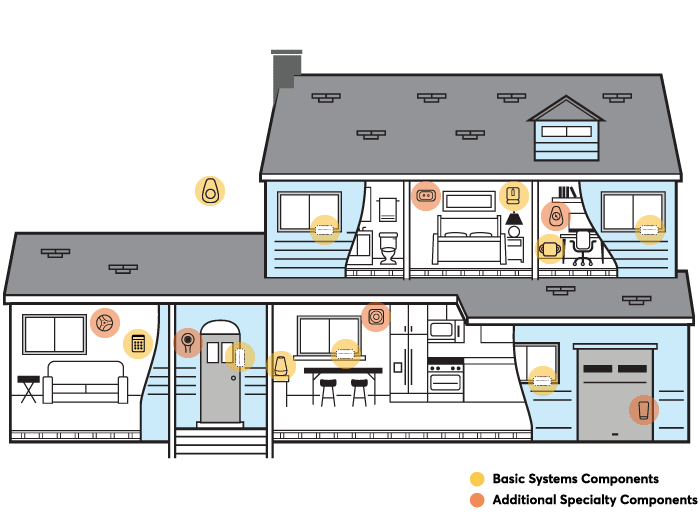 Click dots to learn more.
Three Affordable DIY Security Systems
Here are three systems that perform well in our tests and are also the most affordable of the bunch when we factor in all the extra sensors the average home needs. For more options, check out our complete DIY home security system ratings.
Become a member to read the full article and get access to digital ratings.
We investigate, research, and test so you can choose with confidence.