When you shop through retailer links on our site, we may earn affiliate commissions. 100% of the fees we collect are used to support our nonprofit mission.
Learn more.
Sitting down over a cup of coffee ties a nice bow on an enjoyable social gathering. But a coffee maker that isn't up to the task of serving a room full of company can make an awkward end to the evening. Here are some crowd-pleasing models from Consumer Reports' tests:
Conventional Drip Coffee Makers
These brew up to 14 cups at a time, but keep in mind that the "cups" are actually 5 or 6 ounces each. Drip machines fill a carafe for serving; some come with a thermal carafe, which helps keep the coffee hot longer.
Brewing close to industry guidelines of 195° to 205° F for five to six minutes helps the KitchenAid KCM1202OB, $100, make java any coffee drinker can enjoy. This 12-cup drip model had convenient operation and easy carafe handling, along with an LCD display of brew-cycle status, a removable reservoir, and an indicator to tell you when cleaning is needed. There's also a cupcake-style filter basket with a permanent filter and a brushed-stainless finish (with onyx or white trim).
Another we like at the same price is the 12-cup Kenmore Elite 76772, which brewed close to industry guidelines and was especially easy to use. It has some similar features, such as a permanent filter (though cone-style), a removable reservoir, and an indicator to tell you when the machine needs cleaning. We also found the carafe fairly easy to use, hold, pour from, and empty.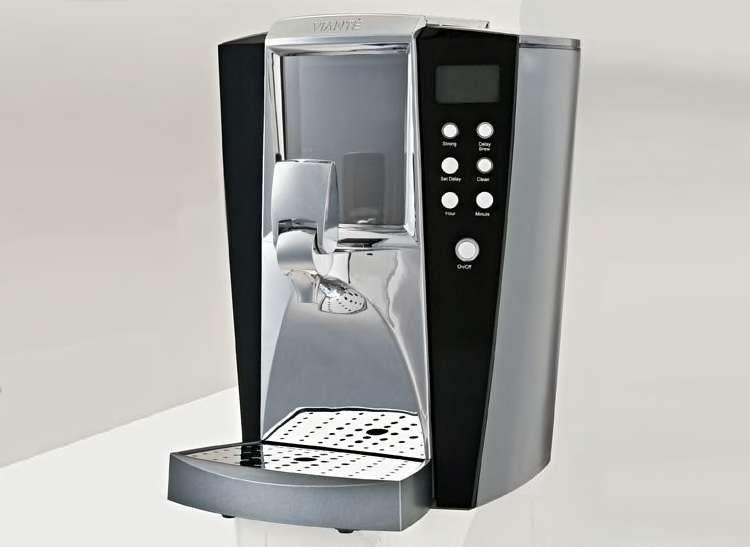 Brew-and-Dispense Coffee Makers
Had enough standing by the end of the night? These coffee makers brew 10 to 12 cups' worth of coffee but keep it hot in a tank. Guests serve themselves at the machine so you can relax.
The 10-cup Viante Brew-N-View CAF-05T, $100, offers more flexibility than other brew-and-dispense coffee makers we've tested. It brewed at industry-recommended guidelines, and we found its setup, operation, and cleanup fairly easy. Remove the drip tray, and you can brew into travel mugs; a thermal carafe is available as an option. Other pluses: the removable coffee tank and water reservoir, coffee-level window, a washable, cupcake-type filter basket, and a cleaning-needed indicator.
Grind-and-Brew Coffee Makers
For serving a more discriminating crowd, you can grind beans and immediately brew them for the freshest coffee. The best from our tests, the 12-cup Cuisinart Grind & Brew DGB-700BC, $170, was impressive in overall performance and has a water filter and a permanent cupcake-type filter basket. We found it fairly convenient to use, and the carafe was easy to manage.
Single-Serve (Pod) Coffee Makers
Guests who want Keurig or other single-serve coffees are the opposite of the grind-and-brew crowd—they want it fast. You'll need to judge, however, whether the minute the fastest of these take to deliver a serving (not counting swapping pods in and out and refilling the reservoir) multiplied by the number of guests to serve, is too much of a hassle.
The DeLonghi Nescafé Dolce Gusto Genio EDG455T, $130, has ranked high in our tests. It's an improvement on earlier Nescafé models' brewing process. Glowing bars indicate how much hot water is available and buttons let users select a serving size. Cup speed and size consistency were top-notch, and the unit was fairly easy to use. On the minus side, it uses only Nescafé "flavor capsules," and only 18 flavors are available.
Prefer the flavor of your local Starbucks? Then you'll appreciate the $150 Starbucks Verismo 600, which improves on the earlier Starbucks Verismo 580 for service-size options. First- and second-cup delivery were speedy, and each cup was of uniform size. Where the Starbucks falls short is in its limited options for varying the strength of what you brew. The selection of Starbucks capsules is also so far limited to 12 options, though this might suffice if you like Starbucks stores' offerings.
Not sure which to choose? Browse our coffee maker buying guide before checking our coffee maker Ratings of more than 100 models.