When you shop through retailer links on our site, we may earn affiliate commissions. 100% of the fees we collect are used to support our nonprofit mission.
Learn more.
EpiPen isn't the only rescue medication to undergo huge price hikes. A House Judiciary Subcommittee recently heard testimony about the skyrocketing cost of naloxone, a medication that reverses a potentially fatal overdose from heroin and other drugs, such as OxyContin or Vicodin, in minutes. Congress is trying to understand how, in the past two years, Evzio auto-injectors (which work similarly to an EpiPen and rapidly deliver a single dose of naloxone) went from about $625 to almost $4,000 for a two-pack, according to historical pricing data from GoodRx—an increase of more than 500 percent.
Although this rescue drug is most commonly kept on hand in emergency rooms and by the police, people with legitimate prescriptions for narcotic pain pills are increasingly likely to have naloxone injectors. New recommendations from the Centers for Disease Control and Prevention and other medical organizations suggest that they do so.

Each day in the U.S., 78 people die of an opioid overdose, according to the CDC. At least half of those deaths involve a prescription opioid, such as OxyContin, Percocet, or Vicodin. And there's growing recognition that even people who never abuse the drugs are at risk of fatal side effects.
"It's risky drugs we're talking about, not necessarily risky patients," says Phillip Coffin, M.D., the director of the Substance Use Research Unit at the San Francisco Department of Public Health. "For people who regularly take opioids, including those who take the drugs as prescribed by the doctor for pain, having naloxone on hand can mean the difference between life and death."
Opportunistic Pricing Hurts Communities, Too
The rising cost of naloxone has left hospitals, public health departments, and nonprofits scrambling to pay for supplies of the lifesaving drug. Even generic naloxone, which medical personnel use with syringes or nasal spray kits, has undergone inexplicable price hikes in the past couple of years. A spokesperson for the Public Health Department of Baltimore, for example, told us its cost of buying Amphastar naloxone more than doubled between 2012 and 2015, from $16.50 to $37 per dose.
"This is an older generic drug on the World Health Organization's list of essential medicines. It costs pennies in other countries," says Leana Wen, M.D., the Baltimore city health commissioner. "It's completely inappropriate and, frankly, shameful that we are faced with these rising prices in the midst of an opioid epidemic. No one should be dying because we can't afford this drug."
Baltimore has had to rely on free Evzio auto-injectors donated from drugmaker Kaléo and discounts on Narcan Nasal Spray from Adapt Pharma. But the line item for naloxone in the city budget is still almost twice as high as it was two years ago.
Jason Shandell, the president of Amphastar, told us that the company had not raised the price since October 2014. That increase, Shandell says, was due to "several legitimate business factors," including investments needed to keep manufacturing products in the U.S., and research and development costs for a new naloxone nasal spray slated to hit the consumer market in early 2017.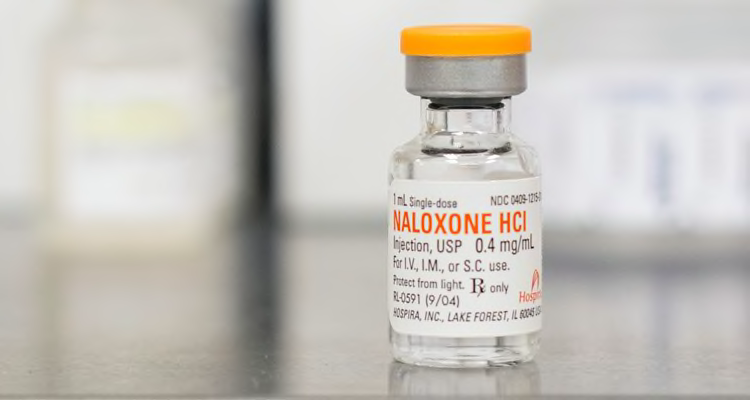 How to Find Affordable Naloxone
If you take opioids for chronic pain and have a higher risk of experiencing a life-threatening reaction, you should have naloxone on hand. Taking high doses—50 mg or more of hydrocodone or 33 mg or more of OxyContin daily, for example—or having a history of overdose or substance abuse also makes you a good candidate for keeping naloxone at the ready. Also, taking benzodiazepines—which include anti-convulsants, anti-anxiety drugs, muscle relaxants, and sedatives, in combination with your opioid—makes having the rescue medication essential. Here's how to get naloxone at a deep discount—or free.
Evzio for $0. Through Kaléo's $0 access program, commercially insured patients can get Evzio free, even if their insurance doesn't cover it (not valid for patients with Medicare, Medicaid, or other federal or state health insurance). If you're quoted a higher cost of naloxone at the pharmacy, call the toll-free hotline, at 877-438-9463, for assistance. "We will assure that all commercially insured patients get Evzio for zero dollars," says Kaléo CEO Spencer Williamson. Note that some insurance plans may require you to get prior authorization before covering Evzio.
If you're uninsured and have an annual household income equal to or less than 150 percent of the federal poverty level, or $36,450 for a family of four, you can apply to get Evzio free through the company's patient assistance program. (The enrollment form is available on Evzio's website.) If you don't meet the income requirement and are uninsured, you can still get a two-pack of injectors for a cash price of $250.
Narcan nasal spray for $30 to $40. If your insurance covers Narcan as a preferred brand-name drug, you may be able to get it for $30 to $40, according to Adapt Pharma spokesman Thomas Duddy. This is probably your best option if you have a Medicare drug plan, because you won't be eligible for the Evzio discount. If you don't have insurance or you pay for your prescriptions out of pocket, CVS Pharmacy offers a discount coupon that will bring your cost for a two-pack down to about $110.
Syringes and vials for $4. Though prices for naloxone syringes and vials have increased, our check of a dozen health plans showed that it's usually well-covered by insurance plans, for as low as a $4 co-pay. The cash price is reasonable as well—ranging from $25 to $60 for two syringes and one vial at most pharmacies. "If the people around you are comfortable using a needle and syringe, and cost is a barrier, then that's a fine option as well," Coffin advises.
Good to know. Victims of an opioid overdose become unresponsive and can stop breathing. Make sure your friends and family members know to watch for those symptoms as well as where you keep your naloxone and how to use it.
In 36 states you can buy naloxone from a pharmacist without a prescription and still use your insurance; he or she can provide advice and training on whichever form of the drug you choose.
Editor's Note. This article and related materials are made possible by a grant from the state Attorney General Consumer and Prescriber Education Grant Program, which is funded by the multistate settlement of consumer-fraud claims regarding the marketing of the prescription drug Neurontin (gabapentin).
Ginger Skinner, associate editor of Consumer Reports Best Buy Drugs, provided additional reporting for this article.