When you shop through retailer links on our site, we may earn affiliate commissions. 100% of the fees we collect are used to support our nonprofit mission.
Learn more.
If you suffer from arthritis or other types of pain, you're probably all too familiar with drugs such as aspirin, Aleve, and Naproxen. All belong to a class of drugs called nonsteroidal anti-inflammatory drugs (NSAIDs), and all can be purchased without a prescription. But there is another related drug, available by prescription, you might want to talk with your doctor about: diclofenac, available as a gel, patch, or drop that you apply directly to your skin.

Those topical forms are underused, says Consumer Reports' medical director, Orly Avitzur, M.D. "They can be an alternative for people who cannot tolerate the potential side effects of oral NSAIDS," Avitzur adds.
Their main downside: Cost. A month's supply can cost up to $300, depending on which topical you choose and how often it is applied.
If you have back pain, a muscle strain, or joint pain due to arthritis and are considering switching to a topical such as diclofenac gel (Voltaren and generic), drops (Pennsaid and generic), or patches (Flector), here's what you need to know first.

Less Pain, Fewer Side Effects
Diclofenac is available as a gel (Voltaren and generic), drop (Pennsaid and generic), or patch (Flector).
Compared with pills, those topical forms of the medication result in lower levels of the medication in your blood. And that may translate into a reduced risk of some of the side effects linked to oral NSAIDs, notably heart attack, stroke, and gastrointestinal bleeding, though additional research is needed to confirm those potential benefits.
A 2015 Cochrane review of 61 studies involving nearly 8,400 people found that topical NSAIDs relieved pain from strains, sprains, and overuse injuries, but with less side effects than oral NSAIDs. Similarly, a 2006 review of four randomized trials found that topical diclofenac reduced knee pain due to osteoarthritis and was generally well tolerated.
Other trials have found that up to 3 months of using topical diclofenac poses a lower risk of liver problems than diclofenac pills, though randomized trials still need to confirm that benefit.
And you should avoid even topical NSAIDs if you have kidney disease, warns Kathleen Cowling, D.O., a professor of emergency medicine at Central Michigan University College of Medicine. "NSAIDs, even topical ones, can slow the filtering function of your kidneys," she says.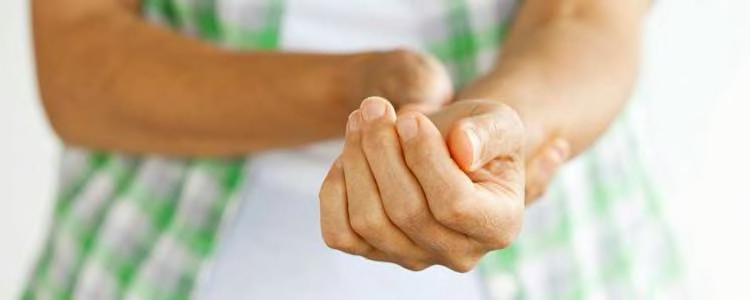 Watch Out for Skin Reactions
With topical NSAIDs, the most common side effect is skin irritation, such as dryness and itching, at the application site. That's just one reason it's important to follow the label directions carefully and not overuse the products.
To minimize your risks for a skin reaction, Cowling recommends doing a skin test before starting any topical pain reliever and washing your hands immediately after applying. Also don't use topicals on any areas of the body where you have an open wound or broken skin, even a scratch. If you develop severe itching, redness, swelling or any other signs of a worsening skin reaction, contact your doctor.
Finally, if you find that the topical you're using doesn't relieve your pain, don't simply use more—tell your doctor. "Don't make the mistake of thinking topical NSAIDs aren't absorbed by your body," says Cowling. "They are, and can cause toxicity."
Editor's Note: This article and related materials are made possible by a grant from the state Attorney General Consumer and Prescriber Education Grant Program, which is funded by the multistate settlement of consumer-fraud claims regarding the marketing of the prescription drug Neurontin (gabapentin).