When you shop through retailer links on our site, we may earn affiliate commissions. 100% of the fees we collect are used to support our nonprofit mission.
Learn more.
The Food and Drug Administration is considering allowing pharmaceutical companies to use marketing for drugs that touts their ability to treat conditions the agency has not approved them to treat.
The FDA is holding a two-day hearing starting Nov. 9 to gather input on whether to allow drug and device makers to promote their products for this so-called "off-label" use. The hearing follows a recent federal court ruling that found that promoting unapproved uses for drugs to be a form of protected free speech.

But a new nationally representative poll of more than 1,000 adults by Consumer Reports reveals that most Americans—84 percent—do not want companies to be allowed to advertise drugs for a use that has not been approved by the FDA.
Pharmaceutical companies spend about $27 billion each year in the U.S. to advertise their products, according to the Pew Research Center. But for now, they're only allowed to tout those drugs for uses approved by FDA.
Many doctors, however, do prescribe these same drugs to treat conditions they haven't necessarily been tested for—and definitely haven't been fully vetted for by the FDA. Prescribing drugs off-label, so-called because doctors may prescribe these medications for maladies not listed on the drug's label, is perfectly legal and quite common.
As many as one in five prescriptions are written for unapproved or off-label uses. For example, your doctor might prescribe a blood pressure drug to calm stage fright, or an antiseizure drug to treat anxiety.
But advertising these off-label uses of drugs has been strictly forbidden since 1962, when Congress outlawed the practice after widespread off-label promotion of the drug thalidomide to treat morning sickness in pregnant women led to birth defects worldwide.
"Relaxing the current rules would dismantle a legal firewall that has protected Americans from false and misleading drug advertising for more than half a century," says Lisa McGiffert, director of Consumer Reports' Safe Patient Project. "The consequences could prove deadly."
Why Doctors Prescribe Off-Label
Research shows that 10 to 20 percent of all prescriptions written in the U.S. are for off-label purposes.
"In some cases, that off-label prescribing makes sense," says Gordon Schiff, M.D., associate director at the Center for Patient Safety Research and Practice at Brigham and Women's Hospital in Boston.
A doctor may prescribe a drug off-label to take advantage of a new use for that drug that is actually supported by good evidence—but is just not yet approved by FDA as a treatment for that issue, says Schiff.
For example, U.S.medical guidelines recommend using the anti­seizure drug topiramate off-label to treat alcohol dependence. And the antidepressant amitriptyline is recognized by health professionals as a first-line therapy for fibromyalgia and costs less than other FDA-approved treatments.
But a recent study in JAMA Internal Medicine of the health records of more than 46,000 patients revealed that off-label prescribing was not backed by strong scientific evidence in 80 percent of cases. Further, it found that in those cases patients had a 54 percent higher risk of suffering adverse side effects compared to those taking the same drug for an approved or more thoroughly studied use.
Also concerning is that most consumers are not being advised by their physicians when they're prescribed a drug off-label. In fact, Consumer Reports' survey reveals that only 6 percent of respondents say they have been told that a drug prescribed by their doctor was for an non-FDA-approved use.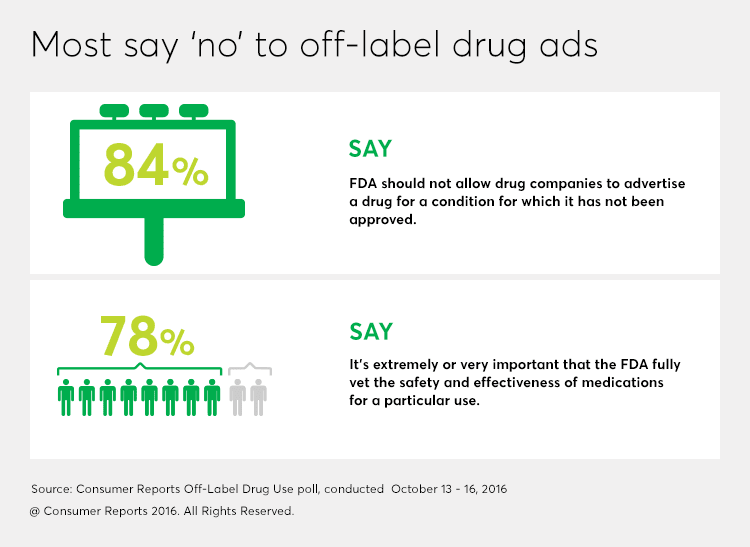 Where Drug Companies Stand
Drug companies and industry groups say that relaxing restrictions will allow drug companies to tell healthcare providers, insurers, and consumers about research that was outside the scope of the initial FDA review of a drug, or occurred after it was approved.
A statement by the Pharmaceutical Research and Manufacturers of America (PhRMA), a trade group that represents the pharmaceutical industry, explains it this way:
"Biopharmaceutical companies are uniquely positioned to help healthcare professionals achieve the best outcomes for patients, because companies can provide timely, accurate, and comprehensive information about both approved and unapproved uses of the medications."
"The market for medicines is changing rapidly," adds PhRMA president and CEO Stephen J. Ubi. "The current federal regulations haven't kept up."
Consumers are not so sure. More than three quarters of CR's survey respondents said that it was "extremely" or "very" important that the FDA fully vet the safety and effectiveness of medications for a particular use. The majority of people also said it was highly important to know how well a medication can be expected to work (83 percent), and that they are told of a medication's possible side effects or other risks (86 percent).
Illegal Off-Label Advertising
There have been a few instances in recent years where drug companies have illegally promoted drugs off label, resulting in thousands of consumers being harmed.
In 2013, for example, Johnson & Johnson agreed to pay more than $2.2 billion in criminal and civil fines to resolve charges for promoting the antipsychotic risperidone (Risperdal) off-label to older adults, children, and people with developmental disabilities. Federal officials said that the company knew that the drug posed greater risks for those groups of patients, such as an increased risk of strokes in older adults.
And in 2012, drug manufacturer GlaxoSmithKline paid a record $3 billion to resolve charges that included promoting the antidepressant paroxetine (Paxil) off-label for children and adolescents, even though the drug had been shown to be ineffective in children and was linked to dangerous side effects, including an increased risk of suicidal thoughts.
If off-label advertising restrictions are eased, pharmaceutical companies may seize on the opportunity to legally make claims based on incomplete evidence or poor-quality research, says Joshua Sharfstein, M.D, associate dean of public health practice and training at the Johns Hopkins University Bloomberg School of Public Health and a former deputy commissioner of the FDA
"We risk rolling back the clock to a time when the FDA could act only after people have been harmed," says Sharfstein. And, even then, it would be much harder to protect consumers because cases of false or misleading claims would have to be resolved through the legal system.
"It would wind up putting decisions about the accuracy of drug advertising claims in the hands of judges, not medical experts," he says.
Sharfstein also worries that relaxing restrictions on off-label drug advertising will discourage rigorous research. "If you can market a drug off-label for a condition, then why spend all the time and money on testing required to earn FDA approval for that use?" he asks. "Ultimately, that will undermine everyone's access to safe, effective healthcare."
What Consumers Can Do
Whether you support restricting off-label drug advertising or not, all consumers should be careful to ask questions about their medications says Orly Avitzur, M.D., Consumer Reports' medical director.
"Before you decide to take a drug, ask your doctor or pharmacist whether it's for an approved use," advises Avitzur.
In addition, you can also go to dailymed.nlm.nih.gov, search by drug, then click Indications & Usage.
If it has not been approved as a treatment for your health problem, ask your healthcare provider whether the use is supported by well-designed studies and why he or she thinks it's better than approved drugs for you.
"Always make sure someone has taken time to thoroughly explain the risks and benefits of a medication to you, as well as other options," says Avitzur.
Editor's Note: This article and related materials are made possible by a grant from the state Attorney General Consumer and Prescriber Education Grant Program, which is funded by the multistate settlement of consumer-fraud claims regarding the marketing of the prescription drug Neurontin (gabapentin).