When you shop through retailer links on our site, we may earn affiliate commissions. 100% of the fees we collect are used to support our nonprofit mission.
Learn more.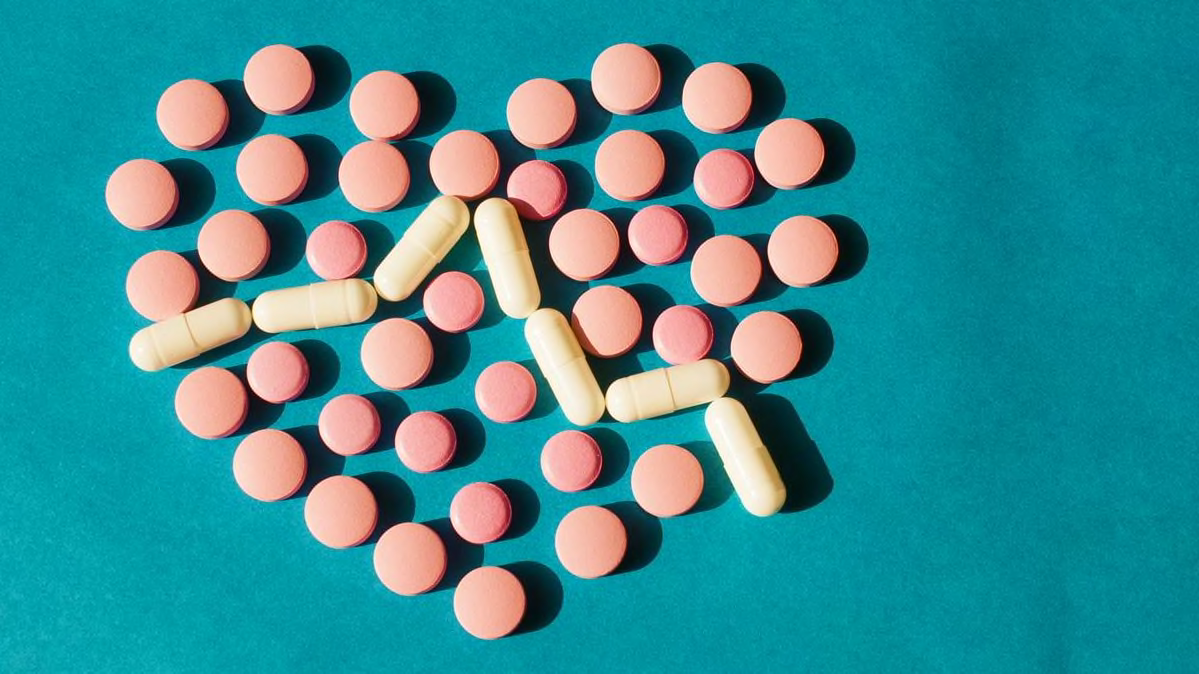 Medications to normalize blood pressure and cholesterol can help significantly reduce the risks of heart attack and stroke in people with known heart disease. But these widely taken drugs—more than 1.6 billion prescriptions for heart medications were dispensed last year in the U.S.—can also cause side effects, some of them serious.
More on Heart Health & Drug Costs
Recent research suggests that many people taking heart medications might not need them and might be taking incorrect doses. And groups such as the American College of Physicians, the American Heart Association, and the U.S. Preventive Services Task Force have all issued different recommendations.
"We need to make sure that the right people are taking these drugs, and at the right doses," says Rita Redberg, M.D., a cardiologist at the University of California, San Francisco, and editor of JAMA Internal Medicine.
But there's no one-size-fits-all approach to drugs for high cholesterol or high blood pressure. "That's why it's so important to have a conversation with your doctor to determine if you're taking the right doses of your heart medications, and whether you even need them at all," Redberg says.
In fact, steps like changing your diet and exercise habits may let you work with your doctor to wean yourself off drugs or lower the dose. "Sometimes, lifestyle is really the best medicine," says Michael Hochman, M.D., director of the Gehr Center for Health Systems Science at the Keck School of Medicine at USC in Los Angeles.
Here, how to get blood pressure and cholesterol drugs right.
Blood Pressure Drugs
More Americans are on blood pressure drugs—such as ACE inhibitors, beta-blockers, and diuretics—than any other type, with more than 1.1 billion prescriptions in 2017. Those numbers are expected to rise because of 2017 guidelines from the American Heart Association and the American College of Cardiology that redefined high blood pressure as 130/80 instead of 140/90.
This means almost half of adult Americans are now considered hypertensive, though it doesn't mean they all need meds.
Who really needs them: People over age 60 whose systolic (top) blood pressure number is above 150 mm/Hg should take medication, according to the American College of Physicians (ACP) and the American Academy of Family Physicians.
If you're in this group and also have cardiovascular risk factors—such as chronic kidney disease, diabetes, or vascular disease—your systolic goal should probably be under 140 mm/Hg, says Andrew Dunn, M.D., chair of the ACP Board of Regents and chief of the division of hospital medicine at the Mount Sinai Health System in New York City. Get your doctor's recommendation.
But going too low may cause problems. Reducing the blood pressure of elderly people aggressively (generally considered below 120/80) puts them at a "heightened risk for falls and fractures," says Steven Nissen, M.D., chairman of cardiovascular medicine at the Cleveland Clinic.
Who can try a lower dose: If you're meeting your blood pressure goals, it's reasonable to ask your doctor whether you can scale back, especially if you've taken heart-healthy measures. And if your doctor gives the okay, check your blood pressure at least twice a week at a pharmacy or at home for six weeks, Hochman says. (Once you've made sure it's still under control, you can go back to checking it as your doctor advises.)
Lower doses of two or even more blood pressure drugs may actually be the most beneficial approach with the fewest side effects, according to an analysis of 42 studies published last year in the journal Hypertension. Researchers found that combining two meds at a quarter dose each was just as effective as one med at a standard dose, and that taking four medications, each at a quarter dose, worked almost twice as well.
Cholesterol Drugs
More than 420 million prescriptions for cholesterol drugs like statins were dispensed in 2017. But up to 12 million Americans may be on them unnecessarily, according to a study published in June in the Annals of Internal Medicine. That's a concern, because statins may cause severe muscle aches, soreness, tenderness, or weakness. They've also been linked to type 2 diabetes, memory loss, and liver problems.
"Every week I see patients on statins who complain of muscle weakness, fatigue, memory loss, and joint pain," says Redberg. "As a result, they're much less likely to be regular exercisers, which is important for heart health."
Who really needs them: Hochman says you may need a statin if you have significant cardiovascular risk factors or:
• Your blood pressure is 140/90 or higher if you're under age 60. (For those over 60, if the systolic (top) number is above 150.)
• You've had a heart attack or stroke.
• Your LDL ("bad") cholesterol level is persistently over 190 despite lifestyle changes.
• You have type 2 diabetes and are over age 40.
Who can try a lower dose: If you have hypertension, type 2 diabetes, or somewhat elevated cholesterol, your doctor may have recommended a moderate-­intensity statin, such as lovastatin (Mevacor and generic), pravastatin (Pravachol and generic), or simvastatin (Zocor and generic). Higher-intensity statins, such as atorvastatin five (Lipitor and generic) or rosuvastatin (Crestor and generic), should be reserved for people with a history of heart attack or stroke, or who are at a very high risk of one.
But if you're not in one of the groups above, talk to your doctor about a lower dose or even stopping medication, especially if you're having a hard time tolerating side effects.
One way to determine whether this is viable is with a heart disease risk calculator, an online tool that takes into account factors like age, gender, race, blood pressure, and cholesterol to calculate how likely you are to have a heart attack or stroke within a certain number of years. If your 10-year risk is below 7.5 percent (if your doctor follows ACC/AHA guidelines) or 10 percent (USPSTF recommendations), you may be able scale back or go off statins, Dunn says.
But keep in mind that the June Annals of Internal Medicine study found that the most commonly used calculator—the ASCVD Risk Estimator—may overestimate risks of heart disease by an average of roughly 20 percent. It may also over­estimate or underestimate risks for about a third of all African-Americans, says the study's author, Sanjay Basu, M.D., Ph.D., an assistant professor of medicine at Stanford.
If your doctor wants to use a risk calculator, you may want to try the new one from Basu's lab or the Reynolds Risk Score, shown in a 2015 study to be the least flawed of the tools then available.
You can also ask your doctor about the new Cardiovascular Disease Population Risk Tool. It considers factors that other tools don't, such as socio-demographic status and air pollution. But there's no research yet comparing it with other calculators.
Four Lifestyle Steps That Help
Whether you want to lower your drug dose, try to get off heart medication entirely, or simply improve your overall heart health, consider these steps:
1. Lose extra weight. Dropping just 9 pounds can reduce systolic blood pressure by 4.5 mm Hg and diastolic by 3 mm Hg, for example, according to a 2014 Cochrane review.
2. Eat right. Proper eating habits can help you get to—and maintain—a healthy weight. Vegetarian and Mediterranean-style diets reduce body fat and weight equally, according to a study published in Circulation in February. But the vegetarian diet was more effective at lowering LDL levels, and the Mediterranean diet—rich in fruits, vegetables, whole grains, legumes, olive oil, and lean protein—led to greater reductions in triglycerides, a blood fat linked to heart disease. Consuming less than 2,300 mg of sodium daily has also been shown to lower blood pressure.
3. Exercise. People who meet current activity guidelines—150 min­utes of moderate to vigorous activity each week—have a 22 percent lower risk of a major cardio­vascular event compared with those who have low physical activity levels, according to a study published in 2017 in The Lancet. This is true even for people who have seemingly unmodifiable heart disease risk factors, such as a family history.
4. Avoid air pollution. A study published in the Journal of Clinical Endocrinology & Metabolism in 2016 found that people who breathed in higher than average levels of particulates, such as auto exhaust and dust, had higher blood sugar levels, higher "bad" LDL cholesterol levels, and lower "good" HDL cholesterol levels—all factors that raise the risk for heart disease. Check local pollution levels at airnow.gov, and on high-pollution days, spend time outdoors before or after rush hour, when pollution levels tend to be lower.