When you shop through retailer links on our site, we may earn affiliate commissions. 100% of the fees we collect are used to support our nonprofit mission.
Learn more.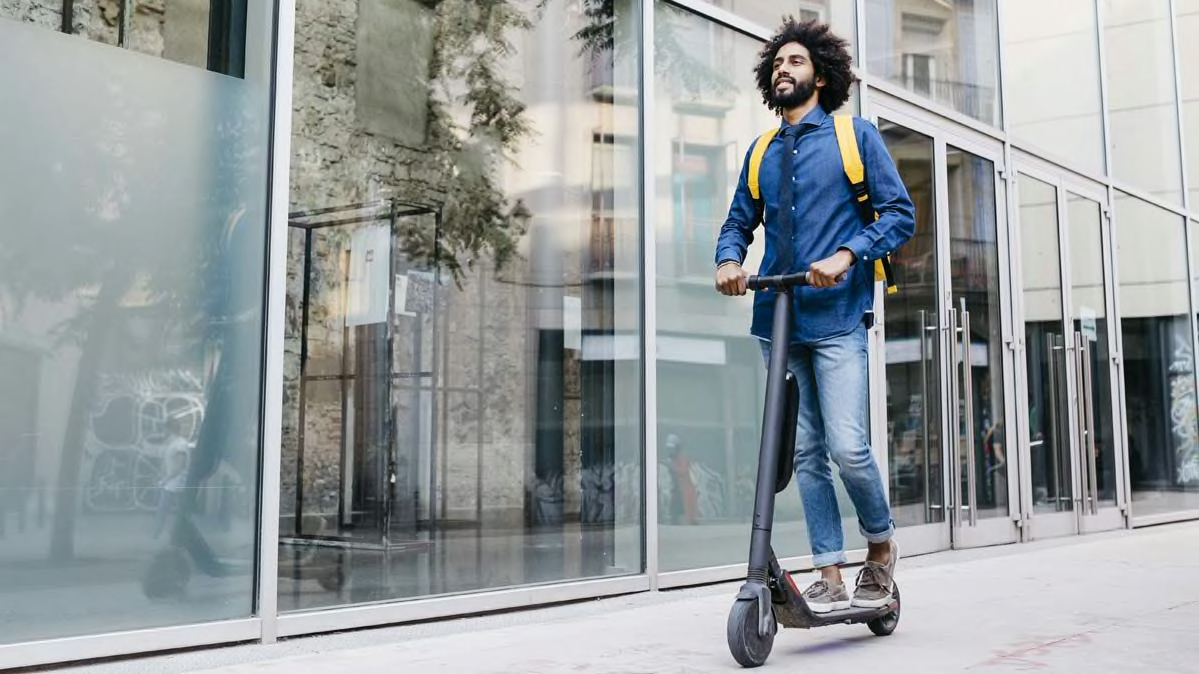 The fleets of publicly available electric scooters that have popped up in U.S. cities over the past few years have added a new dimension to urban transportation options. Their rapid proliferation has left municipal regulators struggling to keep up with the traffic impact and rising safety problems.
A new study from the Insurance Institute for Highway Safety has found that without a clear vision for where and how e-scooters should be operated, e-scooters pose a safety risk for riders and pedestrians.
"E-scooters can be a fun and useful way to get around, but they can also pose serious safety hazards," says William Wallace, manager of safety policy at Consumer Reports. "Policymakers shouldn't treat them just like bikes. E-scooters should be designed, built, and maintained with safety first, and riders should follow best practices to avoid hurting themselves and others."
More on E-Scooters and Bikes
The study also compared e-scooter injury statistics with data obtained from interviews with emergency room patients who had sustained injuries while riding bicycles. IIHS researchers found that e-scooter riders sustained more injuries per mile than bicyclists and were twice as likely to be injured because of potholes, pavement cracks, lampposts, and signposts, although bicyclists were three times as likely to be hit by a motor vehicle.
The research highlights the unanticipated safety concerns that have manifested in this emerging mode of transportation. The lightning-fast growth of e-scooter availability, as people who live and work in cities seek convenient, inexpensive ways to get around motor vehicle traffic, has led to a lag in regulations as early adopters face a confluence of inexperience and a lack of appropriate infrastructure. According to the Consumer Product Safety Commission, e-scooters resulted in an estimated 50,000 emergency department visits and at least 27 fatalities between 2017 and 2019, with injuries and deaths on the rise year over year.
According to the National Association of City Transportation Officials, e-scooter riders logged 86 million trips in 2019. The IIHS says that although ridership fell during the first months of the COVID-19 pandemic, it is likely to increase as people seek social distance-appropriate alternatives to bus and train travel as the pandemic continues, posing an increased safety risk to pedestrians in places where e-scooters must share space with them.
The study found that e-scooter riders and bicyclists sustained injuries of similar severity, albeit of different types. E-scooter riders, most of whom did not wear a helmet, were more likely to suffer from skull fractures and loss of consciousness. Only 2 percent of e-scooter riders interviewed reported wearing a helmet, whereas 66 percent of the bicyclists receiving emergency treatment said they had worn one. The study posits that promoting helmet use, along with providing well-maintained surfaces for travel, would reduce injuries among e-scooter riders.
"We think that if there was more helmet use, there would be fewer of these head injuries, but helmets are a logistical problem where e-scooters are concerned," says Jessica Cicchino, vice president for research at the IIHS. "It's tough for the companies that provide e-scooters to distribute helmets, and people don't necessarily want to carry them around if they're not always riding a scooter."
The IIHS noted that compared with bicyclists, many e-scooter riders lack experience. Forty percent of the e-scooter riders interviewed had been injured on their first ride. "Inexperience increases crash risk for virtually every form of transportation," Cicchino says.
The level of danger scooters pose to pedestrians depends a lot on the city, Cicchino says. In Washington, D.C., where the study was conducted, local law caps their speed at 10 mph, which mitigated the injuries caused when e-scooters contacted pedestrians. In other cities, faster speeds could lead to more severe injuries. Right now, she says, a big challenge—other than solving the helmet use problem—is figuring out the best places for e-scooter operators to ride. Based on the study, keeping them away from cars is key, but so is operating them on smooth, well-maintained surfaces—a condition that many sidewalks don't meet. Where they are available, bicycle lanes provide one potential solution, although bicycles typically travel at higher speeds.
"We still don't have a clear answer about where is the best place for e-scooters to ride," Cicchino says. "Our results showed that when riders were injured on the road, their injuries were more severe, but when they rode on the sidewalk, there were more opportunities for injury."
CR's Wallace says that the best way to make a difference would be to change how we think about cities and transportation.
"City streets should be safe and convenient for all road users, regardless of their age, their abilities, or what mode of transportation they're using," he says.