When you shop through retailer links on our site, we may earn affiliate commissions. 100% of the fees we collect are used to support our nonprofit mission.
Learn more.
When you shop through retailer links on our site, we may earn affiliate commissions. 100% of the fees we collect are used to support our nonprofit mission. Learn more.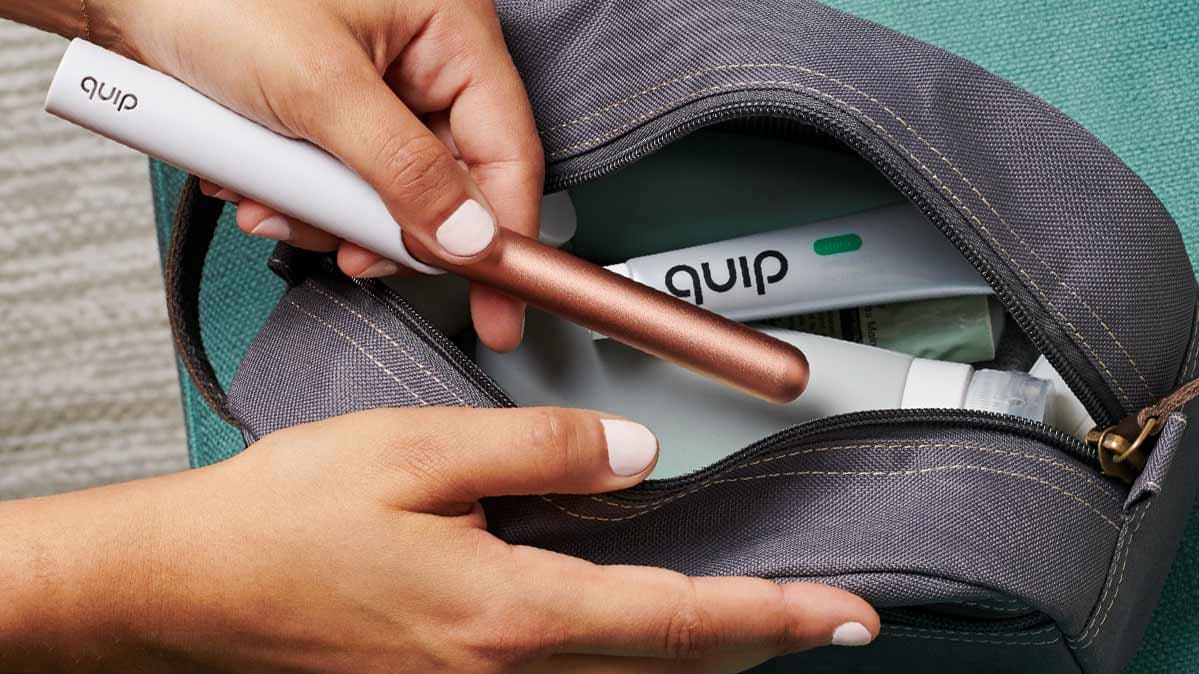 Advertised as a convenient "set it and forget it" option that takes the guesswork out of when to replace your brush head, electric toothbrush subscription services such as Quip and Burst work on a simple premise: Customers pay an initial fee for their first complete brush set, then receive replacement heads on a regular basis for a set fee. Some services also offer refills of additional products, such as toothpaste and floss.
But will one of these services really make sense for you? CR took a close look and conducted a study with Quip and Burst subscribers to help consumers figure out whether an electric toothbrush subscription might be a good fit.
Is a Toothbrush Subscription Right for You?
One of the most important things you can do to keep your teeth and gums healthy is to brush your teeth twice a day for at least 2 minutes at a time. Yet according to the American Dental Association, most people don't brush their teeth for long enough, averaging about 45 seconds a session, and many press too hard while brushing, which can damage gums and tooth enamel over time.
Depending on the model you select, an electric toothbrush can help you brush long enough and correctly. Many models—including Quip and Burst—have a built-in timer that buzzes to let you know when it's time to move to another section of your mouth and will turn off automatically after 2 minutes of brushing.
However, dental experts say the most important thing for your dental health is not the type of brush you use but how you use it. "If using an electric toothbrush will inspire you to brush your teeth twice a day for 2 minutes—because they do have timers on them—so be it!" says Alice Boghosian, DDS, a clinical instructor at the University of Illinois at Chicago College of Dentistry and a spokesperson for the ADA. "But it's not necessary. If you use a manual toothbrush properly, you can clean your teeth the way you need to."
The ADA also recommends changing your brush every three to four months, or whenever the bristles are "visibly matted or frayed." If you have trouble staying on top of this yourself, an electric toothbrush subscription—which generally sends replacement heads every three months or on a customized schedule—can help.
That said, if you don't want to deal with canceling or changing a subscription—or if you are already a fastidious brusher who replaces your toothbrush regularly—you may be better off just picking up an ADA-approved brush at the store. You can also see CR's picks for the best nonsubscription electric toothbrushes in this earlier article.
What We Learned From Electric Toothbrush Subscribers
CR's previous tests of
eight electric toothbrushes
included expert evaluations by dental hygienists on how well each brush worked. We are currently lab-testing brushes from Quip and Burst and should have results soon, but in the meantime, participants in our new study gave CR detailed information about how people who use these two products (and pay for subscriptions) feel about their experiences with the services.
For CR's new study, our consumer experience and usability research team connected with 16 consumers who have electric toothbrush subscriptions. Five were Quip users, five were Burst users, and six used other electric toothbrush subscription services. Each user answered questions about their electric toothbrush and their experience using it while demonstrating some tasks on video, which were reviewed and analyzed by our researchers. The participants provided comments and gave their electric toothbrush subscription a numerical score in four key areas:
Ordering and receiving: This covered questions like how easy it was to select a toothbrush and subscription plan from the manufacturer, and how excited users were when they first received the new brush.
Use and maintenance: Users told us what they thought about holding and handling the toothbrush, changing the brush head, keeping the toothbrush charged, and keeping the toothbrush clean.
Sustaining subscription: This assessed users' satisfaction with the frequency and timeliness of brush head replacements.
Changing or canceling subscription: Participants told us (and showed us) how easy or difficult it was to change their subscription preferences or cancel their subscription altogether.
CR researchers also asked users other questions about their experience with the subscription service and the brush (such as "How does your mouth feel after you use this toothbrush?"). Finally, the researchers generated an overall usability score, based on participants' agreement with 10 statements, including "I like to use this toothbrush and subscription service frequently" and "I find the toothbrush and subscription service unnecessarily complex."
"We compared the consumers' experience with popular toothbrush subscription services to see what drives them to subscribe and what motivates them to continue using the toothbrush and the service," says Dana Keester, a test project leader in CR's consumer experience and usability research department.
For the most part, users liked the services they were subscribed to.
Participants told CR that Burst and Quip's purchasing processes were enjoyable—using words like "easy," "straightforward," and "simple"—and that they were excited to receive their new toothbrushes. Differences started to emerge between the two products when we asked participants about changing and canceling their subscription, holding and handling, storing the toothbrush, and changing the brush head.
What Our Volunteers Liked
Convenience: Do you have trouble remembering when to change your brush head? Then having one delivered every three months might be useful.
One Quip subscriber noted that they want to follow what their dentist says to do—switching out her toothbrush every three months, and that this service helped them with that. "Now, I just get it delivered to me automatically so I don't have to worry about that," they told CR. "It holds me accountable."
Most participants also found the brush heads easy to replace once they were delivered.
Counter appeal: Some electric toothbrushes require a base unit to charge on, which could take up valuable real estate on your bathroom counter. But others, like the battery-powered Quip, have a much smaller footprint, and can be easily stashed in the cabinet or attached to the mirror.
"That was another reason that I wanted this particular brush. . . . I didn't want to have to worry about keeping a charger for my toothbrush in the bathroom, which is . . . not convenient," a Quip subscriber said, adding that they don't have a lot of counter space or outlets to spare.
A Burst user also remarked that despite having a charging base, they liked that "it's really small and fits right into the cupboard."
Some participants simply like the way their toothbrush looked.
"All of it's pink, all of it's gorgeous, I love it," a Burst user weighed in. However, it's worth noting that sometimes special colors—like Burst's rose gold version—come with a bigger price tag.
One participant who wanted share a base with someone in their house was looking to purchase brush heads in different colors to make it easy to identify the owner. They noticed that the pink brush head cost more, which they found "kind of annoying," likening it to the "pink tax" phenomenon where products marketed to women cost more based on appearance rather than function.
"So that was just a little bit off-putting," the participant said, adding that they'd decided against purchasing the more expensive pink brush head in the end.
Long battery life: While CR hasn't yet tested the battery performance of these brushes in our labs, subscribers thought they held a lot of juice.
Quip brush head replacements come with the AAA battery needed to power your brush until the next one arrives. The Burst must be charged in a base. But once it's fully charged, it seems to last a long time, our volunteers said, making it a good choice for traveling.
"I feel like my toothbrush's charge holds for about two to three weeks before me having to recharge it, which I think is great. I think that's perfectly reasonable," one Burst owner told us. (Burst claims users "should get around 4 weeks battery life out of each charge.")
Helpful timers: Many electric brushes—including Quip and Burst—have built-in timers to let you know when you should glide to the next area of your mouth, and when your 2 minutes of brushing are up. For example, you start brushing the upper right quadrant of your mouth, and after 30 seconds the brush will buzz, letting you know it's time to glide to the next area of your mouth. Once you've brushed for 2 minutes, the toothbrush automatically turns off. This feature was generally appreciated by the users CR talked to.
Saving money: One way to cut costs, at least initially? Consider sharing a toothbrush base with your partner and use your own dedicated brush heads.
"We had talked about trying to use electric toothbrushes for a while, [but] just never really got around to it. Partially I just didn't want to pay for it considering a normal toothbrush is like $2," one participant told CR. Instead, they and their partner purchased one electric brush from Burst for the both of them.
"The two of us can use the same toothbrush just with being able to snap the head on and off," they noted.
To keep germs from spreading between users, it's also important to keep the brush's handle clean when sharing it between people, Boghosian adds.
What Our Volunteers Didn't Like
Inconvenient to cancel or change parts of the subscription: A common gripe among Quip customers was that it isn't always easy to edit or manage the refill subscription—for example, some participants found it tricky to edit and/or cancel optional items like toothpaste that they may have added to their subscription when they initially signed up. However, we didn't hear that kind of feedback for Burst.
"The only problem that I've ever had with Quip in any way was when I decided I didn't want to use the toothpaste," one subscriber told CR, adding that they ended up having to talk to customer service to figure it out.
Post-brushing experience: We'll have objectively scored cleaning results for both of these toothbrushes when our final lab test results come in. But in our user study, one Quip subscriber noted that they didn't feel that the Quip got their mouth as clean as another electric toothbrush that has a rotating brush head. "It more just kind of vibrates, so I don't know that it gets my teeth as clean," the user said.
Another user said that "the pulses aren't as strong as I thought they were going to be. You do have to continue to . . . brush," she said. "I have some friends that have electric toothbrushes, and it just kind of like goes on its own."
However, almost all participants were satisfied with the way that their mouth felt after brushing with their current toothbrush, many stating that their mouth felt "squeaky clean."
It's worth noting again that these are subjective impressions of these participants; stay tuned for CR's ratings based on our ongoing lab tests for the Quip and Burst brushes.
Brushes can be hard to handle: A slight downside for at least one participant who uses the Burst service—the brush's handle is "a lot thicker and heavier than a normal toothbrush."
"I'm someone who likes to be really efficient in the morning, so I'm generally doing other things when I'm brushing my teeth, like I'm opening my curtains, [or] rummaging through my closet," she told CR. "It's kind of hard to do that, like you have to hold it all the time, with a normal toothbrush I could just put it in my mouth for a second while I went to do something else, but with this you have to be holding it all the time."
Some users also found it tricky to avoid turning off their Burst brush accidentally, midcleaning.
"The placement of the button is a bit odd, and I sometimes turn the brush off as I'm holding it," one Burst user remarked.
"I'll be in the middle of brushing my teeth, and then I'll click the button again and then it will stop and I'll have to start it all over again," another commented, lamenting that turning it back on starts the 2-minute timer over again, "and I don't really know how long I'm supposed to be brushing my teeth, so I end up doing it for twice as long."
Another drawback, in this case for Burst users, is the counter space they have to give up to the toothbrush's charging base—if you decide to leave it on the charger, that is. But as we noted above, participants were generally pleased with how long they could use their brush after charging it up, so users could get away with stashing the base out of sight between charges.
Burst
Price: $70
to buy brush, including whitening strips, then $6 per replacement head
CR'S TAKE: Burst is a good choice if you want to customize your subscription and if you have enough bathroom space to accommodate the charging base. Burst scored slightly higher than Quip overall, primarily because users rated their subscription service as more flexible. Burst subscribers said it's easy to change their refill frequency (30, 60, or 90 days) and add or cancel accessories. Some Burst users didn't like that they had to dedicate some amount of sink or counter space to the charging base, though this problem is not unique to Burst. All participants found the Burst's brush head to be very easy to change, though one said the handle was too bulky.
Quip
Price: $25-60
(brush can be purchased separately or with customizable starter kit)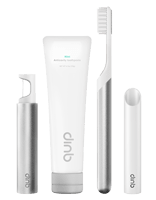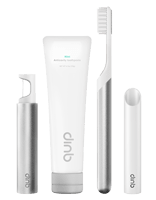 CR'S TAKE: Though it didn't score quite as high as Burst, Quip is a good choice if you don't want to deal with a charging base. It got mostly rave reviews from our participants on storage and maintenance, with many users happy with its minimalist, space-saving design. Most participants, however, experienced some level of difficulty understanding how to modify their subscription. Users found the Quip to be very easy to hold and operate, but some found the process of changing the brush head and battery challenging.