When you shop through retailer links on our site, we may earn affiliate commissions. 100% of the fees we collect are used to support our nonprofit mission.
Learn more.
One of the challenges of bringing exercise equipment into the home is finding space for the bulky machines. Ellipticals have an advantage over treadmills in our Ratings, since they tend to have a smaller footprint and the clearance requirements aren't as great. A new elliptical on the market, the Bodyguard E-40, steps up that space efficiency, thanks to its innovative design. It also happens to be our new top-rated model among ellipticals without heart rate programs.
The design of the Bodyguard E-40 differs from other ellipticals in that it has the guts of an indoor cycle. This is apparent from the polished flywheel that peeks out from the front of the machine's plastic housing. The flywheel is stacked vertically above the drive wheel, creating a compact 62-inch-long footprint. Most other ellipticals on our recommended list are between 70 and 80 inches long; the biggest of all, the ProForm 19.0 RE, hits 84 inches, meaning you'd need almost two additional feet of floor space to make it work in your home.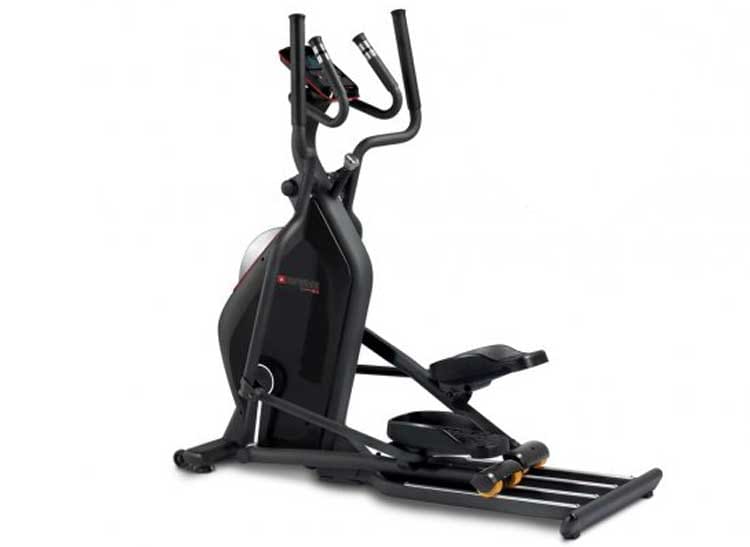 Bodyguard E-40 Test Results
Given the compact design of the Bodyguard E-40, you might expect some trade-off in performance. But it earned the highest overall score among ellipticals without a heart rate program. It even edged out a couple models with heart rate programs, even though they have an obvious advantage in our scoring of heart rate features.
We were particularly impressed by the Bodyguard E-40's exercise range, which is largely a measure of resistance. Credit the machine's manual brake, another feature borrowed from indoor cycle design. Though it's not quite as convenient as an electronic brake, the manual brake can be cranked down to create a huge amount of resistance. Resistance can also be fine-tuned with minor adjustments, which you can't do with the electronic brake found on most elliptical exercisers.
While the Bodyguard E-40 benefits from the braking technology of an indoor cycle, it still has all the benefits of weight-bearing exercise associated with ellipticals, especially those related to bone mass. The machine also operates quietly. Along with the Bodyguard E-40's space efficiency, quietness is a feature you'll appreciate if you live in a small home or apartment.
As for the interface, the battery-powered display is pretty bare bones. It offers three exercise programs, plus a manual setting. Once again, the programs take their cue from indoor cycle design, in that they allow you to compete against the console itself, at various levels of intensity. The display also has an information window showing distance, speed, time, calories burned, pulse, and revolutions per minute.
Its $2,100 price tag puts the Bodyguard E-40 in the higher end of the elliptical category. But especially if space is an issue, it should definitely be on your short list of models to consider.