When you shop through retailer links on our site, we may earn affiliate commissions. 100% of the fees we collect are used to support our nonprofit mission.
Learn more.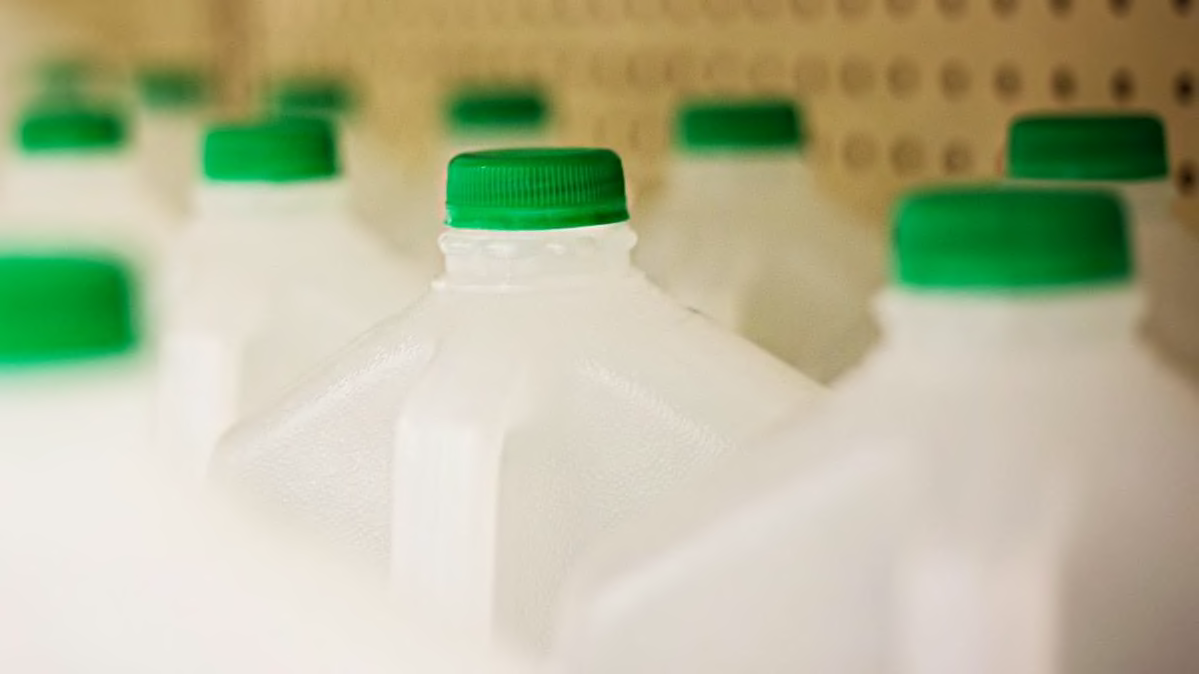 If you're facing a storm or other major disaster, there are a number of measures you may need to take to protect your health, in addition to heeding the warnings of local authorities.
Because the time before and after a natural disaster can be frightening and chaotic, and the information you receive is not always clear, we've outlined four common health concerns that can arise after a disaster and offer expert advice on how to handle them—and even prepare for them ahead of time.
Concern: Staying Hydrated
After many types of disasters, especially large storms, access to potable drinking water is often a significant problem, says Courtland Robinson, Ph.D., associate professor in the department of international health, and a member of the Center for Humanitarian Health at the Johns Hopkins Bloomberg School of Public Health.
More on Storm Preparedness
If you lose power, you may also lose running water at your house, or wherever you are sheltering. And flooding can contaminate the water supply, which puts you at risk for diarrheal illnesses caused by organisms such as giardia, E. coli, and cryptosporidium.
The result may be dehydration, which can be dangerous, especially for young children and older adults. Extreme heat can heighten the risk of dehydration.

Before a disaster: The Centers for Disease Control and Prevention (CDC) recommends that every household have an emergency kit on hand, containing at least three days' supply of drinkable water—that means 1 gallon per day for each human and pet in your home.
If a disaster is predicted to be particularly severe, or if local officials expect that residents may be without power for more than three days, add a few additional days' worth of supplies to your emergency kit.
Also, consider stocking up on do-it-yourself drinking water disinfectants, such as iodine or chlorine dioxide tablets (which you can often find online or at stores that sell camping and hiking equipment) or purchasing a portable water filter.
After a disaster: Municipal governments sometimes issue "boil water" notices if they believe the local water supply may be contaminated. If your city is under this notice, or you have no running water, drink the bottled water you have on hand first.
During a boil water advisory, you must bring tap water to a full, rolling boil for at least a minute (3 minutes if your elevation is above 6,500 feet). Or treat it with one of the following methods:
Add 6 drops of unscented household chlorine bleach to disinfect 1 gallon of clear water; 12 drops to disinfect 1 gallon of cloudy water. Stir well and let sit for half an hour before using.
Use iodine; follow instructions on the bottle for the amount to use.
Drop in chlorine dioxide tablets; follow manufacturer's instructions. Aside from boiling, this is the only method that kills cryptosporidium.
If there's no water advisory but you have no running water, you probably still have safe sources of drinkable fluid at home. These include, according to the CDC, the water in the tank behind your toilet (not the water in the toilet bowl, and not if it has been treated with a toilet cleaner), melted ice cubes from your freezer, liquid from canned fruits and vegetables, and the water in your home drinking water heater tank (this is separate from your home's heating tank, which may also contain water).
Never drink any water that you suspect or know from local authorities has been contaminated with fuel or toxic chemicals, or that has an unusual color or smell. It's likely that you can't make this water safe even by boiling.
Concern: Spoiled Food
When the power goes out, the foods in your refrigerator and freezer are in danger of spoiling, which puts you at risk of foodborne illness.
Before a disaster: Stock up on nonperishable items and create a cooking plan. The CDC recommends that your emergency preparedness kit contain at least three days' worth of food supplies for each member of your family—and don't forget your pets.
Shelf-stable items, such as canned food, crackers, cereal, dry or nonperishable pasteurized milk, peanut butter, protein bars, and dried fruit, are good options. You can also add nonperishable baby food. Be sure to include a manual can opener. Avoid foods that will make you thirsty, such as salty snacks.
If flooding is a possibility, be sure to store these items up high on shelves or on the second floor of your home, Robinson says. This protects boxed items from contaminated floodwater.
Make sure you have fuel for your gas or charcoal grill or a camp stove so that you can cook if your home gas or electricity is knocked out. (If you use one of these items, do so outside—never inside your home.)
Maintain food-prep hygiene habits to reduce the spread of germs. Wash your hands regularly if you have running water, or use hand sanitizer that's at least 60 percent alcohol.
After a disaster: If you lose power, eat your perishable food items first, Robinson says. You can help perishables last longer by moving them to a freezer. Left unopened, a freezer that's full will keep food cold for 48 hours; 24 hours if the freezer is half-full.
The CDC recommends tossing all leftovers and some protein items—meat, poultry, fish, and eggs—after the power has been off for more than 4 hours. At that point, the temperature inside the fridge is probably above 40° F, allowing bacteria to grow rapidly in food.
Fruits and vegetables, bread, butter, and hard cheeses are safe to eat at room temperature.
Concern: Breathing Problems
Poor air quality can be a significant worry during a wildfire, especially for people with asthma or other respiratory issues, people with heart disease, and for older adults and children.
After storms or flooding, moisture in your home can lead to mold growth. That can lead to symptoms such as wheezing in people who are sensitive or allergic to mold. And those who have chronic lung disease or a weakened immune system may be at a greater risk for developing a mold infection in their lungs.
Before a disaster: If you have asthma, chronic obstructive pulmonary disease, or another lung condition, and you know there's likely to be heavy smoke in your area, consult your doctor beforehand. He or she can advise you on how to protect yourself and whether you should have extra medication on hand, says Steven Jensen, Ph.D., a member of the scientific advisory council for the American Red Cross.
You might be tempted to buy a mask to help filter the air, but a paper dust mask or surgical mask won't be up to the task. Some people opt for products called particulate respirators to help filter out smoke. (These masks should have the designation "N95" and two straps, and are usually available at hardware stores.)
However, it's not completely clear that these products benefit people with heart and lung disease, because the respirators themselves can make it more difficult to breathe. In fact, the California Department of Public Health recommends that people with heart or lung conditions talk with a doctor about whether they would be helped by a respirator in the event of heavy smoke.
After a disaster: If there's heavy smoke in your area, stay indoors for the duration, Jensen says. To keep indoor air as clean as possible, close the windows and run your air conditioner with the fresh air intake closed. If your household includes people with lung or heart diseases, older adults, or young children, and you have a portable air purifier, consider turning it on to further clean the air.
If you're returning home to clean up damage and expect to encounter a lot of dust from rubble or mold after a flood, the CDC advises wearing an N95 respirator while you're working. People with respiratory issues shouldn't do this work.
And if you're running a generator because you've lost power, make sure it's at least 15 feet away from your house, basement, or garage, and is placed away from any open windows. A 2012 study published in the American Journal of Public Health found that generators caused 83 percent of the carbon monoxide poisoning deaths related to disasters between 1991 and 2009 in the U.S.
Concern: Injury, Infections and More
Natural disasters pose a high risk for injury, and the wounds resulting from them may more easily become infected after a large flood or other devastating event. Having the tools to treat simple injuries yourself can be a useful skill. In a disaster, "We know the medical system is going to be stretched really thin," says Jensen. "If people cut themselves, or have a minor medical problem, they can't rely on an emergency room."
Before a disaster: Make sure your home first-aid kit is fully stocked. Jensen also recommends that people consider taking a first-aid class so that they are prepared to help friends and family who may be injured. These classes are offered by the Red Cross and can be taken in-person or online.
In addition, make sure you're stocked up on medications and medical supplies you may need if you can't get to your doctor or pharmacy for several days.
After a disaster: In the wake of a disaster, it's natural to want to assess and clean up damage to your home as fast as possible. But it's wise to take it slow. "We see many injuries occurring during that time," Jensen says. "People push way too hard."

Overexertion in the heat also hikes the risk of dehydration, heat exhaustion, and heat stroke. And loss of power following a disaster could mean no air conditioning.
So drink plenty of water, take frequent breaks, and if you experience dizziness, lightheadedness, headache, nausea, vomiting, or muscle cramps, stop working, rest, and rehydrate in the shade.
If you're in a flooded area, keep kids from playing in floodwater and try to avoid wading through it yourself. It may look safe, but even a foot or two of floodwater can be moving "extraordinarily fast," Jensen says, and could potentially sweep away kids.
In addition, nearby factories and plants may emit potentially harmful substances, and "flooding in basements and kitchens is releasing every single chemical you've had stored under your sink, every single chemical you've had stored in your basement," Robinson says.
And you don't even have to drink contaminated water to experience negative effects, according to Robinson. "If you have a small cut or abrasion, it can get infected," he says.
What Not to Worry (Too Much) About
Some health concerns may not need to be on the top of your priority list. For example, in the aftermath of Hurricane Harvey, news reports circulated that officials were recommending precautionary tetanus shots. But rushing to get a tetanus shot if it's been less than 10 years since your last booster can strain an already beleaguered medical system, Jensen says.
Instead, seek a tetanus shot only if you know you're out of date or don't know when your last one was, and you receive a wound that may have come in contact with contaminated floodwaters.
Another concern that may not be an immediate danger, unless health officials issue special warnings, is mosquito-borne illnesses, Robinson says.
Yes, standing water left after flooding can serve as mosquito breeding grounds. So continue taking normal precautions: wearing insect repellent and clearing the areas around your home of any standing water, once flooding has subsided.