How to Revise Your Emergency Plan Amid the Coronavirus Pandemic
Here are the precautions you should take if you need to prep for a natural disaster and evacuate
When you shop through retailer links on our site, we may earn affiliate commissions. 100% of the fees we collect are used to support our nonprofit mission. Learn more.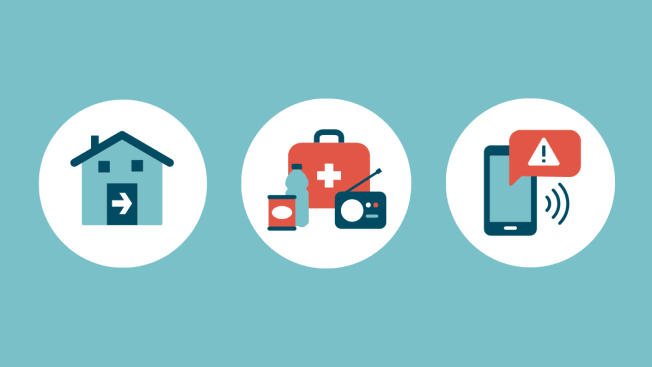 That's concerning enough in normal times, but during the coronavirus pandemic, evacuating when a natural disaster strikes becomes even more fraught—and logistically complicated—by the added worry of potential exposure to infection.
"Natural disasters won't wait, so I encourage you to keep COVID-19 in mind when revising or making your plan for you and your loved ones," said Carlos Castillo, acting deputy administrator for resilience at the Federal Emergency Management Agency (FEMA) on a May press call announcing the forecast.
The New State of Preparedness
The Red Cross recommends gathering your supplies now, because they may become less available once a storm is predicted or approaching. If you dipped into your emergency stash—canned food, bottled water, and other nonperishables—during the quarantine, make sure to replenish the supplies you used. It's also a good time to check with hotels, motels, and campgrounds to see whether they've opened. And find out whether your local emergency management agency has adapted its sheltering plans, based on any stay-at-home orders or loosening quarantine restrictions.
Red Cross' Gustafson recommends putting together two emergency supply kits—one for sheltering at home and another for evacuating. In both cases, plan on assembling a one-month supply of the prescription and over-the-counter medications you depend on. Keep your meds in a separate bag so that you can easily grab them no matter where you go. Here's what the Red Cross recommends for each scenario.
Stay-at-Home Kit (2 Weeks of Supplies)
Gather everything you need to stay at home for at least two weeks, including food, water, household cleaning and disinfectant supplies, soap, paper products, and personal hygiene items. Don't forget to stock up on face masks, something we didn't have to think about in previous years.
Even if you don't have to evacuate, you may be without power for an extended time. If you have a portable generator, make sure it's in good working order and that you have a supply of gas on hand (gas stations may not be operational if they lose power, too). And make sure your carbon monoxide detector is in working order.

If you don't have a portable generator, now is a good time to consider buying one. A portable generator can keep four to six appliances and electronic devices running—refrigerator, window air conditioner, TV, phones. Always place the generator at a minimum of 20 feet from your house, with the exhaust vent directed away from any windows or doors. More on top-performing portable generators below.
Evacuation Kit (3 Days of Supplies)
Your to-go kit should be a lightweight, smaller version of your stay-at-home kit that you can take with you if you must leave your home quickly. Include everything you need to be on your own for three days, such as food, water, personal hygiene items, and cleaning and disinfectant supplies that you can use on the go (tissues, hand sanitizer with 60 percent alcohol, and disinfecting wipes). Make sure that you have enough face masks for everyone in your household.
If You Need to Go to a Shelter
Gustafson says that the Red Cross is doing its best to ensure its shelters are safe. "Our goal is to provide anyone in need after a disaster with a safe place to stay, where they feel comfortable and welcomed," she says. "To help keep people safe, we will work with local officials to put in place additional precautions." Those include:
Setting up a health screening process for everyone coming into a shelter.

Creating an isolation care area for anyone who is sick.

Providing masks, tissues, and plastic bags. (It's also a good idea to bring your own.)

Following social distancing practices, as much as possible, by staggering meal times and adding extra spacing between cots, chairs, tables, etc.

Providing additional hand-washing stations, in addition to normal restroom facilities.

Increasing wellness checks to identify potential illness, including self-monitoring and checking temperatures of both shelter residents and staff.

Enhancing both cleaning and disinfecting practices throughout the shelter.
Keep in mind, Gustafson says, that face coverings are not a substitute for physical distancing. Continue to keep about 6 feet between yourself and others, whenever possible.
For more on emergency preparedness, see our Storm and Emergency Guide and go to FEMA's website, Ready.gov. To track storms and forecasts, go to the National Hurricane Center's website, at hurricanes.gov.

The Safest Portable Generators