When you shop through retailer links on our site, we may earn affiliate commissions. 100% of the fees we collect are used to support our nonprofit mission.
Learn more.
Some time around the end of March, the U.S. passed the 1 million mark for solar installations, according to the Solar Energy Industries Association. Even more impressive is the fact that 90 percent of these systems came online in the last 10 years. Here are the stories of five families and one community that now depend on solar and how they paid for it.

Home Equity Line in Arizona
Who: Kathleen Watson
Where: Buckeye, Arizona (just west of Phoenix)
When she went solar: 2011
How she paid: Home Equity Line of Credit
Upfront cost: $10,258 (after tax credit and local incentives)
Why she paid with a HELOC: Kathleen didn't have the liquid cash to pay for the system outright, but also didn't want to take a lease that could have made it hard to sell her house. So, she put $10,000 on her HELOC, which she paid off in 37 months. Her interest payments for that loan totaled about $400 a year, but since they were tax deductible, the actual interest cost was about $300 a year for just over three years.
Average monthly savings: More than $65 per month. Watson says she paid an average of $75 a month before she installed her solar system. Now she pays about $10 a month for connection fees, and her solar system is generating 100 percent of her power needs.
Bottom line: "Although it cost a lot more to go solar in 2011 than it does today, I have no regrets about doing the project when I did," says Kathleen, who as a single person living in a 1,400-square-foot home uses very little electricity. "It's paid for, and I have been reaping the savings—and living with clean energy—for five years already."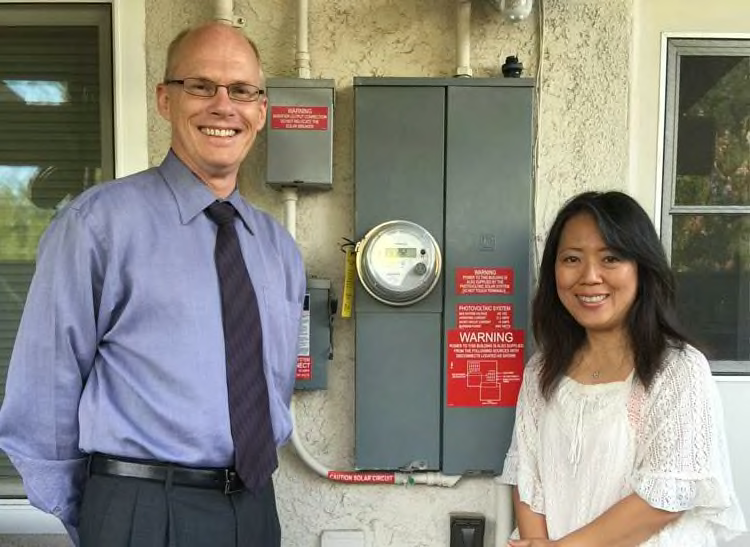 Cash in California
Who: Jon and Mami Humann
Where: Mission Viejo, California
When they went solar: 2014
How they paid: Cash
Upfront cost: $17,668 (after federal tax credit and a rebate from State of California)
Why they paid cash: "We both work as financial managers, and I created a spreadsheet to compare the overall economic benefits of a lease versus just buying the system outright," says Jon. "The lease didn't produce significant savings." Over the course of his system's 30-year warranty, he says, the Humanns will come out about $80,000 ahead with the purchase compared to the lease.
Average monthly savings: $233
Bottom line: In their first year with solar, before they installed their new Jacuzzi, the local utility issued the Humanns a $250 energy credit for the year. In year two, with the energy-guzzling outdoor spa, the Humanns paid $140 for electricity for the entire year. Their monthly savings will pay back the initial cost in a little over six years, Jon says, and then they estimate they will be ahead $2,860 per year.

More on Alternative Energy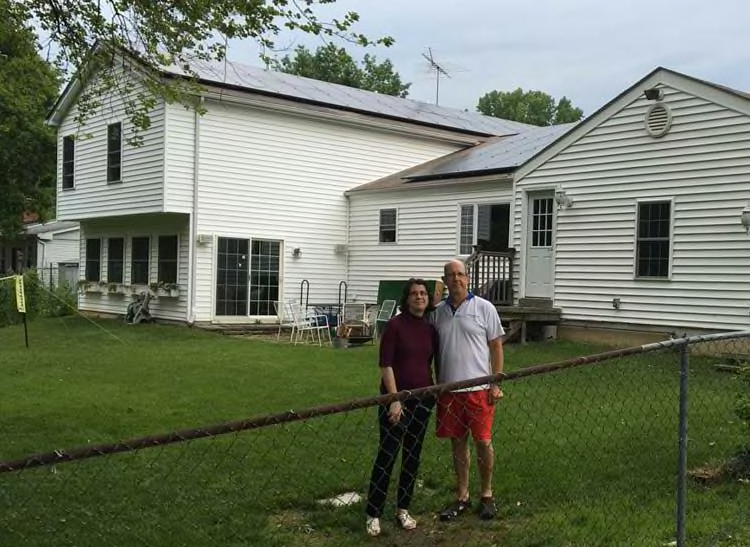 A Loan in Maryland
Who: Cathy and Randy Ribaudo
Where: Rockville, Maryland
When they went solar: 2016
How they paid: A 20-year solar loan
Upfront cost: $0
Why they choose a solar loan: "I didn't like the idea of a lease because the solar company is using all these customers' roofs to build a solar farm mostly for its own profit," says Randy. "Plus, the lease offer contained an escalator clause that would have increased our payments about 3 percent a year on the assumption that electric rates will increase at that rate. We didn't want to commit to that."
Average monthly savings: The Ribaudos report that they are breaking even. Their pre-solar electric bill was about $225 per month. Their solar system is generating more electricity than they use, but they are paying about $7 per month to be connected to the grid, and they pay $235 per month toward their solar loan.
Bottom line: "We considered other financing options, but the solar company offered an extended warranty if we went with their lender," says Randy.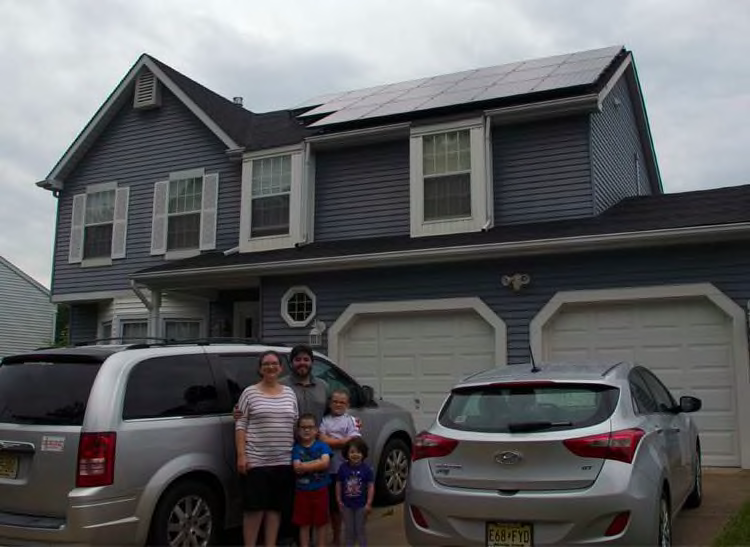 A Lease in New Jersey
Who: John and Aimee Lyden
Where: Williamstown, New Jersey
When they went solar: 2015
How they paid: A 20-year solar lease
Upfront cost: $0
Why they chose a lease: The Lydens are raising three kids on a single salary—he's a network administrator at Rowan University—so paying $27,000 for solar panels was out of the question. "I looked at the zero-down-payment solar loan options, but they were all predicated on giving the solar company $8,000 as soon as we got our check for the federal tax credit." Problem was, with their single income, high property taxes in Williamstown, New Jersey, and three child tax credits, he would receive only about $4,000 from the tax credit. Although the federal government would let him take another $4,000 credit the following tax year, the solar loan companies insisted on the full $8,000 in the month of June following installation. Unwilling to float the $4,000, he chose a solar lease instead—and he's been thrilled by the results.
Average monthly savings: $40 per month
Bottom line: "The lease is perfect for us," says John. "We are saving real money without any out-of-pocket costs at all."

Off the Grid in Vermont
Who: Sebastian Lousada and Sabra Ewing
Where: Vershire, Vermont
When they went solar: 1983 with upgrades over the years. Considering a major upgrade in 2016
Upfront cost: In 1983, they spent almost $5,000 in cash to install the system, and have spent about $4,000 in upgrades over the 33 years that they have had their system. For the upgrade installation they are considering now, the cost would be $13,874 (after federal tax credits) and they have not decided yet if they would pay cash or opt for a solar loan or lease.
Why they chose to go solar: When Sebastian Lousada and Sabra Ewing built their home in 1983, on 250 acres in Vershire, Vermont, the nearest utility pole was a mile away. "Running electrical lines would have cost $20,000, and we didn't want any part of nuclear power anyway," says Sebastian. So they initially installed a 200-watt array of solar panels on a wooden rack, (set low enough to allow Sebastian to brush off snow), wired them to a bank of batteries for lights in the evening, and manually turned on a propane-powered generator for those cloudy winter stretches when their electricity-sipping lifestyle (which includes a propane-powered refrigerator, gravity-fed well system, and wood stove for heat) drew more power than their system could support.
"We were incredibly careful about turning off lights and unplugging things when they were off to avoid phantom loads," he says, "and we just tried to keep from needing that generator."
That effort has gotten easier and easier over the years as they've added panels. "We have six different types up there now," Sebastian says. "It's like a museum of solar technology."

Sebastian and Sabra have replaced the batteries every six years or so, and have upgraded the inverter. It's currently a 0.8 kilowatt system, but it may get a lot bigger. The couple is now considering a major system upgrade.Green Mountain Power, their local utility, has presented a plan to install 12 new solar panels that would produce 3.36 kilowatts.
Total cost: $13,874, after the federal tax credit. This installation would include six Aquion saline battery stacks, which have several advantages over other technologies, according to Josh Castonguay, chief innovative officer at Green Mountain Power. "Saline batteries have a high cycle life, can discharge 100 percent of their capacity, and hold their charge for weeks without significant energy loss," he says. "Plus, they're nonflammable."
The new system will allow the couple to add more lights to their house and, most importantly, upgrade the heat in the barn where they run Vermont Hard Cyder, a winery, distillery, and cider mill.
A City Powered by Solar
With about 13,000 residents, North Adams is one of the smallest cities in Massachusetts, set in picturesque Berkshire County near the New Hampshire and New York state lines. Since September of 2015, 80 percent of the power for the city's 33 buildings has come from its three solar arrays—the largest of which is a 14-acre, 3.5-megawatt field of photovoltaic panels that sits atop a capped landfill.
"The landfill is on a 170-acre parcel, so no neighbors were affected and there was no opposition to the project," says Ross A. Vivori, the city assessor, who spearheaded the solar project.
Installed at no upfront cost to taxpayers through a lease arrangement, the panels have slashed the city's electric bill. Before the solar went in, the city spent about $900,000 a year for electricity. For fiscal year 2016, North Adam's first full solar-powered year, the city has saved 42 percent in energy, according to Vivori, about $378,000—roughly the cost of six teacher salaries in the area.
Since installation, the landfill array has provided (at publication time) about 1.85 gigawatt hours of electricity, preventing the release of 4.8 million pounds of carbon, the equivalent of planting 55,482 trees.