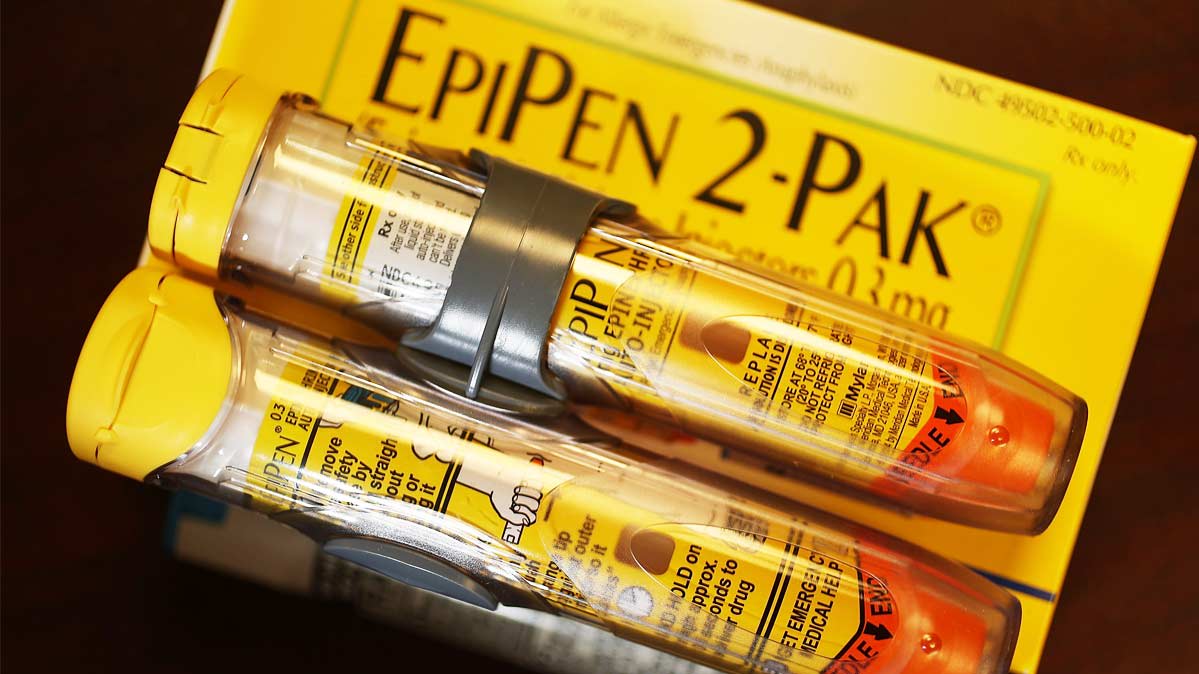 The Food and Drug Administration has just approved the first generic competitor to the EpiPen, a move that experts predict will help drive down the cost of all epinephrine auto-injectors, which retail for anywhere from $109 to $500 per two-pen package—without insurance or discounts.
Epinephrine auto-injectors, such as EpiPen and EpiPen Jr (the version for children) made by Mylan, deliver lifesaving medication that can stop a potentially serious allergic reaction in its tracks.
The new pen, by Teva Pharmaceuticals, promises to compete with EpiPen and EpiPen Jr, as well as with EpiPen's own "authorized generic" version. Right now, EpiPens and their authorized generic version can cost as much as $500 depending on one's insurance coverage, though the average cash price for EpiPens is currently closer to $350, according to the drug pricing information site GoodRx.
"This approval means patients living with severe allergies who require constant access to life-saving epinephrine should have a lower-cost option, as well as another approved product to help protect against potential drug shortages," FDA Commissioner Scott Gottlieb, M.D. said in a statement.
In addition to EpiPen and its own generic, there are other epinephrine auto-injectors currently on the market. Adrenaclick and Auvi-Q also deliver the lifesaving epinephrine shot in pen form, but they're not always covered by insurance, and can't be substituted for the EpiPen by a pharmacist without a doctor's approval. (Your doctor would likely need to write a prescription for an epinephrine auto-injector that doesn't specify a brand name.)
However, pharmacists will be able to substitute Teva's new, as-yet-unnamed generic for the EpiPen and EpiPen Jr.
Teva, an Israeli company that specializes in generic medications, hasn't announced when the new epinephrine auto-injector will be available, or how much it will cost. But a spokesperson for the company said they are applying their "full resources to this important launch in the coming months, and eager to begin supplying the market."
EpiPens in Short Supply
In the meantime, many parents of children with allergies are struggling to find EpiPens at retailers in time for the start of school, where the medication needs to be on hand for children who suffer from severe allergies to substances such as nuts, eggs, and bee stings.
Holly Hatch, who lives in California's Monterey Bay area, tried filling her daughter's EpiPen prescription about 10 days ago at her local CVS and was told the product was back-ordered. "My almost three-year-old daughter is severely allergic to eggs and tree nuts, and not having an EpiPen for her is a huge stressor," Hatch told Consumer Reports.
According to the FDA, there are currently shortages of the EpiPen and its authorized generic version across the U.S. "The FDA has been working closely with Mylan to understand the status of EpiPen production supply, and resolve supply issues," said a spokesperson. The agency also noted that it has been in contact with the other manufacturers of epinephrine auto-injectors and is monitoring their supply "as the school year begins since this is historically accompanied by increased product demand."
Impax Labs, manufacturer of generic Adrenaclick, told CR that the company is also experiencing some supply issues. While products are available for the back-to-school rush, there probably won't be enough to meet the demand. The company doesn't anticipate having full inventory until the end of the year.
Kaleo, the maker of Auvi-Q, said that the company is not affected by the manufacturing delays reported by other epinephrine auto-injector manufacturers, and told CR that it's able to fill all orders of their epinephrine auto-injectors through their direct delivery service at www.auvi-q.com. The retail price for Auvi-Q without insurance or discounts is $360 for two auto-injectors and one training injector.
What to Do in the Meantime
According to the FDA, once Teva's generic product is available, it will likely help to address the shortage issues of epinephrine auto-injectors and lower their prices. But until then, if you're having trouble filling a prescription for an EpiPen at your pharmacy, here are some tips you can try:
Call around. When CR spot-checked pharmacies at locations across the country, there was limited availability of both branded EpiPen and EpiPen Jr, but some pharmacies had one or the other. Further, a Walgreens spokesperson said that while many of its stores have EpiPen or generic products available, if one store is out of stock, other locations might have it.
Plan for possible delay. Stores that were out of stock of particular products generally said they could order the devices, though it would probably take several business days for them to arrive. Holly Hatch, however, is facing an uncertain delay. Unable to find an EpiPen at pharmacies in her area, Hatch is currently the third person on the waitlist for the EpiPen at her CVS. "I don't know if I'm going to be waiting a month or three months," she said.
Ask Mylan for help. If you need help finding a store in your area, you could call Mylan. Sloane Miller, a therapist in New York City who works with allergy patients, told CR she called the company when her local pharmacy couldn't fill her EpiPen prescription. An hour later, she says, Mylan let her know that a nearby Duane Reade had the drug waiting for her. Call Mylan customer relations at 800-796-9526, then press 2. Customer service is open between 8 a.m. and 5 p.m. EST. Or email customer.service@mylan.com.
Ask about alternatives. Pharmacies that are out of your usual brand might be able to fill it with an alternative. For example, if you usually get an EpiPen, you could ask whether generic Adrenaclick is in stock—and if it's covered by your insurance. One grocery store pharmacy in Des Moines told CR that it was out of EpiPen Jr but did have generic Adrenaclick Jr in stock. And if your insurer does not cover an alternative, it's worth asking whether it will make an exception because of the shortage—or if there is a coupon that will help lower the cost.
Search for discounts. Look for coupons on websites such as GoodRx or Blink Health, which offer discounts on many drugs. Or look into manufacturer coupons. Kaleo, the maker of Auvi-Q, has an assistance program, which enables people with commercial insurance or those without insurance and a household income of less than $100,000 to obtain Auvi-Q for $0 out of pocket. Note that it can take several days to get the medication because your doctor will need to submit an application on your behalf and the company will need to review it to see whether you qualify.
Additional reporting by Lisa Gill
Consumer Reports is an independent, non-profit organization dedicated to helping consumers. We make it easy to buy the right product from a variety of retailers. Clicking a retailer link will take you to that retailer's website to shop. When you shop through retailer links on our site, we may earn an affiliate commission – 100% of the fees we collect are used to support our mission.
Learn more.
Our service is unbiased: retailers can't influence placement. All prices are subject to change.