When you shop through retailer links on our site, we may earn affiliate commissions. 100% of the fees we collect are used to support our nonprofit mission.
Learn more.
Esta gráfica muestra el promedio anual de las tasas de seguro durante el transcurso de la vida de un solo conductor en Estados Unidos. En general, los veinteañeros pagan más debido a su falta de experiencia, mientras que los mayores de 60 años pagan más por un mayor riesgo de pequeños accidentes. Pero los distintos acontecimientos en tu vida pueden convertirse en ahorros o sanciones. Esto es lo que puedes hacer para aprovechar lo primero y evitar lo último.
25 años: Obtener ese diploma
Se penaliza a los conductores veinteañeros por falta de experiencia de manejo.
Consejo de CR: Informarle a tu aseguradora acerca de tu educación puede ayudar un poco. Los graduados de la universidad, en promedio, ahorran cerca de $90 por año en comparación con quienes nunca terminaron la escuela secundaria. No mucho, tal vez, pero con el tiempo se puede ir sumando. Incluso los títulos avanzados ayudan menos: cerca de $20 para un doctorado y $15 para la maestría.
30 años: Casarse
Las aseguradoras ahora te consideran experimentado, así que las primas comienzan a disminuir, lo que hace un buen momento para comprar. Y casarse puede ayudar, también. Dos personas en sus 30 años que se casan y combinan las pólizas pueden ahorrar un promedio de alrededor de $525 por año en comparación con lo que pagarían como solteros.
Consejo de CR: Este beneficio es mayor en algunos estados y con algunas aseguradoras. En Texas, por ejemplo, casarse equivale alrededor de $780, en promedio, con Geico pero solo $360 con State Farm.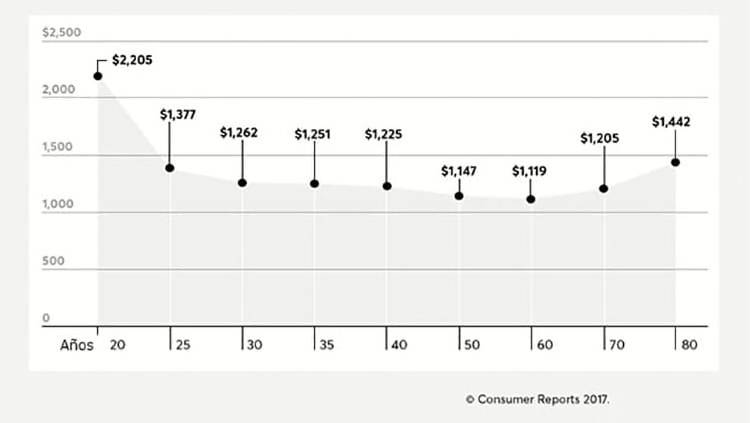 Infografía: Nicholas Rapp
35 años: Tener un bebé a bordo
Cambiar un Honda Civic EX por una miniván Honda Odyssey EX realmente puede ayudarte a ahorrar: un promedio de alrededor de $240 por año para una pareja con dos autos sin adolescentes. En algunos estados, las diferencias pueden ser aún mayores. En Florida, esa familia ahorraría alrededor de $375, en promedio.
Consejo de CR: Busca ahorros adicionales comunicándote con otras compañías. Un conductor de Florida que intercambia el Civic por un Odyssey podría ahorrar, en promedio, $600 al inscribirse con Progressive en lugar de Allstate, por ejemplo.
40 años: Comprar una casa
Simplemente al ser propietario de una casa, una pareja con dos autos puede ahorrar alrededor de $110.
Consejo de CR: Agrupar tu cobertura de auto con el seguro del hogar puede ahorrar aún más: alrededor de $240, en promedio, para una pareja con dos autos. Comparar precios también ayuda. En California, un conductor que combina el seguro del hogar con la póliza del auto podría ahorrar alrededor de $1,900, en promedio, al inscribirse con Geico en comparación con Nationwide.
50 años: Prestarle el auto a tus hijos
Añadir un adolescente varón le costará a una pareja casada unos 1,740 dólares; una adolescente mujer, alrededor de $1455.
Consejo de CR: Comparar al comprar puede ayudar. En Pensilvania, inscribirte con Erie Insurance Group en lugar de Progressive puede ahorrarte, en promedio, alrededor de $2,300. Pero no excluyas de la póliza a tu adolescente de manera intencional para ahorrar dinero. Mentirle a tu aseguradora es fraude, y motivos para que te la revoquen. En cambio, aprovecha el descuento de buen estudiante, si puedes. Eso le ahorra a una familia con dos autos y con un conductor adolescente un promedio de alrededor de $350. El descuento de buen estudiante en algunos estados puede ser aún mayor: más de $700 en Delaware, Louisiana, y Rhode Island.
60 años: Obtener un Mercedes durante la crisis de la mediana edad
Pasar de un auto familiar a un auto deportivo o un vehículo de lujo puede hacerte sentir joven, pero también te cuesta: $450 para un Mercedes-Benz E350, $440 para un Chevrolet Corvette, y $250 para un Porsche Boxster, en promedio.
Consejo de CR: Una vez que hayas elegido ese auto de lujo, compara las coberturas. Un residente de Ohio que asegura un Mercedes E350, por ejemplo, puede ahorrar un promedio de alrededor de $900 con Farmers en lugar de Allstate.
70 años: Finalmente, te jubilas
A largo plazo, las aseguradoras para jubilados comienzan a aumentar las tasas después de los 60 años, en algunos lugares en especial. En Texas, las tasas para un solo conductor aumentaron mucho más después de los 60 años con Geico que con State Farm.
Consejo de CR: Inscribirse para una clase manejo para adultos mayores les puede hacer ahorrar a un conductor soltero alrededor de $50, que compensa algunos de los costos que vienen con la edad. En casi todas partes, unirse a la AARP no ayudará mucho. Una excepción notable: En California, si te registras con The Hartford y perteneces a la AARP, podrías ahorrar $500.