When you shop through retailer links on our site, we may earn affiliate commissions. 100% of the fees we collect are used to support our nonprofit mission.
Learn more.
If you're in a wheelchair, your choice of vehicles is pretty well limited. This isn't for lack of demand; by some estimates there are well over 3 million wheelchair users in the U.S.
To be wheelchair accessible, a vehicle must have a large door opening and a low floor, as well as room for a retractable ramp and enough space inside for a wheelchair occupant to turn and roll into position (as driver or passenger). So, it's no surprise that most accessible vehicles are minivans, vans, or raised-roof vans.
Ford and BraunAbility, a mobility manufacturer based in Indiana, are teaming up to provide something a little different and a lot more stylish. BraunAbility is the same company that some years ago developed a wheelchair-accessible version of the Scion xB, and their latest creation is an accessible Ford Explorer dubbed the BraunAbility MXV.

"We all aspire to drive a vehicle that's a reflection of our personality," says Megan Wegner, BraunAbility brand manager. "Now wheelchair users can own a vehicle that's edgy, tough, and a true original. It's been a long time coming."
Turning the Explorer into an accessible vehicle requires some serious reconstruction. The conversion involves reshaping the right-side B-pillar (the structural post between the front and rear doors) in order to provide enough width for a wheelchair to enter. Like all BraunAbility conversions, the MXV is recertified to meet government safety standards, with third-party head-on, side-impact, and roof-crush testing to validate the vehicle's structural integrity.
The Explorer's second-row seat is removed, and BraunAbility replaces the rear passenger door's front hinges with a mechanism that allows the door to move out and back in a plug style, similar to the sliding door on a minivan. They rework the floor to provide space for a side-access wheelchair ramp and fit a kneeling function to lower the ramp angle. The suspension itself remains unchanged, ensuring that ride and handling are similar to an unmodified Explorer.
Driver's seat arrangements are tailored to the customer's needs. Drivers (or passengers) who can transfer out of their wheelchair may use the standard-fit removable front seats, which can be rolled back into the passenger area (or out of the van completely). Or they may use a locking system to secure their wheelchair in place. BraunAbility has developed a sliding mount that allows the Explorer's console-mounted transmission shifter to be moved out of the way for easier access to the front seating positions.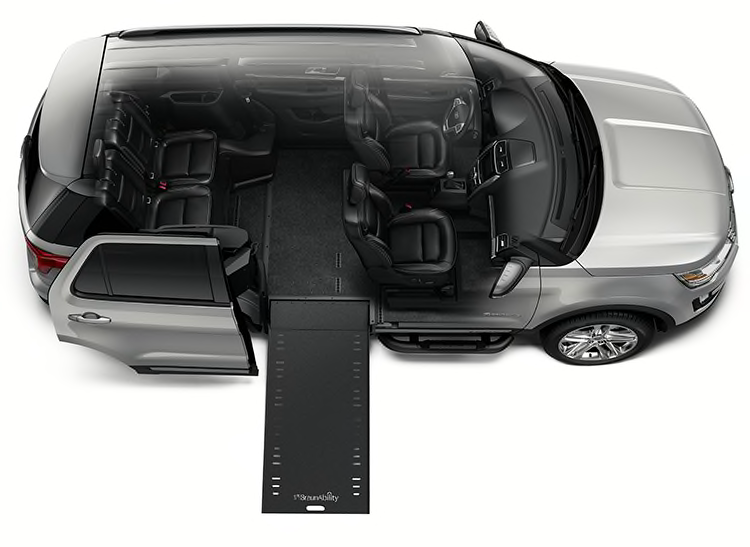 One of the appeals of the Explorer is its third-row seat. The seat stays in place after the conversion, allowing the MXV to serve as a true family vehicle.
Modifications to the floor dictate that the MXV may only be based on Explorers powered by the 3.5-liter V6 with front-wheel drive, precluding the conversion of the top-of-the-line Sport and Platinum models and losing the winter traction of AWD. However, the MXV can be fitted with an optional towing package. (Owners should take into account the weight of the converted vehicle and their wheelchairs when calculating the maximum tow capacity.)
Pricing for the BraunAbility MXV starts around $60,000—about double the Explorer base price. Most wheelchair-accessible vehicles are custom-tailored to fit their owners' needs, so out-the-door pricing will vary. BraunAbility estimates that an MXV with a transfer seat and basic hand controls will be priced in the mid-$60s. There are many grant programs available that can assist with the conversion costs, in some circumstances.
Buyers purchase the MXV through BraunAbility dealers that provide 24/7 emergency support and have the ability to scan the vehicle for trouble codes. If there's a powertrain or chassis problem, they can give the customer a print-out to bring to a local Ford dealership for repairs or warranty work. All modified components are covered by BraunAbility's 3-year, 36,000-mile warranty.
With so many Americans relying on wheelchair-accessible vehicles, it's great to see something more adventurous offered than a minivan. Too bad it isn't available in AWD to broaden its appeal. Hopefully more SUVs will be available for conversion, although BraunAbility has no immediate plans. The company also offers conversions of minivans from Chrysler and Honda.
For now, the BraunAbility MXV may be the coolest wheelchair-accessible ride.
Learn more about options for enhanced mobility from the National Mobility Equipment Dealers Association.