When you shop through retailer links on our site, we may earn affiliate commissions. 100% of the fees we collect are used to support our nonprofit mission.
Learn more.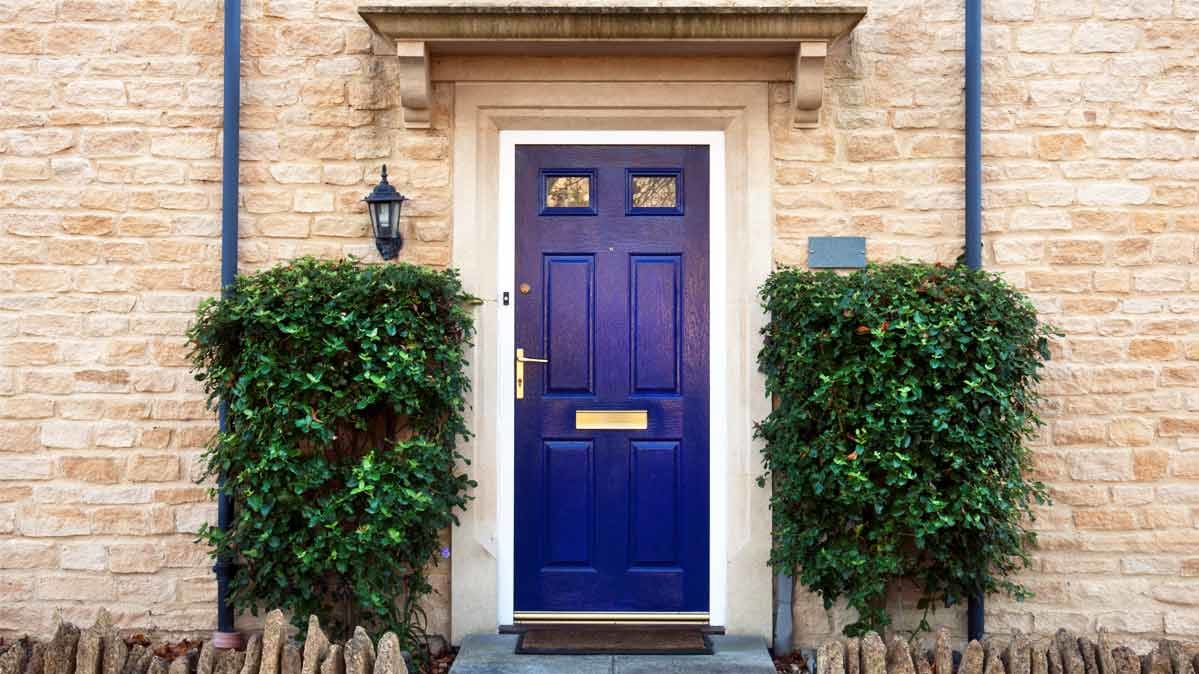 When it comes to painting your front door, there are a million colors to choose from but only one real option for the finish. It's got to be semigloss.
The same goes for exterior trim. Semigloss paint gives you a smoother surface than lower-sheen finishes and has a degree of shine, providing a visual contrast.
"Semigloss finishes are usually easy to clean, so they'll continue to look good for years," says Rico de Paz, Consumer Reports' resident paint pro. He also recommends a semigloss finish for porch railings, adding that you should use a porch-and-patio paint for the porch floor and stairs.
Before you tackle this project, check the paint can for information on the ideal conditions for application. Daytime temperatures between 50° F and 90° F with little or no wind are generally best for exterior painting.
Once you've got the right conditions, you can take on repainting your front door. It's a very doable job if you follow the right approach. Here are de Paz's three key tips:
1. Protect the area. Open the door, then seal the doorway with plastic to keep dust and bugs out of your house. Cover the floor with newspaper or a drop cloth.
2. Prep the surface. Wash the door with a sponge and a mixture of water and a low-suds detergent such as Spic and Span. (Sudsy detergents will leave the surface too slippery). Rinse the surface, then dry thoroughly. Gently scrape away peeling paint with a putty knife. Sand with 200-grit sandpaper and wipe clean with a tack cloth designed to remove dust, then tape around the hardware.
3. Paint a section at a time. If your door is paneled, start with the panels. Using semigloss exterior paint and a 2-inch angled sash brush with synthetic bristles, paint around the edges of the panels. Switch to a mini-roller for flat areas. Finish with the outer sections, following the grain of the wood. Allow the door to dry for an hour or two (check the instructions on the paint can), then apply a second coat. The door will take several hours to dry completely, so leave it open to prevent it from sticking to the doorframe.
If you're debating which color to paint your door, check out the front-door gallery on Houzz.
Lab Tested for Your Home
In our tough exterior-paint tests, we evaluate how the paint will look after three, six, and nine years. Our tests have found that a brand's flat, eggshell, and semigloss paints perform similarly overall, so we combine the scores to make it easier for you to compare brands.
You'll find 20 paints in our exterior-paint ratings with Overall Scores from 30 to 75, as well as several paints we're still testing.
Best of all? Behr Premium Plus Ultra; it's $39 per gallon at Home Depot. Clark+Kensington from Ace Hardware is nearly as good, and it's $35 per gallon. Sherwin-Williams Emerald is impressive, too, but it has a harder time resisting dirt than the other two and is $72 per gallon.
For the longest-lasting paint, zero in on the ones in our exterior-paint ratings that earned Very Good scores in appearance after nine years. And when comparing paints, click on the Features & Specs tab in our ratings.
Sunny, hot, and dry climates require paint that resists cracking and fading, and you'll see this information there. Warm and humid areas call for paint that's mildew resistant, and homes in the desert or the city need paint that prevents dirt from sticking.
How to Paint
Do you have some painting projects planned for your home? On the 'Consumer 101' TV show, Consumer Reports' expert Rico De Paz shows host Jack Rico how to give walls the perfect coat.