When you shop through retailer links on our site, we may earn affiliate commissions. 100% of the fees we collect are used to support our nonprofit mission.
Learn more.
For the approximately 64 percent of Americans who wear them, prescription eyeglasses are part medical device and part fashion accessory. They correct your vision and, faster than you can say Jackie O or Harry Potter, help you tell the world how you'd like to be viewed, too.
Even a simple pair, however, can easily set you back hundreds of dollars. That's especially true if you're buying eyeglasses the old-fashioned way, at a doctor's office or an eyewear chain—or if you have a complicated prescription. Online retailers offer ways to save, as do big-box stores, but you may get less hand-holding and a smaller selection of frames. The choices—and the trade-offs­—can be overwhelming.
That's why we surveyed more than 91,000 readers and also shopped for glasses ourselves, online and in walk-in stores, to discover the pros and cons of different vendors. We interviewed eyeglass experts and eye doctors to get their best advice, too. What we learned is that where you get your glasses should depend on whether your priority is convenience, service, selection, or a rock-bottom price.
Doctors' offices and independent eyeglass shops. Nearly 40 percent of survey respondents bought their glasses from one of these sources. They gave these sellers high marks for lens and frame fitting, employee knowledge, and follow-up service. But frames and lenses tended to cost more than elsewhere: Our readers shelled out a median of around $400, two to three times what you might pay online or at a discount store.
Major eyewear chains. Since it has many locations to help you if there's a problem with your glasses, buying eyeglasses at an eyeglass chain can be convenient. Our readers reported good follow-up service from most chains, too. But in other areas, survey ratings varied depending on the company.
Warby Parker and Zenni Optical. Each of these stores sells only its own brand of glasses. Warby Parker retails both online (they'll mail you up to five frames to try at home for free) and in brick-and-mortar locations in 18 states, the District of Columbia, and Ontario, Canada. In the seven years since it launched, Warby Parker has become a major player, offering glasses with single-vision lenses for $95, including an anti-reflective coating. But if you order progressive lenses, those prices can rocket to nearly $300—far more than the prices we found at some other retailers. And Warby Parker's warranty on frames is only 30 days, compared with a full year at some other stores.
As for all-online retailer Zenni Optical, you can try on frames only virtually, by uploading a photo of yourself. And it, too, has a 30-day warranty. Still, Zenni's frames with basic single-vision lenses start at less than $10, and upgrading to progressives begins at just $28. Survey respondents who bought from Zenni spent a median of just $69 for a complete pair of glasses, making them our survey's lowest-cost retailer.
Large discount chains. Costco and Walmart are low-cost one-stop spots for buying eyeglasses where you can do everything from having your eyes examined to getting your finished glasses adjusted for fit. Frames can be inexpensive at these stores. At Walmart and Sam's Club, we found basic, plastic progressive lenses for as little as $79. Costco charges $130 for high-definition progressive lenses, which, as with all Costco lenses, include an anti-reflective coating. That's about half what you'd pay at many walk-in stores. But if you need basic, plastic single-vision lenses, you can pay as little as $29 at Walmart, about half as much as at Costco.
These retailers got high marks from readers, with Costco, our top-rated eyeglass retailer, edging out Walmart in several areas, including the quality of frames and lenses and follow-up service. But readers were not impressed by the selection of frames, especially at Costco. One workaround: You can usually have a discount store put lenses into frames you purchased elsewhere. Walmart charges an extra $10 and Costco $18 to do this. They'll also adjust the frames while you're there.
Online retailers. While only about 5 percent of our respondents bought their glasses online, nearly twice as many browsed online before purchasing at a walk-in store. Even if you don't plan to buy from a website, the price information you get might help you negotiate your way to a discount from a walk-in store. For instance, in a web search, we found a Dolce & Gabbana men's frame that was $190 at LensCrafters on sale for $99 at LensesRx Optical and $89 at Amazon.com.
But no matter how good an online retailer's tools, prices, and return policies, getting your glasses by mail can be a hassle, especially if you have to send them back.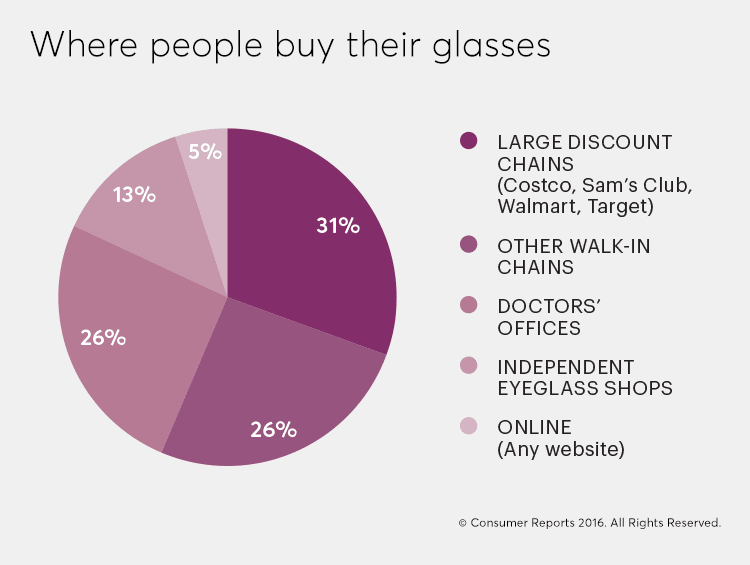 The Best Choice?
Once you know the pros and cons, your decision may be easy. If you have a simple prescription, you might consider shopping at Warby Parker. If you're covered by insurance, you'll probably want to choose a provider that accepts your plan. If your heart is set on pricey designer frames, online retailers may be a great option.
If no one retailer has the service, selection, convenience, and prices you want when buying glasses, think about splitting up the process. You might have your eyes examined by your doctor, search for frames online, and get your lenses from Costco. One eyeglass vendor doesn't necessarily fit all—but knowing what each retailer offers will let you buy your glasses with your eyes wide open.
Editor's Note: This article also appeared in the February 2017 issue of Consumer Reports magazine.