When you shop through retailer links on our site, we may earn affiliate commissions. 100% of the fees we collect are used to support our nonprofit mission.
Learn more.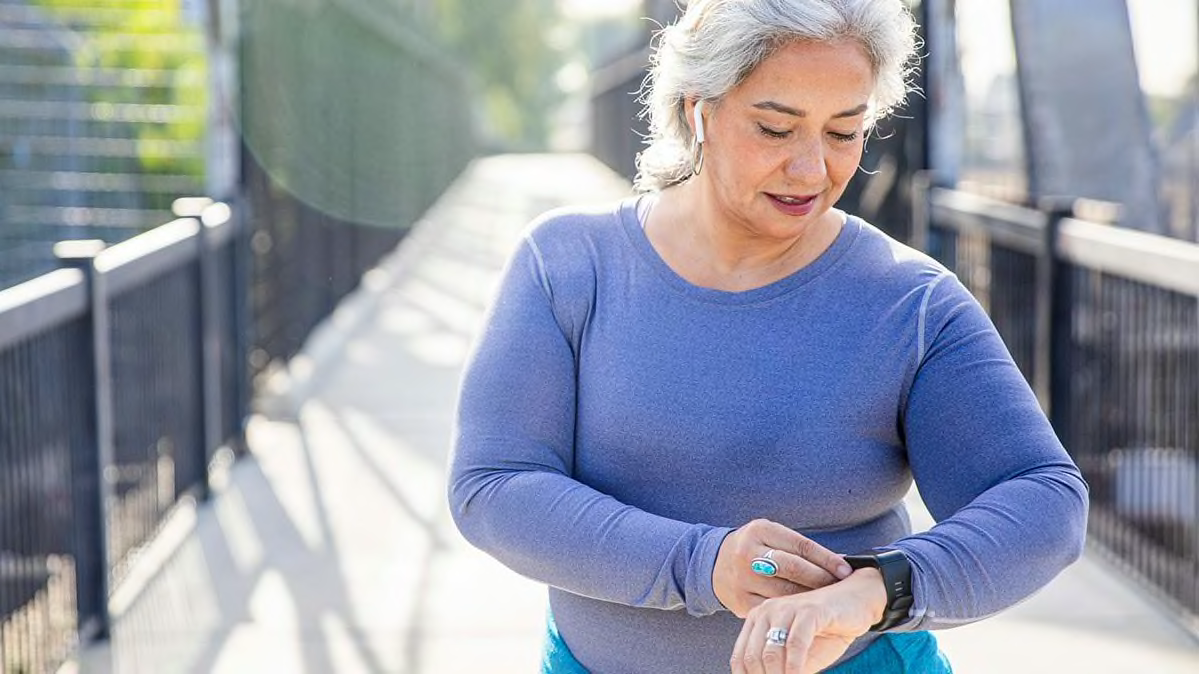 Have you heard that you should take at least 10,000 steps a day? It's not a magic number, but a 2019 study in JAMA Internal Medicine suggests that the more active you are, the better it is for your health.
Devices that count your steps come in a few forms, including fitness trackers and smartwatches that are worn on your wrist. If you're considering one of these devices, here's what Consumer Reports' testing found and how to choose a tracker that's right for you. (CR members can also see our full ratings for fitness trackersand smartwatches.)
Tracker or Watch?
Consider features and price: The wearables we test count steps, and smartwatches and some trackers also monitor actions such as pace and heart rate, and alert you to texts and emails. Some watches can even make payments at a cash register.
Trackers we rate cost $30 to $200; smart­watches, $160 to $850.
Ease of Use
You should consider how easy the product is for you to use.Most devices in our tests earn Very Good or Excellent ratings for comfort and how easy it is to navigate the menu and apps; use tracking features, calendars, and messaging; and read the screen, according to Charles Davidman, who leads CR's fitness tracker and smartwatch testing.
Still, we recommend going to a store with demo models for an in-person look before buying.
Step Counting
We've found that accuracy can vary widely in step-counting tests, where our volunteers walk a track, and we compare their true step count with what devices report. Only four watches and one tracker that we've tested earn an Excellent rating for step count. That tracker, the Garmin Forerunner 35, also received top marks in almost every other category we test.
Tracking Other Sports
Have an activity other than walking or running that you'd like to track, such as swimming or cycling? You may be able to find a device that caters to it.
We don't test the accuracy of specialized sports tracking, but swimmers might want to check out our ratings (available to CR members here), which evaluate waterproof claims for accuracy.
Sleep Tracking
Some products provide information about sleep duration and quality when worn at night. At CR, we don't test this feature. But outside accuracy studies have had varying results.
A 2019 study in the journal Sensors found that several devices did well at noting time in bed—but not at measures such as total time asleep. And other research has found that getting too anxious about tracking your sleep can backfire, leading to worse-quality snoozing.