When you shop through retailer links on our site, we may earn affiliate commissions. 100% of the fees we collect are used to support our nonprofit mission.
Learn more.
The year 2016 was not exactly a healthy one for wearable fitness gadgets. Sales tanked, hitting even highly praised products like the Pebble smartwatch and the Jawbone Up fitness tracker.

While a handful of well-known vendors announced incremental upgrades at the Consumer Electronics Show in Las Vegas—FitBit added new social and personalization features to its mobile app, while Fossil's Misfit brand announced Vapor, a $199 sportswatch with a touchscreen interface—Garmin, Jabra, and TomTom unveiled no new fitness wearables.

But that doesn't mean consumers won't be getting new choices in wearable tech. It's just that many of the most intriguing products launched at CES 2017 come from lesser known start-ups or apparel firms hoping to expand the now-familiar wrist-worn fitness tracker.
"In 2017 we'll see new form factors emerge to track fitness activities beyond the wrist," says Harry Wang, senior director of research for Parks Associates, a market resesarch and consulting firm. In-ear "'hearables' with fitness tracking function and digital patches are the most likely emerging form factors, as well as sensors built into exercise garments like sports bras, socks, and shorts."

One promising contender is Motiv, a smart ring that moves fitness tracking from your wrist to your finger. The 8mm-wide titanium band uses an optical heart rate sensor and an accelerometer to measure how many minutes you're active each day, how long you sleep, and how many calories you've burned. It feeds this data into a mobile app that tracks your progress and calculates fitness goals based on the previous day's activity.

The Motiv Ring is designed to run for three to five days between charges and is waterproof so you can wear it in the shower or while swimming. It should be available later this spring for around $200.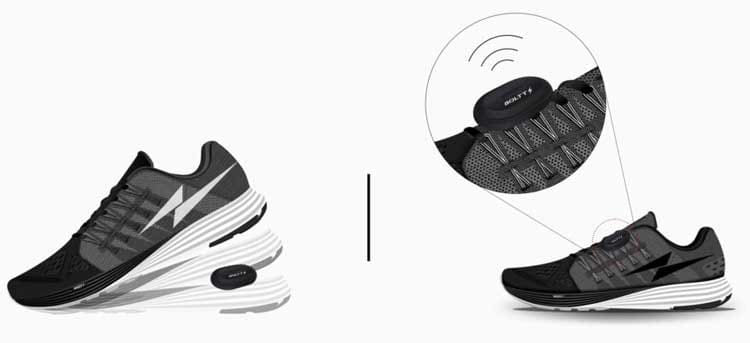 Later this year we'll also see new entries in the category of "hearables" – audio ear buds like the Bodytrak and Fiil's Carat Pro that measure vital signs such as heart rate and core body temperature and send the data to an app on your phone. The Carat Pro is in Kickstarter mode, and will be priced at $249 when it becomes available in June. The BodyTrak wireless ear buds won't being to be available before summer, and pricing was not announced at the show.

India-based startup Boltt announced a three-piece fitness solution featuring a connected shoe, stride sensor and "smart band." By placing the stride sensor inside the sole of the shoe, Boltt claims users can measure speed, cadence, stride length, and more. The GPS-enabled smart band slips over the wrist and allows users to track their distance, calorie burn, and sleep activity via a mobile app. Pricing and availability were not announced.

Polar USA, which makes a range of sports watches and heart monitors, unveiled its Team Pro shirt, which weaves a heart rate sensor and GPS monitor directly into the fabric of a workout shirt. That allows coaches to track speed, distance, acceleration, and other performance metrics.

Aimed at professional and college level athletes, the Team Pro shirt will be available in March for around $99. Polar has not announced whether it will make the shirt available to the general public.