When you shop through retailer links on our site, we may earn affiliate commissions. 100% of the fees we collect are used to support our nonprofit mission.
Learn more.
People love the idea of a waterproof fitness tracker—a device rugged enough to go where you go, even when that involves a post-workout shower or a dozen laps in the pool. But try shopping for that product and you'll learn that it's not easy to find a tracker guaranteed to survive a dip in the kitchen sink, much less a mid-summer swim.
According to Fitbit, the $250 Surge—the top-ranked tracker in our ratings—is "sweat, rain, and splash proof." But what does that mean? Can you safely wear it while washing the dishes?
Not exactly.
The No. 2 tracker—the $250 TomTom Spark 3 Cardio + Music—claims to be waterproof to a depth of 130 feet. Then it must be good for deep-sea diving, right?
No, not really.
What Does Splash-Proof Mean?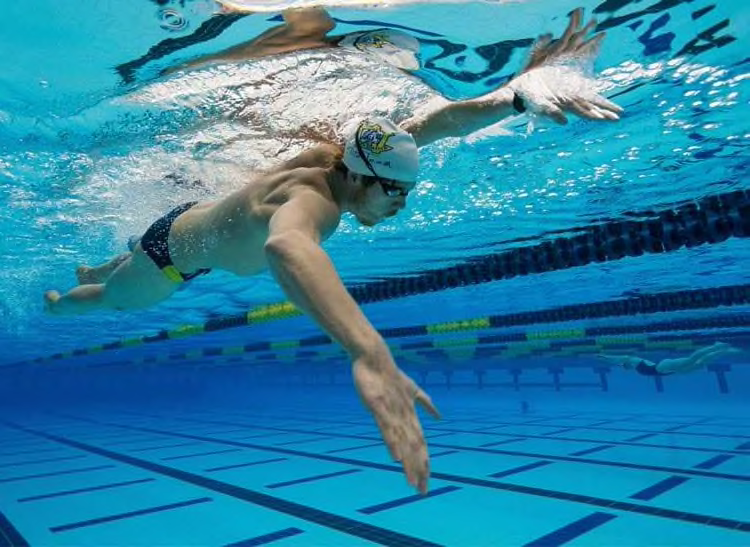 Consumers expect a certain amount of durability when they buy a fitness tracker, says Ramon Llamas, an analyst with the market intelligence firm IDC. "If you can't handle a few beads of sweat," he explains, "you're not very useful."
But there's a big difference between a few beads of sweat, a few drops of rain, and a torrential downpour. And because there's no official definition for the term "splash-proof," it's impossible to say what sort of activities it covers. Water balloon fights? Washing the car?
"It's not really an engineering standard," says Charles Davidman, who oversees the fitness tracker testing in our labs. "It's a catchphrase created by the industry."
For trackers that make such imprecise water-resistance claims, Consumer Reports does a baseline test that involves submerging the device in a pressurized immersion tank in the equivalent of 3 feet of water for 30 minutes.
What does that tell you? If you're a hard-core runner, a splash-proof device will probably meet your needs, even during the occasional rain shower. It may also survive a dunk in the sink. But if you're smart, you'll remove it before you enter the pool.
How to Find a Waterproof Fitness Tracker
To be honest, there's no such thing. Raincoats, scuba watches, even submarines have their limits. There are, however, engineering standards for water resistance—and those can be tested in our labs, using the pressurized dunk tank.
The standards, which were developed by the International Electrotechnical Commission, rate the degree of protection a product's design will likely provide against the threats of dust, water, and impact. The organization's International Protection mark—an IP followed by two numbers—often appears on product packaging.
The first figure refers to the product's imperviousness to solid particles and the second to liquids. A "1" signifies the device can withstand dripping water—the equivalent of 1 mm of rainfall per minute—for 10 minutes. An "8" indicates that it can survive immersion in 1 meter or more of water for the stretch of time specified by the manufacturer.
The Spark 3 Cardio + Music earned an excellent rating from our testers for water resistance, because it delivered on its claim to withstand 131 feet of water pressure for 30 minutes. The company says that's about equivalent to an ISO rating of 5 atmospheres (ATM), which means the device is generally considered to be okay for everyday pool activities, but not water sports or scuba diving.
What Kind of Trackers Do Swimmers Use?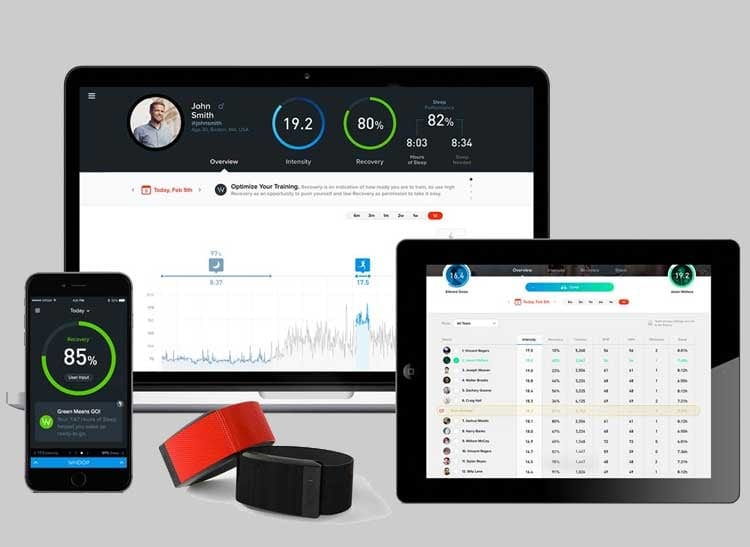 For Connor Jaeger, who won the silver medal and set an American record in the 1500-meter freestyle at the 2016 Summer Olympics in Rio, fitness trackers are less about distance and strokes and more about calculating the full impact his workouts have on his body—not only in the pool but also on dry land.
He started using the $500 Whoop Strap fitness tracker in December 2015 and wore it every day in preparation for the Rio Games. Geared toward elite athletes, the Strap doesn't track speed and laps but rather heart-rate data, which can be used to monitor the toll that swimming, cycling, and other activities take on the body. With info like that, you can adjust your training schedule to allow ample time for recovery between workouts.
"When you're training cross-discipline, everything becomes a best estimate of what your aggregate workload is," the Olympian wrote in an email. "Whoop helped us say definitively just how much stress our bodies were under and how the out-of-the-water workouts were contributing to it."
This raises an important shortcoming in swim-related trackers: They rarely monitor heart rate. That's because the water interferes with the optical technology employed by most trackers, which uses green LEDs to detect heartbeats by measuring the light reflecting from your wrist. (Blood absorbs green light and reflects red.)

Another trade-off? The trackers rarely have displays, which means you have to use a mobile app to view the results of your workouts.
In fact, that explains in part why the Misfit Shine, the Moove Now, and the Fitbit Flex 2, which offer swim-related tracking, received less-than-stellar scores in our ratings despite having excellent water resistance. All lack the versatility of trackers with heart-rate monitors and screens.
Even Apple's swim-tracking smartwatch—the Series 2—which has a touch screen and delivers on its promise of water resistance to 161 feet for 10 minutes, comes with the caveat that the heart-rate sensor may not function properly in the pool.
Garmin has ventured to solve this problem with specially designed heart-rate monitor straps (the HRM-Swim and the HRM-Tri) that fit snug against the wrist and pair with its Swim smartwatch.
Of course, if you're willing to forgo competing in the Olympics (or a triathlon), you may be perfectly happy with a tracker that counts breast strokes instead of heartbeats. In that case, you should look for a tracker that claims to be swim-proof.
And, just to be certain that it meets that claim, consult our ratings. To pass our tests, a swim-proof tracker must survive for 10 minutes in the dunk tank at the equivalent of 50 feet of water.