When you shop through retailer links on our site, we may earn affiliate commissions. 100% of the fees we collect are used to support our nonprofit mission.
Learn more.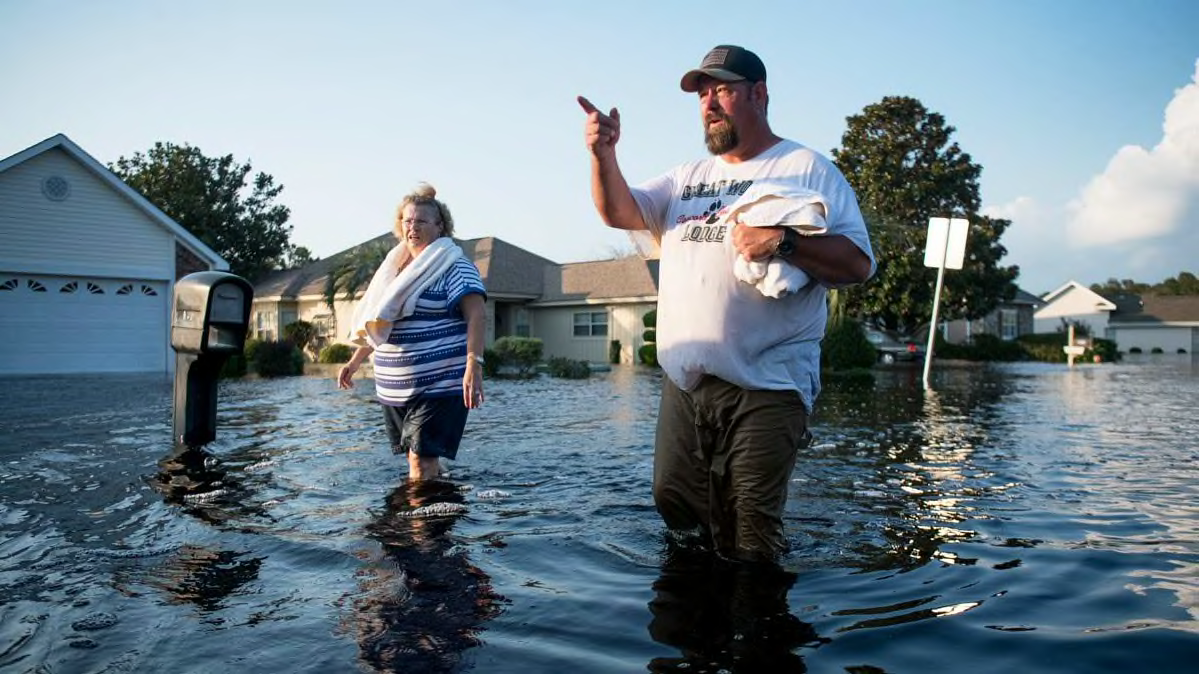 It may take months before some victims of massive flooding from Hurricane Florence can return to their homes and businesses. The unprecedented heavy rains have already resulted in the deaths of at least 42 people in North Carolina, South Carolina, and Virginia, according to news reports. It has also forced tens of thousands of people out of their homes.
More on Flood and Homeowners Insurance
Data from the Federal Emergency Management Agency (FEMA) show that only about 339,000 homes in North and South Carolina have coverage from the National Flood Insurance Program, the dominant seller of such coverage. Just 3 percent of all North Carolina residential properties and 9 percent of South Carolina properties were insured against floods in 2017, says the Insurance Information Institute, an industry group.
Flooding is usually not covered by traditional homeowners or renters insurance. But even those who don't have flood insurance can take steps to get financial help.
Apply for Federal Disaster Assistance
President Donald Trump's disaster declarations for North Carolina and South Carolina mean that federal disaster aid will be available.
You could be eligible for a federal grant to be used toward temporary housing, emergency home repairs, and other urgent measures. Both homeowners and renters are eligible. Qualified disaster relief payments generally are free from federal income tax. You can register for federal disaster assistance online or call 800-621-3362.
Here's what could be available to residents of affected areas, depending on where you live:
• Rental payments for temporary housing. Homeowners whose homes are deemed unlivable can get initial financial assistance for up to three months; renters can get help for at least one month. That financial assistance may be extended after the initial period on a case-by-case basis.
• Grants to make damaged dwellings safe, sanitary, and functional. The money can go toward home repairs and replacement of essential items that insurance doesn't cover.
• Grants to replace personal property. These funds are meant to meet medical, dental, funeral, transportation, and other "serious disaster-related needs" not covered by insurance, charity, or other government programs, according to FEMA.
• Low-interest loans. The loans, provided by the Small Business Administration (SBA) for residential losses in North Carolina not covered by insurance, are available for up to $200,000 for primary residences and $40,000 for personal property, including losses by renters. Interest on the loans will be as low as 2 percent annually for up to a 30-year period, the SBA says. Other SBA loans are available for small businesses, small agricultural cooperatives, and most private not-for-profit organizations.
• Extended tax deadlines. The IRS has announced that the Oct. 15 deadline to file federal tax extensions has been changed to Jan. 31, 2019, for residents in federally declared disaster areas. (Interest and penalties on unpaid balances, however, will still accrue if you didn't pay in full in April.) Self-employed and retired taxpayers in the disaster zone, who usually would pay quarterly estimated taxes in mid-September 2018 and mid-January 2019, now have until Jan. 31, 2019, to make both of those payments.
• Other help. FEMA mentions other help on its website, including crisis counseling, help filing casualty losses for income tax breaks, and advice on legal matters, veterans benefits, and Social Security concerns.
Get an Extra Boost from Flood Insurance
Those holding flood insurance policies through the National Flood Insurance Program (NFIP) have yet another potential avenue to get funds quickly. They can apply with the insurer that provided their flood policy for an advance payment even before an adjuster comes out to investigate the flood damage to their property.
To help speed recovery, the NFIP says it is allowing advance payments to policyholders on their flood insurance claims, a spokesperson said. The program encourages the insurance companies that service its flood policies to begin providing flood insurance policyholders with advance payments shortly after a disaster strikes.
After contacting the insurer, a policyholder can receive an advance payment of up to $5,000 on a flood claim for either a building's structure or contents—but not both—without an adjuster's visit or additional documentation. To qualify, you'll have to have at least that much flood coverage. You'll later need to prove you had flood losses at least that high.
Additionally, if you provide evidence of damage to your insured property in the form of photos or videos, receipts validating out-of-pocket expenses related to flood loss, or a contractor's itemized estimate, you can receive up to $20,000 in advance payments. (To learn more about NFIP advance payments, see page 211 of the NFIP Claims Manual.)
Keep in mind that the payouts you may get from federal disaster assistance are for losses that aren't covered by your flood insurance policy.
Traditional homeowners and renters policies don't cover damage from flooding. Victims without flood coverage, either from the federal government or private insurers, will have to rely on their own savings—and on federal, state, and charitable funding—to recover and rebuild. Flood insurance isn't just for people in high-risk areas.
FEMA says people outside of high-risk areas file more than 20 percent of flood insurance claims in a given year and receive one-third of disaster assistance for flooding. The agency says more than half of Hurricane Harvey flood claims in 2017 came from outside a high-risk flood area.