What $50 (or So) Gets You From Six Popular Flower Delivery Services
Spoiler alert: Not as much as we'd hoped, but we still found some good options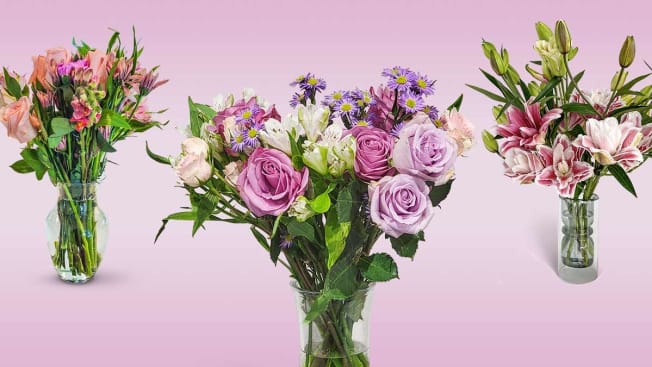 Fresh flowers delivered to your doorstep: That's the promise of online floral delivery services, a $5.3 billion industry in the U.S. (and growing).
These companies ship bouquets from point A to point B, but the shopping experience isn't always seamless or consistent. And when you're shelling out a significant amount of money for an arrangement (which we found was pretty unavoidable), you want a quality product and a hassle-free experience.
We decided to look at some online delivery services. Is pricing consistent from brand to brand? Can you count on receiving a bouquet that looks like the one pictured? And just how far can a dollar go?
When we chose the companies to order flowers from, we had our work cut out for us. In the past decade, there has been an influx of floral delivery and subscription services.
There are the heritage brands like FTD (originally founded as the Florists' Telegraph Delivery Association in 1910) and 1-800-Flowers.com, which carry hundreds of bouquets in an array of colors and styles. And then there are direct-to-consumer (DTC) businesses that take on a bespoke approach—like Farmgirl Flowers—with the intention of contrasting the surplus of options found on traditional sites. 
To narrow our search, CR experts provided a short list of the most sought-after and searched-for brands in the market right now. We whittled that list down and settled on a grouping that allowed us to compare heritage brands with DTC newcomers:

1-800-Flowers.com | Bouqs | Farmgirl Flowers | Proflowers | Teleflora | UrbanStems
Ordering flowers from online delivery services can be expensive and not always transparent. While $60 can get you 50 stemmed roses at a wholesale retailer, the same bundle at an online flower delivery service can run upward of $200—and that's before shipping and handling fees. And though shoppers are paying for convenience, service, and often the personal touch of a local florist, quality isn't always guaranteed. 
So we set a price cap to make things a little more interesting. If one can count on getting a quality product when ordering a bouquet worth hundreds of dollars, can the same be said for a $50 selection? 
We learned that quality not only comes with a price but also varies based on the bouquet's destination.
Our small but mighty pool of evaluators was geographically diverse, with staffers in Austin, Texas; Los Angeles; New York City; and Seattle. We sent each an arrangement from three of the six companies. This ensured that two people would receive the same bouquet, which would allow us to compare delivery experiences, visual compositions, and the quality of items received. In short, we gave each company a few chances to deliver on their promises.
Once everyone received their bouquet, they judged each one for quality (looking for signs of wilting or browning); longevity (how long the flowers lived); and how closely the arrangements resembled the one pictured online. 
Here's how each flower delivery service fared.

All prices below are from the time of ordering.
What we ordered: Lavender Garden Bouquet "Bouquet Only" (a mix of white roses, lavender daisy poms, Peruvian lilies, and lavender carnations).
Where it went: Austin and Seattle.
What it came with: Flower food, care instructions, and coupons.
Price: $51.99 
Total: $73 ($14.99 shipping, plus tax)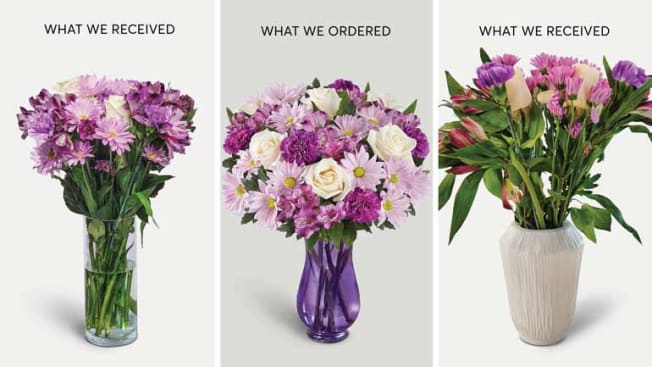 Our Austin colleague wasn't as pleased with the bouquet (shown above right) and noted that it only somewhat resembled what was pictured online. "The quality and condition of the flowers were less than ideal. They were wrapped tightly in thick, clear plastic, and the flowers on the outer edge of the bouquet were crushed and broken—many of the flowers looked squashed."—Eric C. 
Our Seattle staffer, on the other hand, gave this bouquet top marks, noting that it was nicely packaged, fresh, and looked exactly as it was pictured (shown above left). While a few of the stems needed to be trimmed upon arrival and a couple of leafy greens could have been removed for a "cleaner" look, this bouquet lasted for quite a while. 
Would we order this again? Maybe. We'd give this another chance because our Seattle recipient was more than happy with the order.
What we ordered: I Heart You "Original" (pink gerberas and roses with Ruscus and white aster).
Where it went: Seattle and Los Angeles. 
What it came with: Flower food, care instructions, and an info packet for a Bouqs subscription program.
Price: $44
Total: $67 ($18 shipping, plus tax)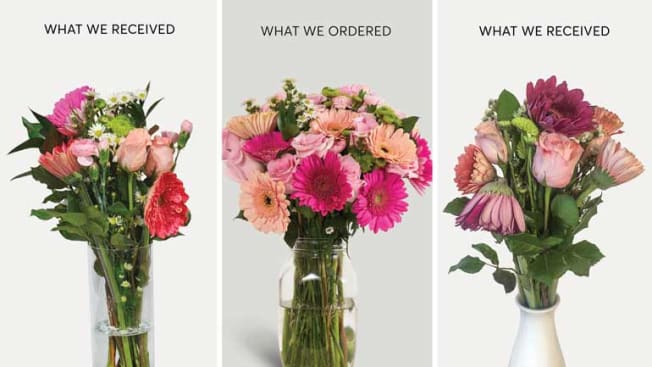 Our Seattle recipient was very pleased with the Bouqs arrangement (shown above left). It looked exactly as pictured online, the stems were fresh upon arrival, and the mix of blooms in the arrangement gave it a wildflower feel. 
"The gerbera daisies had little nets on them to keep them closed/protected as well as straws on the stems to keep them upright."—Amanda A. 
Our Los Angeles recipient had an issue with hers (shown above right). After an unsuccessful delivery attempt, the arrangement was sent to a nearby FedEx On-Site location, where it needed to be picked up. Our recipient was only able to get the bouquet five days later. Suffice it to say, being trapped in a box for that period of time took a toll on the blooms, and the flowers were wilted and brown. 
When we reached out to Bouqs' customer service reps (they're only operating via an online Chat function due to pandemic-related closures), they were easily accessible. They offered the following as a fix: promotional credit for future purchases, a replacement bouquet, or a refund. We went with a replacement bouquet, which was to be delivered a week after our chat. The process was seamless and easy, and it took roughly 5 minutes to sort it all out. 
Would we order this again? Yes.
What we ordered: Rose Goes (rose lilies)
Where it went: Austin and New York City.
What it came with: Flower food, an address sticker, a decorative tiger pin, and a pamphlet with thorough care instructions.
Price: $55
Total: $87 ($25 shipping, plus tax)
At the time this article was updated, the Rose Goes bouquet was sold out.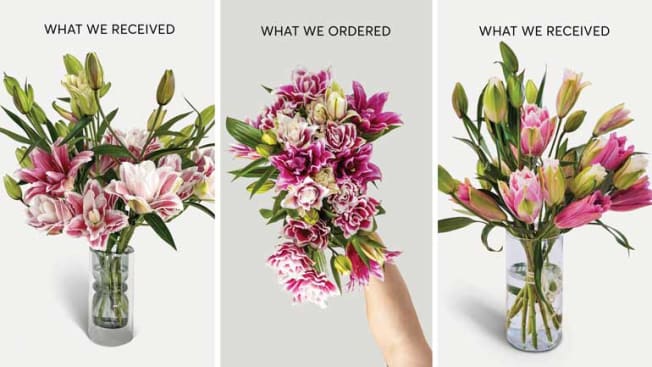 It's safe to say that both of our recipients were wowed by Farmgirl Flowers. The packaging was consistent and the blooms were in excellent condition. The arrangements arrived in a spacious box where the bouquet was wrapped in layers of wax paper and a thin burlap cloth, with a blue cloth ribbon bow on top. Inside, the stems were attached to the box using a plastic cable tie to ensure the bouquet remained in place during travel. Neither delivery bore signs of discoloration or wilting, which made the pricey $25 expedited shipping fee hurt a little less. 
The arrangements also arrived in bud form, which meant that they lasted for well over a week as they bloomed more and more each day. They came with a pamphlet with thorough care instructions, such as where to trim the stems, the best watering methods, and even where to place them at home for optimal survival. "They suggested 'singing' to them daily . . . but I think just changing the water will suffice."—Eric C. 
"I often find myself willing my bouquets to survive another day—this one positively thrived, blooming more and more each day."—Anna K. (arrangement shown above left)
One element that did stand out for both recipients was how fragrant the flowers were, which can be a downside for some sensitive noses. "I could not believe how strongly scented these rose lilies were. The entire house smells like them!"—Eric C. (arrangement shown above right)
Would we order this again? Definitely.
What we ordered: Warm Welcome Bouquet "Deluxe" (peach roses, blush pink alstroemeria, orange snapdragons, salmon cushion poms, and lavender carnations).
Where it went: Austin and Los Angeles.
What it came with: Flower food, care instructions, and a $100 wine voucher to nakedwines.com. 
Price: $47
Total: $67 ($13.98 shipping, plus tax)
At the time this article was updated, the Warm Welcome bouquet was sold out.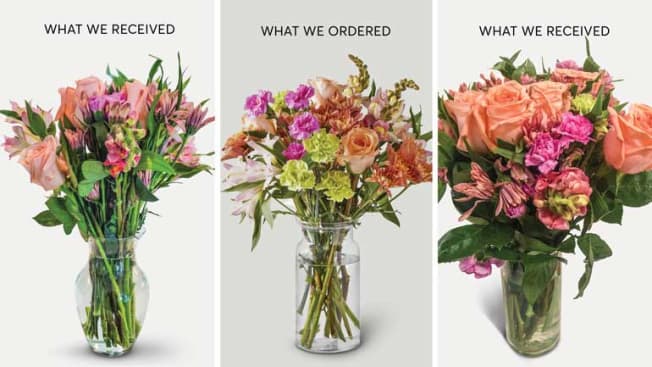 For our Austin recipient, the bouquet received looked only somewhat as pictured online—a couple of the flowers' colors were off (shown above left). While the overall arrangement arrived looking fresh, a few of the petals on the roses were slightly discolored and "scarred." One rose stem was broken very close to where the flower meets the stem. The bouquet lasted for roughly five days. 
Our Los Angeles delivery faced a similar experience with a broken stem and an arrangement that only slightly resembled what was pictured online. Their bouquet arrived wilted and less fresh than expected and a few of the roses featured slightly brown veining. By Day 5, the arrangement was completely wilted and brown. 
Would we order this again? No.
What we ordered: Teleflora's Perfectly Pastel "Standard" (pink Asiatic lilies, yellow carnations, lavender cushion spray chrysanthemums, yellow spray roses, and pink roses accented with greenery in a lavender vase)
Where it went: Los Angeles and New York City.
What it came with: A purple vase wrapped in a clear plastic sheet. Our L.A. delivery received the wrong order so it came with a "get well' balloon.
Price: $49.99
Total: $71 ($17.99 shipping, plus tax); $75 for L.A. due to tax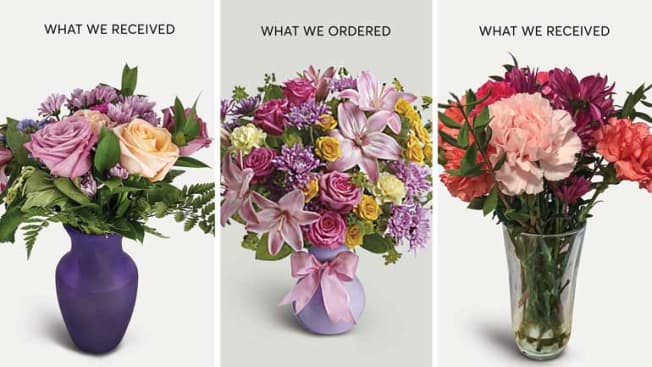 Our Los Angeles delivery faced a few road bumps—yes, again. The intended bouquet was delivered to an incorrect address and, in turn, one recipient received someone else's flowers (shown above right). Despite attempting to sort things out with the delivery driver, not much could be done because both arrangements had been delivered. "I feel bad because the one I did receive had a "Get Well Soon" balloon on them and was probably for someone else who was ill! And I'm not even sure if that other person ever received their flowers!"—Kerri O. 
Despite that, the flowers that did arrive in Los Angeles came in a vase and looked fresh with the exception of one rose that had slight browning. The arrangement lasted for about a week. 
We contacted Teleflora's customer support to figure out what happened with the swapped florals. The process was lengthy—we had to fill out a form online explaining the issue. We then received an email with a boilerplate apology for the inconvenience and a phone number to reach customer service for further assistance. A 10-minute phone call later (with pockets of time spent on hold), customer service informed us that they would provide a 50 percent refund on the order and a 50 percent off coupon for future purchases that would expire in six months. 
While our New York City recipient received the "correct" bouquet, it was a little too far off from what was advertised (shown above left). The color of the vase aside, the arrangement lacked the lilies, yellow carnations, and yellow spray roses. It's worth noting that Teleflora did provide a disclaimer in the product listing, which stated that the bouquet pictured reflects an original design and that "if the exact flowers or container in this arrangement are not available, our local florists will create a beautiful bouquet with the freshest available flowers."
Regardless, it was clear that the flowers were not entirely fresh. The roses were weathered with browned tips and frayed edges—clearly at the end of their life cycle. "Unlike my other two deliveries, which were thoughtfully packaged, this one arrived in a vase wrapped in a plastic sheet with no flower food or care instructions."—Anna K. 
Would we order this again? Maybe. While the New York bouquet left the recipient wanting more, our Los Angeles colleague was happy with hers—despite the delivery snafu and not being what we ordered in the first place.
What we ordered: The Unicorn (roses, aster, and Alstroemeria, or Peruvian lilies).
Where it went: New York City and Seattle.
What it came with: Flower food, a blank card, a $10 off coupon card, and a card with care tips.
Price: $55
Total: $76 ($15 shipping, plus tax)
In New York City, the UrbanStems bouquet was well-received (shown above right). It arrived in excellent condition and looked exactly as it was pictured online—the flowers were fresh and lasted for well over a week. "I appreciated that the bouquet arrived prearranged and was ready for the vase—it also lasted well past a week and a half."—Anna K. 
The same couldn't be said of the Seattle delivery (shown above left). The bouquet arrived in relatively good shape, although one of the roses was slightly browned. The arrangement looked almost as it was pictured save for slight tonal discrepancies. The recipient noticed browning on the edges of the roses on Day 2, and by Day 6 the roses were almost all wilted. 
Would we order this again? Probably, because the New York City bouquet was a hit.
You're going to spend more than anticipated. No matter how "affordable" a bouquet seems online, it's rare to get away with spending less than $50 after including shipping fees and taxes. Beyond that, the range of options at that price can be limited regardless of which service you're buying from. And then, if you're purchasing a bouquet as a gift and want to include extras like a vase or balloons, that will push the price up even more. 
Where they're from matters. Flowers are grown all over the world, and most land at an auction in Holland, which takes place every day, says Kelly Perry, a co-founder of Team Flower, an online floral education hub. From there, brokers purchase large lots of flowers, which will go out to wholesalers and eventually to florists. 
The more stops there are in a flower's journey from farm to home, the more strain there will be on the blooms. "If you think about it, the flowers that you're receiving, and the number of hands it's gone through—it's incredible," says Perry, attributing the often high cost of bouquets to the multiple levels of transportation they go through. "The important thing with flowers is to look into where the flowers are being sourced from initially, and remove as many steps in between as possible."
Consistency isn't always a given. With DTC brands like Farmgirl Flowers—which source their blooms from farms—the likelihood of receiving a bouquet that's similar if not identical to what's pictured online is greater than when ordering from a Teleflora-like service, which employs local florists to create arrangements with the freshest flowers available to them.
For example, there were instances when the number of stems received varied by location, despite being sent from the same company and via the same product listing. 
The choices can be overwhelming. Brands like 1-800-Flowers.com and Teleflora inundate shoppers with choices. For those who could use the inspiration and options, it's not a bad deal. For those who find themselves intimidated by it all, the DTC brands, with their curated collections, might be a better fit. 
You can still find deals. Keep an eye out for offers and promotions, especially for first-time buyers. Many of the brands we evaluated had coupons for 20 percent off for customers who signed up for email marketing newsletters, while others had monthly subscription plans for a set fee. Check back during the lead-ins to major flower holidays (Valentine's Day and Mother's Day immediately come to mind) for discounts as well. 
Caring for the flowers can make a difference. A good number of the services either provided care tips and flower food with the bouquets delivered or featured instructions on the product listing page. Either way, changing the water daily, giving the stems a fresh cut upon arrival, and immediately removing any wilted flowers can instantly prolong the life span of your arrangement.
1-800-Flowers.com
1-800-Flowers.com's home page has a lot going on, and it's more than just floral arrangements that you have to weed through. The conglomerate carries apparel, jewelry, and outdoor items. If you can make your way through all that noise, the rest should be a relative breeze. 
You can shop by color, occasion, flower type, and price. Input the ZIP code of the destination and use any filters to narrow down the range of possibilities. Once reaching the product listing page for a bouquet, the site automatically selects the most expensive option, and there are typically six different configurations for each bouquet (i.e., vase/no vase, a colorful vase, a vase with chocolates). Once an item has been added to the cart, you're taken to a page with add-ons like boxed chocolates, fruit baskets, and digital movie cards. 
At the time this article was updated, there were 92 fresh arrangements available under $50.
Established in 2012, The Bouqs Company was one of the first to give flowers the farm-to-table treatment. The site is simple and straightforward; customers can browse by occasion, flower type, and featured categories such as "Best Sellers" and products under $50. Bouqs also offers same-day and next-day delivery. 
A majority of the bouquets come in three variations: Original, Deluxe, and Grand—where the "Deluxe" is double the size of the "Original" and the "Grand" is triple the size. Regardless of what you're buying, Bouqs automatically adds a vase to each order, typically a Mason jar for $10, but there's also a reusable one for $15 for bigger arrangements. You'll need to remove the vase add-on before proceeding to purchase. You may also be prompted to sign up for a monthly subscription offer before reaching your cart. 
At the time this article was updated, there were six fresh arrangements available under $50.
Farmgirl Flowers was founded in 2010 in San Francisco with a unique business model at the time: "One daily arrangement. No sizes, flower type, or color to choose from—just one bouquet designed with the best of the best from Farmgirl's growers," per the company's website. Since then it has expanded to include more bouquets without veering too far from the original concept. 
And in truth, Farmgirl Flowers does take a chunk of the guesswork out of the shopping process by minimizing the need to sift through a lot of the noise, like choosing sizes or the sly inclusion of a vase. What you see on the product page is essentially what you get, and there are no surprise add-ons throughout your journey. All items are shipped with an expedited shipping fee of $25 to maintain freshness and minimize the amount of time the flowers spend in transit. 
At the time this article was updated, there were 55 fresh flower arrangements available on Farmgirl Flowers. However, there were no bouquets available under $50, but there was a $50 gift card. The lowest-priced option was a bouquet priced at $59.
Proflowers is a subsidiary of FTD, one of the largest and oldest flower delivery services in the country. Having taken a more streamlined and contemporary approach to their site design and floral offerings, bouquets are prominently laid out, each set against colorful backgrounds that catch the eye, lending the mega-retailer a competitive edge that can stand up to its DTC counterparts.  
Once you choose a bouquet, you have the option to customize your order by selecting an arrangement that comes with a vase or a bigger "Deluxe" version with or without a vase. Proflowers is also affiliated with ShopRunner, which means eligible customers can receive free shipping through the platform.  
At the time this article was updated, there were 26 fresh arrangements available under $50. It's worth noting that the price point category includes items like potted plants, succulents, chocolates, and herb-growing gardens mixed in with the bouquets, and customers can't filter out the flowers from the other items.
Teleflora operates with an extensive network of florists around the country. The heritage brand has been in business for over 80 years and employs local florists to craft arrangements often on the same day as the order is placed, per the company's website. 
You can filter arrangements by occasion as well as by color, flower type, and featured categories like "Best Sellers" "Sale" or "Deal of the Day." But you can filter bouquets only by price once you've selected a subcategory. Because there's no distinct "Under $50" tab, we had to search through the $40 to $60 price category. This was made difficult by the fact that the option of sorting prices from low to high didn't put the arrangements in the correct order. 
At the time this article was updated, there were 30 fresh arrangements available under $50, though that number slightly fluctuated when searching by varying ZIP codes.
UrbanStems is another DTC flower delivery service that prides itself on creating a modern approach to ordering flowers online by working directly with farmers. It offers next-day delivery in most U.S. cities and same-day delivery in New York City and Washington, D.C. 
The website experience is streamlined; customers can shop by flower type, occasion, and through curated collections like "The Winter Collection" and even a special collaboration with Vogue magazine. UrbanStems also offers dried florals, plants, and gift boxes. While there is no distinct tab for bouquets under $50, there are filters for specific price buckets (under $45, $45 to $55, and so on). 
Once you've settled on a bouquet, you can choose to upgrade the size (single, double, or triple) and add on a decorative vase for an additional fee. At the time this article was updated, there were 11 fresh flower arrangements under $50 but more options around $55.
When you shop through retailer links on our site, we may earn affiliate commissions. 100% of the fees we collect are used to support our nonprofit mission. Learn more.