Dole Recalls Salads Sold at HEB, Kroger, Walmart, and Other Stores Due to Listeria Concerns
The recall involves Dole and private-label products shipped to 37 states. No illnesses have been reported. Dole Fresh Vegetables has announced a recall of packaged salads and salad kits containing iceberg lettuce from its U.S. production facilities in Soledad, Calif., and Springfield, Ohio. Dole initiated the recall after equipment used to harvest the lettuce tested positive for Listeria monocytogenes. No illnesses have been reported.
The dozens of products were sold under the Dole and various private-label brands—HEB, Kroger, Little Salad Bar, Marketside, and President's Choice—and were shipped to stores in 37 states. 
You can identify the salads involved in the recall by checking the product code on the upper-right-hand corner on the front of the package. The products will either start with a W and have a "best if used by" date between Dec. 22, 2021, and Jan. 9, 2022, or start with a B and have a "best if used by" date between Dec. 23, 2021, and Jan. 8, 2022. (See the full list of products.)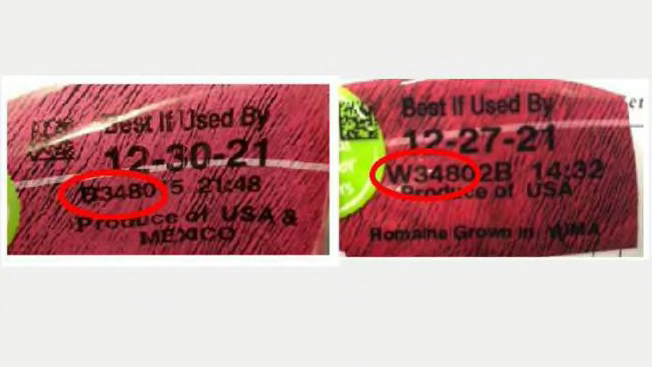 Common symptoms of listeria include diarrhea and fever, and can appear a week to four weeks after consuming contaminated food. But the CDC says there are cases where listeria occurred 70 days after consuming tainted foods. People usually recover without treatment.
Listeria becomes more serious when an infection spreads beyond the gut, says the CDC, and gets into a person's bloodstream. People over 65, those who are pregnant, and anyone with a weakened immune system are at particular risk for more serious complications, which can include death. In pregnant people, a listeria infection can cause miscarriage.
Products recalled: Different types of salad products sold under the Dole, HEB, Kroger, Little Salad Bar, Marketside, and President's Choice brands. The salads were sold in stores in Alabama, Arizona, California, Colorado, Connecticut, Florida, Georgia, Hawaii, Iowa, Idaho, Illinois, Indiana, Kansas, Kentucky, Louisiana, Massachusetts, Maryland, Michigan, Minnesota, Missouri, Mississippi, Nebraska, Nevada, New York, North Carolina, North Dakota, Ohio, Oklahoma, Oregon, Pennsylvania, South Carolina, Tennessee, Texas, Utah, Virginia, Washington, and Wisconsin.
The problem: The salad products may be contaminated with Listeria monocytogenes.
The fix: If you have any of the recalled products in your refrigerator, don't eat them. Throw them away and contact Dole for information on obtaining a refund.
How to contact the manufacturer: Call the Dole consumer response center to get a refund at 800-356-3111 between 8 a.m. and 6 p.m. ET; after hours, call 651-632-6181. You can also use the contact form on the Dole website.