Fresh Attitude Baby Spinach Recalled Due to Salmonella Risk
The greens were shipped to six states on the East Coast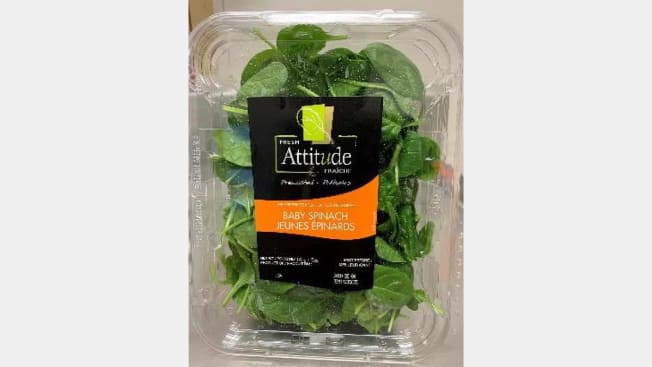 One of the largest vegetable suppliers in Canada, VegPro International, issued a recall of its Fresh Attitude baby spinach because the product could be contaminated with salmonella. No illnesses have been reported, according to Luc Prevost, a spokesperson for VegPro.
The spinach, processed in the company's Eastern Canadian plant, was shipped to six U.S. states: Connecticut, Delaware, New Jersey, New York, Maryland, and Pennsylvania. It was packaged in 5- and 11-ounce clear plastic containers with "best before" dates of Dec. 4 (11-ounce) and Dec. 4 and 5 (5-ounce).
Fresh Attitude products are also produced in VegPro's Belle Glade, Fla., plant. The company says those products are not being recalled and are safe for consumption.
Each year salmonella causes an estimated 1.35 million illnesses and 420 deaths, according to figures by the Centers for Disease Control and Prevention.
Symptoms of salmonella infection include fever, diarrhea, nausea, vomiting, and abdominal pain. In the most severe cases, it can cause death.
Children younger than 5 are most likely to become ill with salmonella and face more severe sickness when they do. People older than 65 and those with weakened immune systems also are at risk for more severe symptoms if they are infected with salmonella.
Consumers who have purchased the Fresh Attitude spinach involved in the recall should return it to the store where they purchased it for a refund, or throw it away.
Don't think you can avoid illness by rinsing your greens. "While rinsing may get rid of some of the bacteria, it won't remove all of it," says James E. Rogers, PhD, director of food safety research and testing at Consumer Reports. Ingesting even just small amounts of salmonella bacteria can lead to illness, he says.
Cooking does kill salmonella, but in the case of a recall, you don't want to take a chance. "I always use the family test in situations like these," Rogers says. "Would I feel safe feeding this product to my family? In this case, the answer is no."
Product recalled: Fresh Attitude brand of baby spinach in 5- and 11-ounce packages. The 5-ounce packages are marked with UPC code 888048000042 and a "best before" date of Dec. 4 or 5. The 11-ounce packages carry UPC code 888048000288 and a Dec. 4 "best before" date.
The problem: The baby spinach may be contaminated with salmonella.
The fix: Return the baby spinach to the store where it was purchased for a full refund or toss it into the trash.
How to contact the company: Contact VegPro International customer service at 877-613-5700 or via its website.