Fresh Express Packaged Salads Are Linked to Ongoing Listeria Outbreak
Fresh Express and private-label products, including Giant Eagle and O Organics, are part of a recall Fresh Express has recalled multiple varieties of salad greens and kits produced at its Streamwood, Ill., facility because they may be contaminated with a strain of listeria monocytogenes that has sickened 10 people in eight states, the Food and Drug Administration announced on Dec. 21. All were hospitalized and one person has died. The outbreak began in 2016 and the last reported illness was on Oct. 19, 2021.
"Epidemiologic and laboratory data show that Fresh Express packaged salads may be contaminated with listeria and may be making people sick," according to the Centers for Disease Control and Prevention.
The company initiated the recall after a random sample test by the Michigan Department of Agriculture found listeria in a package of Fresh Express Sweet Hearts salad mix with a Dec. 8, 2021 "use by" date. It was subsequently found to be a match to the strain that has caused illness in this outbreak, the FDA said.
"Listeria can survive for a long time on a variety of surfaces, and unlike other bacteria can continue to grow at refrigerated temperatures," says James E. Rogers, PhD, director of food safety testing and research at Consumer Reports. "So it's not unreasonable that it could remain in a processing or manufacturing environment for years."
In response to the sample results and the ongoing outbreak investigation, Fresh Express voluntarily ceased production at the Streamwood facility, the FDA said, in addition to initiating the recall.
The recalled products are sold under the Fresh Express brand as well as several store and private-label brands (see below). They were shipped to stores in 19 states in the Northeast and Midwest, as well as in the Canadian provinces of Manitoba and Ontario. You can find the full list on the FDA's website.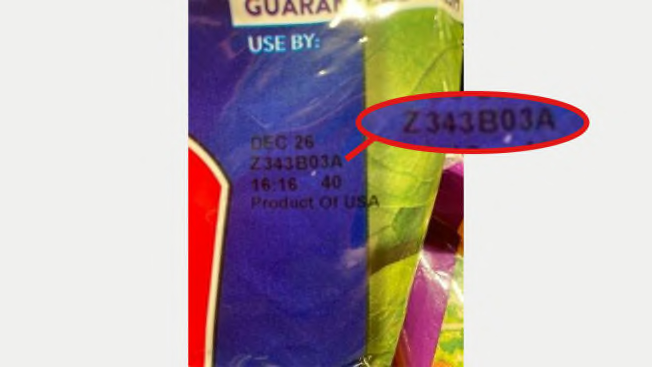 Separately, the CDC announced on Dec. 22 that some salad products produced by Dole, both brand name and private-label, are linked to another listeria outbreak.
If you have any of the products in your fridge, don't eat them. Throw them away or return them to the store where you bought them for a refund. "People sometimes think they can get rid of listeria and other bacteria on leafy greens by rinsing them, but that's not the case," Rogers says. "Bacteria have the ability to adhere to the surface of the leaves, and to get stuck in microscopic crevices."
Listeriosis, the illness caused by the bacteria, can cause fever along with diarrhea or other gastrointestinal symptoms, muscle aches, and headaches. If the infection spreads to the nervous system, people may also experience a stiff neck, confusion, loss of balance, and convulsions. The symptoms can appear one day to four weeks after eating food that contains the bacteria.
The very old or young and people with compromised immune systems are more vulnerable to listeriosis. So are pregnant people, because the illness can cause miscarriage and stillbirth.
Products recalled: Different types of salad greens, kits, and products sold under the following brands: Bowl & Basket, Fresh Express, Giant Eagle, Little Salad Bar, Market District, Marketside, O Organics, Signature Farms, Simply Nature, Weis, and Wellsley Farms. The products were shipped to the following states: CT, IA, IL, IN, KY, MA, MD, ME, MI, MN, MO, ND, NH, NJ, NY, OH, PA, RI, and WI. They were also shipped to stores in Manitoba and Ontario in Canada.
The problem: The salads may be contaminated with listeria monocytogenes.
The fix: If you have any of the recalled products in your refrigerator, don't eat them. Throw them away or return them to the store where you bought them for a refund.
How to contact the manufacturer: Call the Fresh Express consumer response center at 800-242-5472 between 8 a.m. and 7 p.m. EST.
Editor's Note: This article has been updated with new information from the Centers for Disease Control and Prevention.