When you shop through retailer links on our site, we may earn affiliate commissions. 100% of the fees we collect are used to support our nonprofit mission.
Learn more.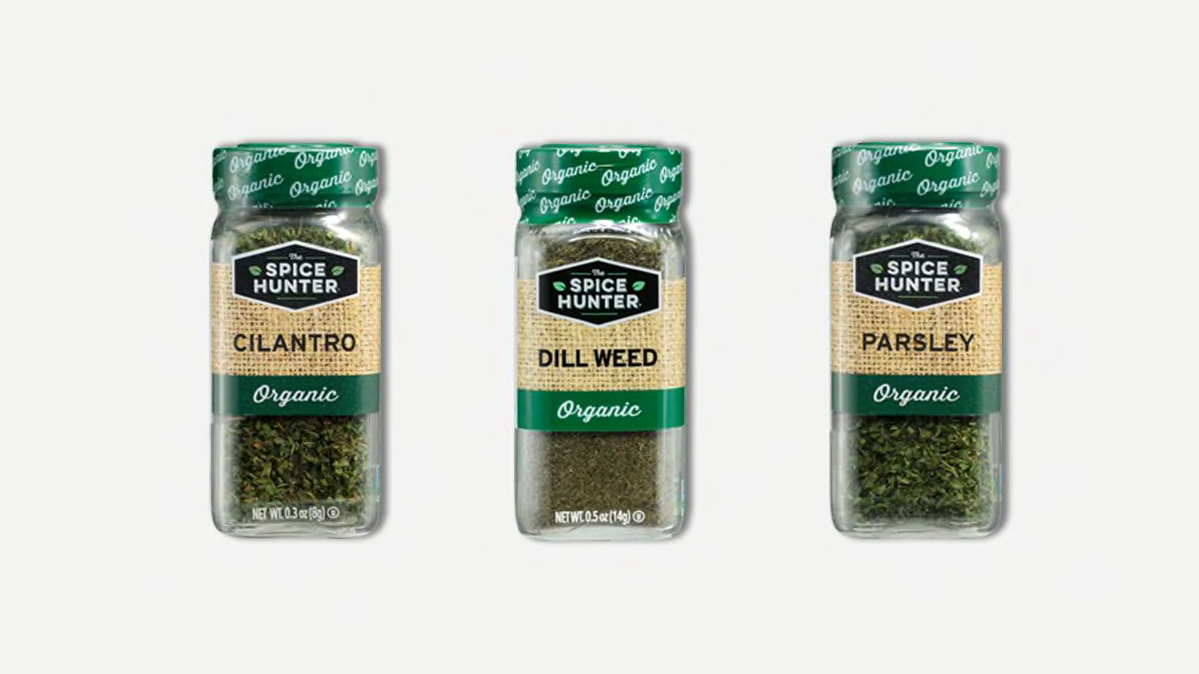 Sauer Brands has recalled 29 Spice Hunter herb and spice products because there is a chance that they may pose a risk of salmonella, the Food and Drug Administration recently announced.
Sauer says notification of possible salmonella contamination from its supplier of organic parsley is what triggered the recall. In addition to organic parsley, the company also recalled other Spice Hunter spices and spice blends—such as Herbs de Provence, Cilantro, Saigon Organic Cinnamon, Pumpkin Pie Spice, and Everything Bagel Crunch—produced at the same facility on the same days as the parsley products.
No illnesses have been reported, and Sauer notes that its supplier had originally certified that the parsley had tested negative for salmonella.
Products were sold at retail stores in more than 30 states: Alaska, Alabama, Arizona, California, Colorado, Delaware, Florida, Georgia, Illinois, Indiana, Kansas, Kentucky, Louisiana, Maryland, Michigan, Missouri, New Jersey, New Mexico, Nevada, New York, North Carolina, Ohio, Oklahoma, Pennsylvania, South Carolina, Tennessee, Texas, Utah, Virginia, Washington, and Wisconsin.
All of the products had a "best by" date of August or September 2022 and lot codes 20217C, 20220C, 20269C, and 20270C.
Sauer did not return our request for a list of retailers where the herbs and spices were sold.
Salmonella Risks
Compared with raw meat or poultry, herbs and spices may not be as well known a vehicle for contamination with bacteria that can cause foodborne illness, but they have been implicated in outbreaks. "Although herbs and spices are dried and used only in small amounts, salmonella can live in dried products and it doesn't take much of the pathogen to make you ill," says James E. Rogers, PhD, director of food safety testing and research at Consumer Reports.
Salmonella can cause diarrhea, fever, and stomach cramps, sometimes so severe it requires hospitalization. Symptoms can appear anywhere from 6 hours to six days after exposure, according to the Centers for Disease Control and Prevention, and can last about four to seven days. It usually doesn't require treatment.
However, if you have a fever higher than 102° F, if diarrhea doesn't improve in three days, or if you have bloody stools, call a doctor. Be aware that dehydration—dry mouth and throat, dizziness when standing, and producing very little urine—is also a risk and should be assessed by a doctor.
The Details
Products recalled: 29 spices and herbs and spice/herb blends from Spice Hunter. See full list.
The problem: The products may be contaminated with salmonella.
The fix: Check any Spice Hunter product for the lot codes involved in the recall: 20217C, 20269C, 20220C, and 20270C. If the product has one of these codes, or if you can't tell, do not buy or eat it. Return product to the store where it was purchased for a full refund.
How to contact the manufacturer: Contact Sauer Brands, Inc. at 800-444-3061, Monday through Friday, from 8:30 a.m. to 4 p.m.