When you shop through retailer links on our site, we may earn affiliate commissions. 100% of the fees we collect are used to support our nonprofit mission.
Learn more.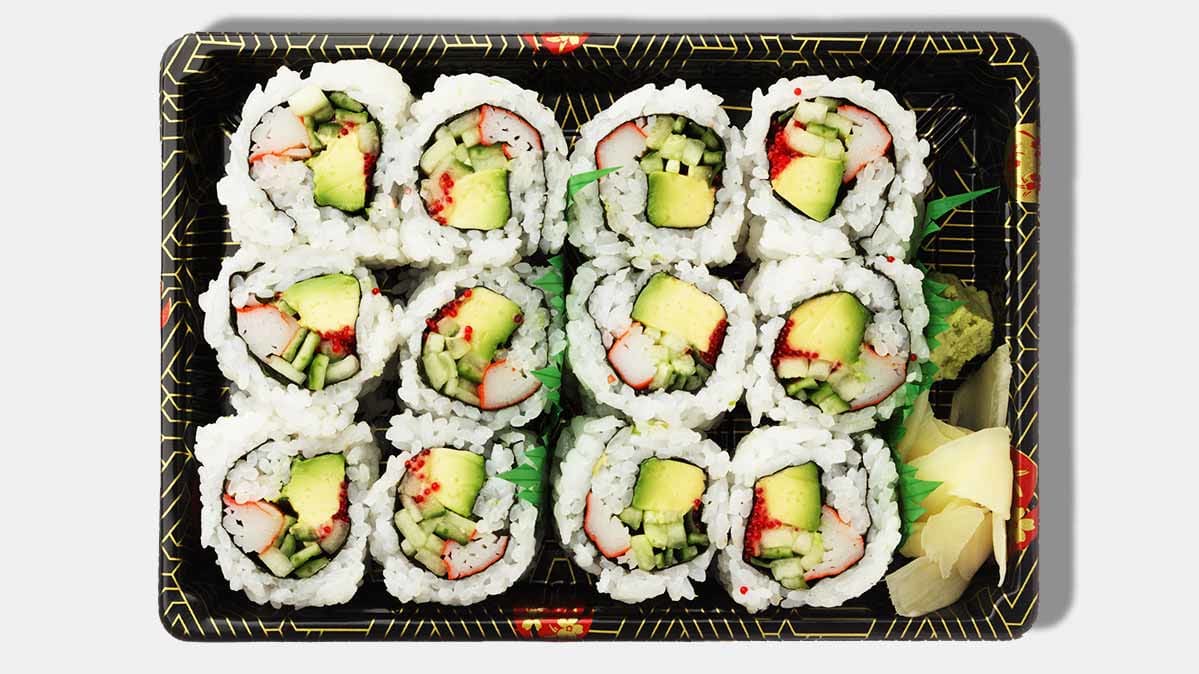 Fuji Food Products recalled 23 types of packaged sushi, salads, and spring rolls for possible contamination with Listeria monocytogenes, the Food and Drug Administration announced today. No illnesses have yet been reported.
The products, packed in plastic trays with clear lids, are branded either Trader Joe's or Okami, and sold at Trader Joe's, 7-Eleven, Walgreens, Food Lion, Hannaford, Giant Eagle Supermarkets, Porkys, Bozzuto's, Supreme Lobster, and Superior Foods.
They were shipped to stores Washington, D.C., and 31 states: Alabama, Connecticut, Delaware, Florida, Georgia, Illinois, Indiana, Iowa, Kansas, Kentucky, Maine, Maryland, Massachusetts, Michigan, Minnesota, Mississippi, Missouri, Nebraska, New Hampshire, New Jersey, New York, North Carolina, Ohio, Pennsylvania, Rhode Island, South Carolina, Tennessee, Vermont, Virginia, West Virginia, and Wisconsin.
The sell-by dates, which are on the labels on the containers, span Nov. 20, 2019, through Dec. 24, 2019. The specific products, UPC codes, and sell-by dates are listed below. Before purchasing the products, check the UPC and date information. If you have already bought any of them, don't eat them. Throw them away.
The bacteria was discovered during a routine inspection by the FDA of the company's facility in Brockton, Mass.
"There is no evidence that any food was actually contaminated," says Gene Grabowski, spokesperson for Fuji Food Products. "But listeria was found close enough to where food was being prepared to draw Fuji's attention, and out of an abundance of caution, we shut down the plant and issued the recall. The next step is for the company to do a complete sanitization of the plant, after which the FDA will test to make sure there's no listeria. The process can take weeks."
Listeriosis, the illness caused by Listeria monocytogenes, isn't as common as some other foodborne illnesses, but it is often more serious. Not everyone who is exposed to the bacteria gets sick from it. But it can cause severe illness in the elderly, young children, and people with compromised immune systems. In pregnant women, the bacteria can cause miscarriage, preterm labor, and stillbirth.
Symptoms of listeria infection can include a fever, muscle aches, headaches, and diarrhea or other gastrointestinal symptoms. If the infection spreads to the nervous system, it can also cause a stiff neck, confusion, loss of balance, and convulsions.
"Listeria monocytogenes can be killed by cooking, but sushi and other similar foods are eaten raw," says James E. Rogers, Ph.D., director of food safety research and testing at Consumer Reports. "In general, raw fish is a risky food. Typically it can be a source of Vibrio vulnificus, a type of bacteria that lives in warm ocean water, or Salmonella. Listeria is less common but is often found in food manufacturing plants."
The Details
Products recalled: Ready-to-eat sushi, spring rolls, and salads sold under the Trader Joe's and Okami brands.
The problem: The products may be contaminated with Listeria monocytogenes.
The fix: If you've purchased any of the recalled products, don't eat them. Throw them away.
How to contact the manufacturer: 888-667-1504.
Recalled Products
| | | |
| --- | --- | --- |
| Product Description | UPC Code | Range of Sell-By Dates |
| Okami 8pc California Roll | 7-32869-28101-5 | 11/22/2019-12/06/2019 |
| Okami 8pc Spicy California Roll | 7-32869-28102-2 | 11/22/2019-12/06/2019 |
| Okami 8pc Supreme California Roll | 7-32869-28103-9 | 11/22/2019-12/06/2019 |
| Okami 8pc Spicy Supreme California Roll | 7-32869-28104-6 | 11/22/2019-12/06/2019 |
| Okami 8pc Classic California Roll with SO | 7-32869-28105-3 | 11/22/2019-12/06/2019 |
| Okami 8pc Supreme Combo | 7-32869-28111-4 | 11/22/2019-12/06/2019 |
| Okami 8pc Supreme Sampler | 7-32869-28112-1 | 11/22/2019-12/06/2019 |
| Okami 8pc Brown Rice Classic California Roll | 7-32869-28122-0 | 11/22/2019-12/06/2019 |
| Okami 25pcs Sushi Platter | 7-32869-28200-5 | 11/22/2019-12/06/2019 |
| Okami 6pcs Sushi Platter | 7-32869-28201-2 | 11/22/2019-12/06/2019 |
| Okami 8pc Seafood Combo | 7-32869-28262-3 | 11/22/2019-12/06/2019 |
| Okami Tempura Shrimp Roll 6pc | 7-32869-28114-5 | 11/22/2019-12/06/2019 |
| Okami 8pc Salmon Philly Roll | 7-32869-28113-8 | 11/22/2019-12/06/2019 |
| Trader Joe's Smoked Salmon Poke Bowl | 603751 | 11/20/2019-12/04/2019 |
| Trader Joe's Banh Mi Style Salad | 614719 | 11/19/2019-12/03/2019 |
| Trader Joe's Shrimp Spring Rolls 7oz | 908795 | 11/18/2019-12/02/2019 |
| Trader Joe's Tofu Spring Rolls 7 oz | 921510 | 11/18/2019-12/02/2019 |
| Trader Joe's Queso Fundido 16oz | 646574 | 12/10/2019-12/24/2019 |
| Trader Joe's 8pcs Spicy Cal Roll 8oz | 348966 | 11/22/2019-12/06/2019 |
| Trader Joe's 8pcs California Roll 8oz | 348997 | 11/22/2019-12/06/2019 |
| Trader Joe's 8pc Tempura Shrimp Crunch Rolls 8.5oz | 513289 | 11/22/2019-12/06/2019 |
| Trader Joe's 8pcs Smoked Salmon Philly Roll | 603775 | 11/20/2019-12/04/2019 |
| Trader Joe's 8pcs Brown Rice California Roll 8oz | 909822 | 11/22/2019-12/06/2019 |