When you shop through retailer links on our site, we may earn affiliate commissions. 100% of the fees we collect are used to support our nonprofit mission.
Learn more.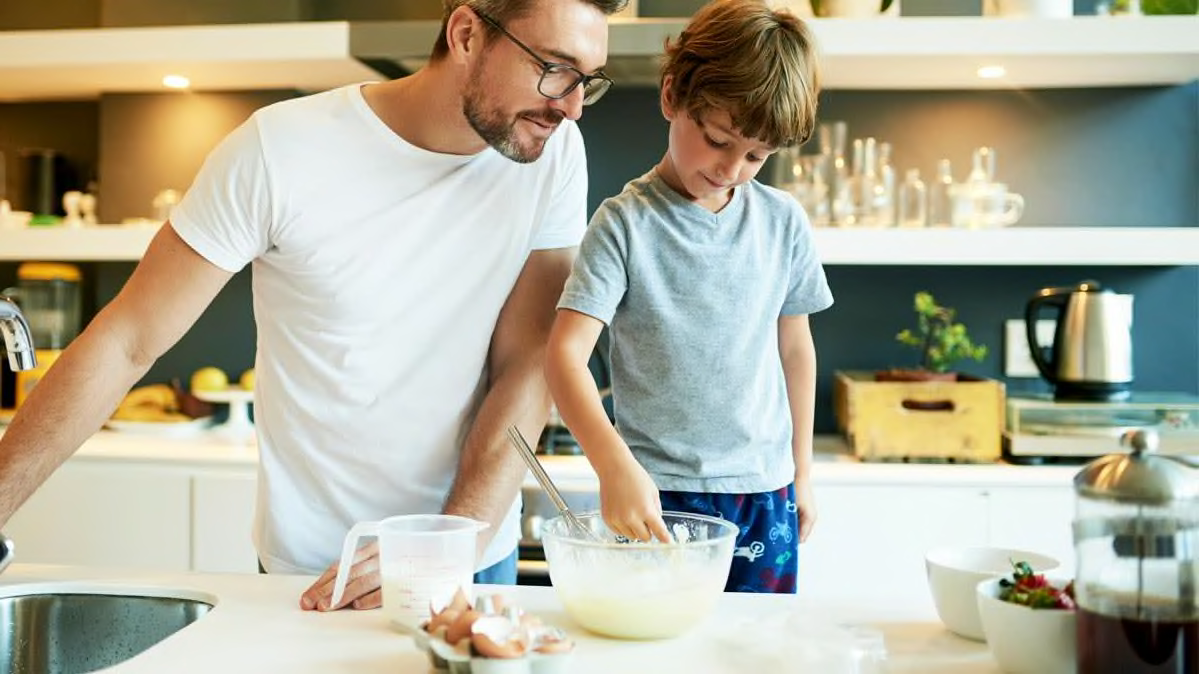 It's not the cheeriest holiday message, but this month the Centers for Disease Control and Prevention issued a warning to consumers: It can be dangerous to eat raw cookie dough. But it's not necessarily the uncooked eggs that you need to worry about—the CDC's advice came on the heels of a salmonella outbreak that sickened five people, some of whom had consumed uncooked cake mix, which contained flour.
Four varieties of Duncan Hines cake mix were recalled: Classic White, Classic Butter Golden, Signature Confetti, and Classic Yellow. The "Best If Used By" dates are between March 7 and 13, 2019.
"The common wisdom used to be that we shouldn't eat cake batter and cookie dough because they contain uncooked eggs," which can transmit foodborne pathogens, says Donald Schaffner, Ph.D., distinguished professor of food science at Rutgers University. "As it turns out, raw flour may be equally concerning—if not more so."
This is not the only recent food poisoning outbreak linked to uncooked flour. A 2016 outbreak of E. coli in General Mills' flour sickened 56 and sent 16 to a hospital. Multiple victims reported eating uncooked batter or dough before getting sick, and some children were sickened after playing with raw dough. And last year, a report in the New England Journal of Medicine documented 63 people who were sickened from ingesting flour contaminated by E. coli.
CR has some tips for keeping your family safe during this year's holiday baking season.
Cooking Is Key
As with raw meat that's tainted with foodborne bacteria, thorough cooking is the best way to kill dangerous pathogens in flour and eggs. And yes, that means not licking batter off the spoon or popping a morsel of cookie dough in your mouth.
"Consumers may not necessarily consider it a risk the way they would, say, raw chicken," says Sana Mujahid, Ph.D., manager of food-safety research at Consumer Reports, "but consuming any kind of raw flour can potentially lead to significant illness."
Schaffner points out that the duration and high temperature of typical baking is enough to kill E. coli or salmonella bacteria. "With a burger, people who like it rare are at higher risk," he says. "You don't really have that problem with baking, as the vast majority of baked goods will be heated past an internal temperature, roughly 160° F, that would kill foodborne pathogens."
That said, some recipes for truffles, icing, and cookies call for flour but don't involve heating or baking. If the recipe doesn't require the dish to be thoroughly cooked, skip it.
And if you have any of the recalled Duncan Hines cake mix at home, don't take a chance that it will be fine if you simply cook it. Instead, follow the FDA's guidance and either throw it out or return it to the store.
How Flour Gets Contaminated
Research indicates that flour contamination often starts in the fields where grain is grown. Salmonella and E. coli, pathogens found in animal feces, can end up on grains through a variety of means, such as wildlife defecating on farm soil or irrigation water being tainted by livestock waste.
In the 2016 General Mills outbreak, FDA investigators never found the source of the E. coli, but they surmised that farm machinery may have churned up contaminated soil and feces during wheat harvesting.
"Whenever combines [machines that harvest grain] come through and churn up the wheat to separate it out for processing, they also can pull up some of the feces and other contaminants [from the ground]," CDC epidemiologist Samuel J. Crowe, Ph.D., told CR at the time.
The CDC is still looking into the recent cake mix-related outbreak, and declined to comment on possible primary sources. But, Schaffner says, "the contamination typically starts in the field, then sticks with the grains through the milling process."
Schaffner adds that there isn't usually a heating phase during flour processing, one of the more reliable methods of killing foodborne pathogens. "You don't want to significantly heat flour before its used, because that would make it unsuitable for baking," he explains.
Other Safety Tips
Even if you bake your treats thoroughly, working with flour poses additional risks. Below are four common issues to watch out for:
1. Your hands. Raw dough can make you sick even if you don't intentionally eat it. For example, kneading bread dough often leaves you with floury hands, which could be a problem if the flour is tainted. Wash your hands thoroughly with soap and water (generally around 20 seconds) after touching flour, before you touch anything else.
2. Arts and crafts materials. Websites devoted to pantry-based projects offer recipes for modeling clay or dough, spray glue, papier mâché, and ornaments with flour as the main ingredient. Mujahid recommends that you avoid making these mixtures with kids. Additionally, some restaurants give children balls of uncooked dough to play with, which is generally not a great idea.
3. Contaminated cooking and eating surfaces. Flour is light and powdery, and can easily spread around your kitchen. Even minuscule amounts of tainted flour can make you sick, so be sure that foods that will be eaten raw don't come into contact with flour-dusted counters, cutting boards, plates, and the like. Wash those surfaces in hot, soapy water after using them. Be especially careful if you're dredging meat or chicken in flour before cooking; it's a messy process!
4. Containers you use to store flour. Thoroughly clean any flour containers before using them again. Make sure to wash out all nooks and crannies, because flour particles can linger in hard-to-reach places.
Julia Calderone contributed to this story.
Top-Rated Ovens
Consider these options from CR's tests.
Food Safety 101
Bacteria is a serious threat when it comes to food preparation. On the 'Consumer 101' TV show, host Jack Rico finds out how to cook a great meal without making your family and friends sick.