When you shop through retailer links on our site, we may earn affiliate commissions. 100% of the fees we collect are used to support our nonprofit mission.
Learn more.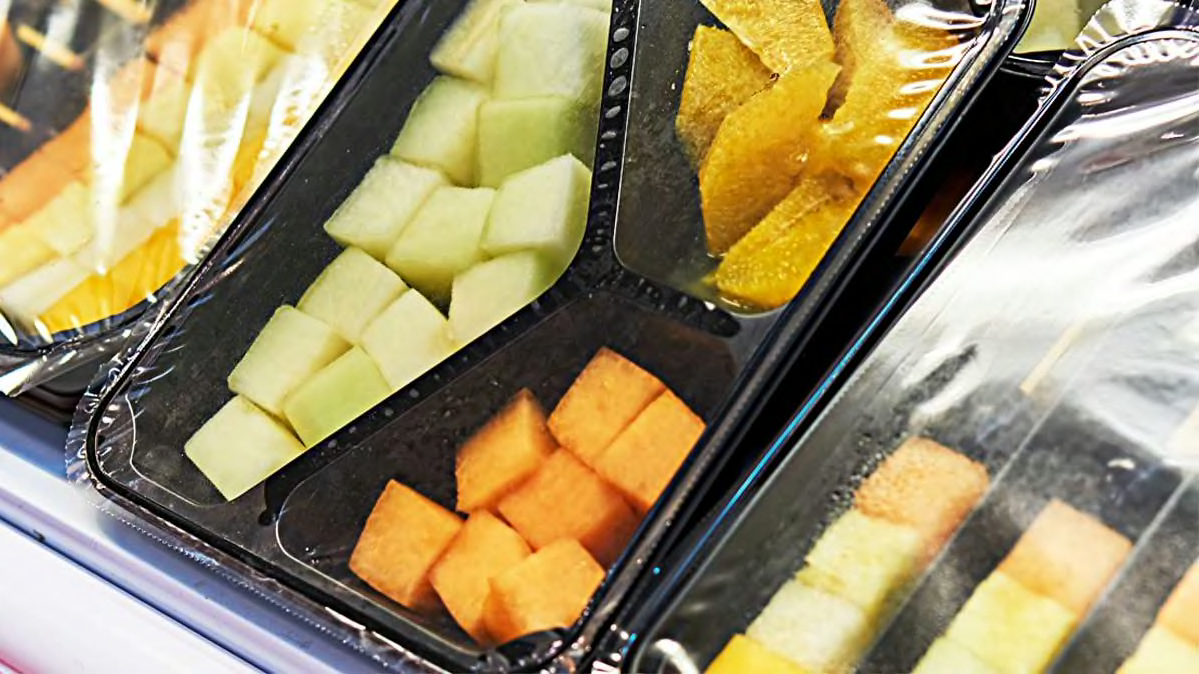 Update: On May 24, 2019, the Centers for Disease Control and Prevention announced this outbreak is over. In total 137 ill people were reported from 10 states; 38 were hospitalized.
Precut melon sold at major supermarket chains in 16 states may be contaminated with Salmonella carrau, the Food and Drug Administration has announced. More than 90 people have become ill, and 23 have been hospitalized. The outbreak was first reported on April 12, but the agency recently released the names of the retailers where the product was sold.
The cut melon, which includes cantaloupe, honeydew, and/or watermelon alone or with other types of fruit, was sold in clear plastic clamshell containers at the following stores:
• Kroger under the Renaissance Food Group label and Boar's Head Private Label.
• Target under the Garden Highway label.
• Trader Joe's under the Trader Joe's label.
• Walmart under a Freshness Guaranteed label.
• Amazon/Whole Foods under the Whole Foods Market label.
The FDA says that the melon was distributed in Indiana, Iowa, Kansas, Kentucky, Michigan, Minnesota, Missouri, Nebraska, New York, North Carolina, Ohio, Pennsylvania, Tennessee, West Virginia, and Wisconsin.
The distributor, Caito Foods, which is located in Indiana, was linked to an outbreak of Salmonella adelaide in precut melon last year. The company has recalled the melon and has temporarily stopped producing and shipping these products.
"Being the source of two foodborne illness outbreaks involving the same food in less than a year should prompt this company to reexamine their sanitary and food prep procedures," says James E. Rogers, Ph.D., director of food safety research and testing at Consumer Reports.
Carrau is a rare strain of salmonella, but the FDA says that it is typically found on imported melons, and that imported melons were used in the affected precut products. The agency is examining Caito's shipping records to try to determine a country and/or a farm where the contaminated melons came from.
Bacteria on melon rinds can be transferred to knives, cutting boards, prep surfaces, or the inside of the fruit when it is cut, says Rogers. "Whole melon isn't involved in this outbreak, but when you cut melon yourself, you should always wash the fruit beforehand, being sure to scrub the surface."
If you have any cut melon or fruit mixes that contain melon in your refrigerator with a best buy date of April 19, 2019, or before, throw it away, unless you can be sure it did not originate at Caito Foods.
Symptoms of salmonella are diarrhea, a fever, and abdominal cramps 12 to 72 hours after eating the contaminated food. Vomiting sometimes occurs. If you have these symptoms and they last for more than three days, you should call your doctor. If you have bloody diarrhea or a fever of 101.5° F or higher, contact your doctor sooner.
The Details
Products recalled: Precut cantaloupe, honeydew, and/or watermelon slices, chunks, and spears produced by Caito Foods sold alone, in combination, or mixed with other fruit in clear plastic clamshell containers. The containers range in size from 4.5 to 80 ounces and have a "best if used by" date of April 19, 2019, or before. The melons were sold at Kroger, Target, Trader Joe's, Walmart, and Amazon/Whole Foods in 16 states. You can find a full list of specific products on the FDA's website.
The problem: The precut melon may be contaminated with Salmonella carrau.
The fix: If you shop in one of the 16 states, don't buy precut melon unless you are sure that it is not from Caito Foods. If you have any precut melon in your refrigerator from the retailers above, or you don't know where you purchased it, throw it away.
How to contact the manufacturer: Call Caito Foods at 844-467-7278.