When you shop through retailer links on our site, we may earn affiliate commissions. 100% of the fees we collect are used to support our nonprofit mission.
Learn more.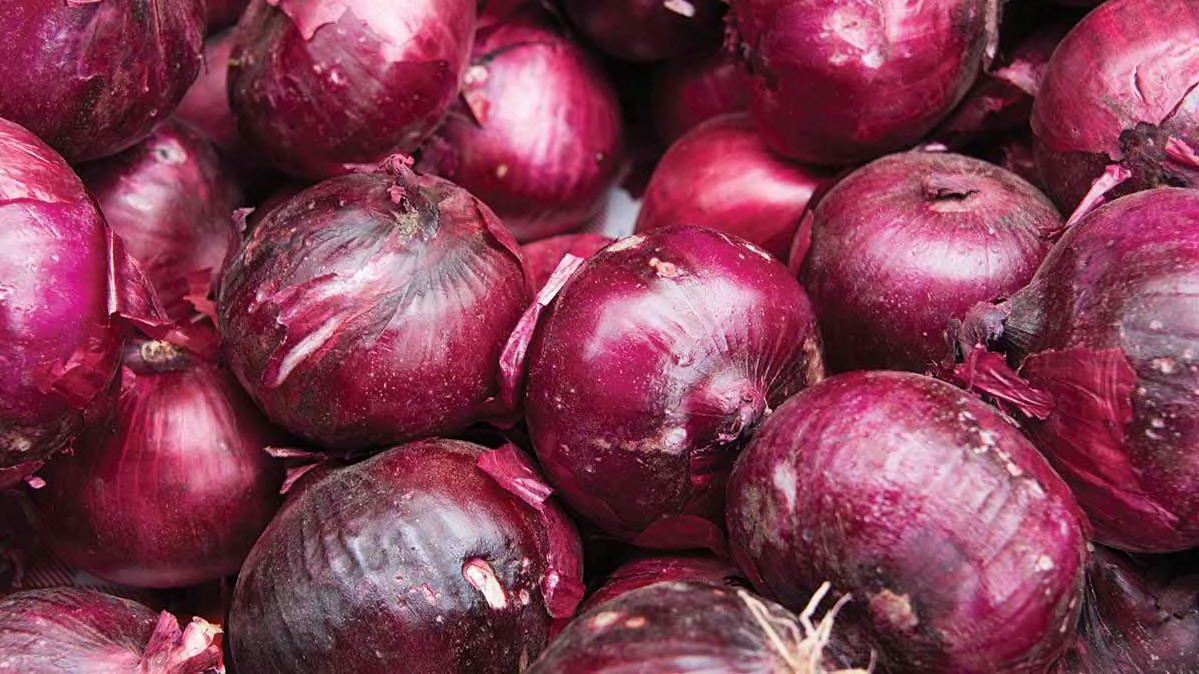 More than 1,000 people in the U.S. have been sickened with salmonella, and 136 people have been hospitalized, probably because of eating onions contaminated with the bacteria, the Centers for Disease Control and Prevention says. In addition, Canadian health officials report 457 illnesses.
Although red onions distributed in the U.S. and Canada by California onion grower and packer Thomson International seem to be the culprit, the company says it has recalled all onions—red, white, yellow, and sweet—because of the possibility of cross contamination.
The onions were distributed to grocery stores, restaurants, and wholesalers in all 50 states. Illnesses have occurred in 47 states. (See the full list.) No deaths have been reported.
The onions were sold in cartons and mesh sacks under the brands Thomson Premium, TLC Thomson International, Tender Loving Care, El Competitor, Hartley's Best, Onions 52, Majestic, Imperial Fresh, Kroger, Utah Onions, and Food Lion. (See package labels, below.) Thomson has recalled all these onion brands. Recalls have also been initiated by companies that sold onions at Publix Supermarkets, Giant Eagle, Trader Joe's, and Ralph's.
"Thomson International is recalling the onions out of an abundance of caution," the company said in a statement. "As of now no specific source of contamination or contaminated shipment has been identified, and FDA [Food and Drug Administration] is also investigating other potential sources of contamination."
The company did not respond to additional questions.
The CDC and the FDA advise all Americans to avoid eating onions from Thomson International. Canadian health authorities say the warnings about onions apply in British Columbia, Alberta, Saskatchewan, Manitoba, and Ontario.
Thomson International's recall involves onions shipped as far back as May 1.
"Onions have a long shelf life, so consumers need to be wary of any onions they have on hand, unless they can be certain that they did not come from Thomson International," says James E. Rogers, Ph.D., director of food safety testing and research at CR. Look for a label on onion packaging or a sticker on the onions to see if you can identify the supplier, and if you can't, don't eat them.
Some of the people who became ill reported eating salsa, sandwiches, and other foods that contained raw onions. Some companies have recalled products made with onions: Giant Eagle, Taylor Farms including meat products made by the company, Spokane Produce, Kroger, Fry's Food Stores, Fred Meyer, and Smith's. (See the full list here.)
Rogers said that for now, it's probably best to avoid supermarket prepared foods and restaurant meals that contain onions. "It's difficult for a consumer to know who supplies the onions to stores and restaurants, and the staff doesn't always know."
Salmonella causes diarrhea, fever, and stomach cramps anywhere from 6 hours to six days after exposure, according to the CDC. The illness usually lasts four to seven days and resolves without treatment. However, some people may become so ill that they require hospitalization. Call a doctor if you have a fever higher than 102° F, if diarrhea doesn't improve in three days, or if you have bloody stools. Dehydration is also possible and should be assessed by a doctor. Signs of dehydration include dry mouth and throat, dizziness when standing, and making very little urine.
The Details
Products recalled: Red, yellow, white, and sweet onions grown and/or distributed by Thomson International. Brands include Thomson Premium, TLC Thomson International, Tender Loving Care, El Competitor, Hartley's Best, Onions 52, Majestic, Imperial Fresh, Kroger, Utah Onions, and Food Lion.
The problem: The onions may be contaminated with Salmonella Newport.
The fix: Check onion packages or stickers on onions to see whether they come from one of these brands. If so, or if you can't tell, do not buy or eat them.
How to contact the manufacturer: Call Kim Earnshaw with the Thomson company at 661-845-1111.
Editor's Note: This article has been updated with new information on the number of illnesses, hospitalizations, and states and the names companies that have recalled products made with onions.