When you shop through retailer links on our site, we may earn affiliate commissions. 100% of the fees we collect are used to support our nonprofit mission.
Learn more.
The Subaru Forester competes in one of the hottest segments of the market, where its compact SUV rivals offer family-friendly practicality, city-friendly proportions, and wallet-friendly price tags. But the perennially top-scoring Forester does have several key strengths that make it stand out from the herd. Plus, it receives several notable updates for 2017, such as revised exterior styling, an update to its EyeSight advanced safety suite, as well as interior enhancements, including added soundproofing to quiet the cabin. Premium models with EyeSight also get blind-spot monitor and rear cross-traffic alert, welcomed features that are now standard equipment on the Limited and Touring models.

Sure, the Forester's boxy, upright styling may look a little old-fashioned, but it pays big dividends in practicality. There's plenty of room for stacking cargo thanks to the squared-off back end, and the tall windows provide great visibility, some of the best we've recently seen.
Owners also benefit from the Subaru's big doors, which make it one of the easiest cars of any type to climb into or out of, and rear-seat occupants will enjoy the room.
If the Forester looks practical on the outside, the interior follows the same plotline. Everything is simple, functional, and easy to reach – but it's far from plush, and connectivity features are behind the times.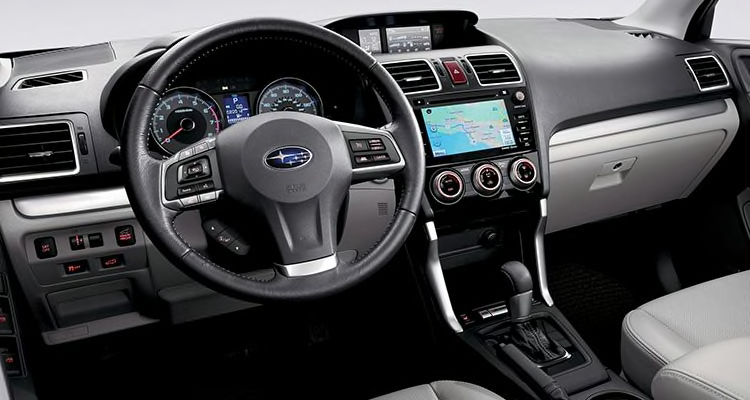 At least that efficient austerity carries through to the Forester's fuel economy. Our last-tested model returned an excellent 26 mpg, making it one of the most efficient small SUVs we've tested (and it's by no means the runt of the litter). The Forester's continuously variable transmission helps by optimizing engine speed for the best fuel economy. But the trade-off is the CVT magnifies engine noise coming into the cabin as the engine wails under acceleration.
The base 170-hp four-cylinder is fine around town, but loses smoothness when it has to work hard. The CVT keeps acceleration competitive. A six-speed manual transmission is optional on some trims. Upscale XT models get a 250-hp turbocharged engine paired with an upgraded CVT, which has paddle shifters to give enthusiastic drivers choice in selecting gear ratios. We found the turbo quick and enjoyable to drive, and better at masking the CVT's quirks.
Responsive handling makes the Forester feel lively, even though the steering is rather numb. While the ride is absorbent, the frequent jitters felt on smooth roads may become tiresome.
Subaru's optional EyeSight safety system has distance-sensing cruise control and lane-keeping assist, and can even apply the brakes to prevent a crash. For 2017, EyeSight's vision improves with new color cameras that can monitor a wider, longer area.

Best Version to Get
For less than $26,000, you can get a nicely equipped 2.5i Premium, with handy features such as a power driver's seat and giant sunroof. For about $3,000 more, you can move up to the 2.5i Limited, which includes heated leather seats, automatic-climate control, and a power tailgate. With a Touring version, which starts at about $29,995, you get a navigation system, but it's not very good. More worthwhile, you can also opt for the EyeSight system. While the extra power of the turbocharged XT version is nice, it requires premium fuel and isn't a must-have for most buyers.
Read our complete Subaru Forester road test.