When you shop through retailer links on our site, we may earn affiliate commissions. 100% of the fees we collect are used to support our nonprofit mission.
Learn more.
If the kitchen is the heart of the home, then the refrigerator is the heart of the kitchen. What other appliance does the entire family interact with multiple times a day? And back in the years before our kitchen appliances became encased in sheaths of non-magnetic stainless steel, the oft-visited refrigerator served as shared calendar, message center, and art and photo gallery. With its Family Hub refrigerator, just introduced at CES, Samsung aims to reclaim the central role that refrigerators play in the many interactions of household life.

How? A 21.5-inch, full HD LCD resolution touch screen panel embedded in the upper-right door of the company's signature 4-Door Flex platform. These innovative refrigerators feature French doors on top and two side-by-side compartments below—one a freezer, the other a flex space that can be switched between fridge and freezer as needed.
Consumer Reports has tested two Samsung Flex refrigerators, the Samsung Chef Collection RF34H9960S4, $5,400, our top-rated 4-door, and the Samsung T9000 RF32FMQDBSR, $3,500, which we also recommend.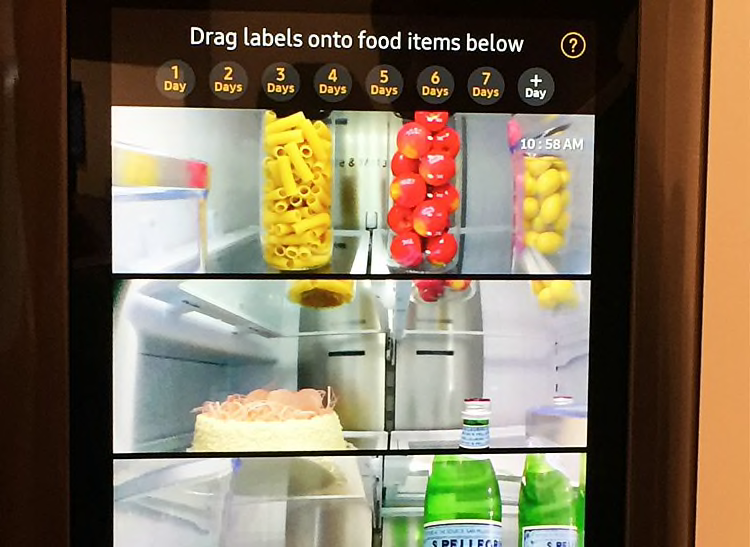 A Look Inside
Not only is this a high-performance food storage appliance, but the touchscreen also serves three functions that Samsung claims are bound to make it a true hub:
It facilitates family connections. A shared calendar syncs with individual smartphones so that everyone knows the schedule. A memo function allows people to write notes to one another to be displayed on the screen. Photos from digital cameras and smartphones can be downloaded and displayed on the screen to create a rotating gallery.
It helps keep track of food. Cameras mounted inside each of the French doors snap a picture of the contents every time the door is closed, which can be accessed on your smartphone. So, when you're at the store, you can see what you might be out of or running low on. A simple shopping list app lets you write down things as you need them and then access it on your phone. In addition, Samsung has partnered with shopping apps including Instacart and Groceries by Mastercard, which allow you to order items right away.
It's an entertainment center, too. The tablet comes with Pandora and the refrigerator has built in speakers, so you can easily play music in the kitchen. If you've got a Samsung Smart TV, you can mirror what's on the TV on the tablet screen, which means you don't have to miss the answer to Final Jeopardy when you're making dinner.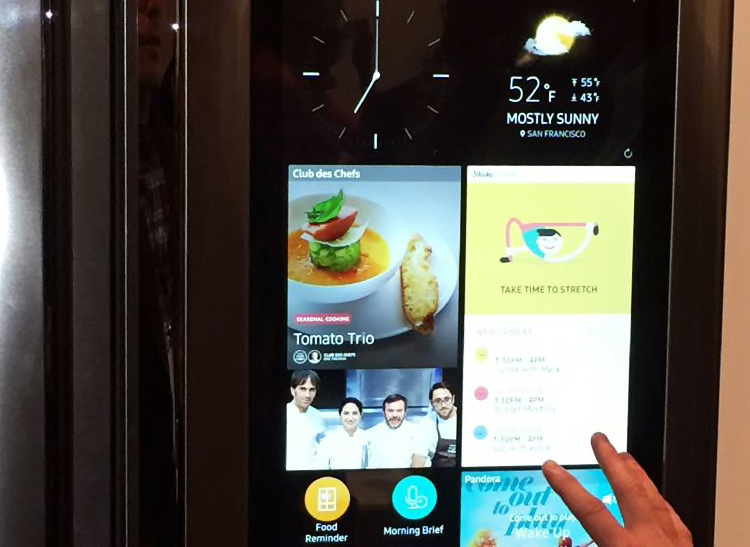 Screen Time
The Samsung Family Hub refrigerator is Wi-Fi connected, so it's not a static machine. Samsung will be able to push out software upgrades (just like to a smartphone) as they become available. That means the smart part of this fridge can get smarter.

The Samsung Family Hub refrigerator should arrive in stores this May in both full-depth and counter-depth versions. It will be available in a stainless or a black-stainless finish. The price is expected to be around $5,000. That's on the higher end for a non-built-in refrigerator (think Sub-Zero and Thermador), but it's comparable to other luxury French-door refrigerators, including the 4-door LG LPCS34886C, $6,000, and the 5-door KitchenAid KRMF706EBS, $4,000.