Blender Face-Off: Ninja vs. Vitamix
Is it worth shelling out for a Vitamix, or is the far cheaper Ninja all you need for your smoothie fix?
When you shop through retailer links on our site, we may earn affiliate commissions. 100% of the fees we collect are used to support our nonprofit mission. Learn more.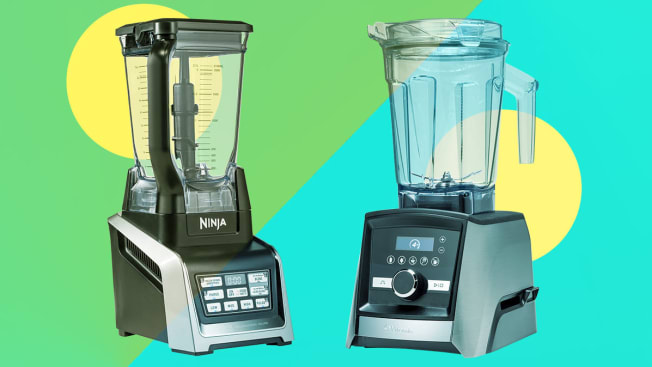 Read the comments section of CR's blender articles, and you'll encounter owners of high-performance models like Vitamix profess their "love" of these blenders and expound on how these "amazing" appliances have been "the best investment ever" and simply "put all the others to shame."
Ninja: The Ninja BL642 is a 1,500-watt blender with a 9-cup plastic container and removable blade. The touchpad controls have three speeds and Auto-iQ preset buttons for making smoothies, purées, and pulse. It also has two personal blending Auto-iQ presets called the Nutri Ninja blend and the Nutri Ninja ultra blend, which you can use when blending with any of the 18-, 24-, and 32-ounce cups included in the set.
Auto-iQ technology can sense which jar is on the motor base and suggest presets to match. For instance, the Nutri presets work only with the smaller cups, not the larger jar. The Nutri blend button is meant for shakes, frappes, and fresh fruit smoothies, and the Nutri ultra blend is reserved for heavy-duty smoothies with frozen fruits, fibrous vegetables, and seeds.
The Ninja measures 18 inches high' too high to fit under standard cabinetry on the counter. It comes in black and has a one-year warranty.
Vitamix: The 1,640-watt Vitamix 3500, which is part of the brand's Ascent series, has a plastic jar that holds 8 cups. At 17 inches tall, it's only slightly shorter than the Ninja, but that difference means it will fit under the most kitchen cabinets.
You use a dial to choose one of 15 speeds, or you can pick a setting on the LCD touch screen for smoothies, frozen desserts, dips, hot soups, or self-cleaning. Like the Ninja, this blender automatically adjusts its program settings and blending times to the container size you use, but you'll get only the 8-cup jar with your purchase. There's a compatible 8-ounce cup and a 20-ounce cup that you can purchase separately, and you'll need an adapter to use them with the blender base. Starter kits that include an adapter and a cup cost $100 to $130; additional cups are $30.
This Vitamix has a programmable timer for custom recipes—you set the desired time and it'll turn off automatically. The Ascent series also comes integrated with wireless connectivity so that you can download new programs and updates from its app. It's available in black, white, stainless, graphite metal, copper, and red, and it has a 10-year warranty.
Here's what we found when we compared the two models head-to-head:
Icy drinks: To see how well blenders handle making smoothies, our testers whip up piña coladas, then drain the blended mixture through assorted sieve sizes to check how many bits of fruit and ice remain after blending. Both blenders rate Excellent here, serving up fruity drinks with a smooth, consistent texture. For this test, it's a draw. You'll get great margaritas no matter which blender you go with.
Puréeing: For this test, we blend raw ingredients into a puréed soup and pour it through a sieve to see how many chunks remain. Both blenders can purée parsley, carrots, and other firm vegetables into a slurpable soup. However, the Vitamix earns a slightly higher rating—an Excellent vs. Ninja's Very Good—meaning it gets the soup silkier.
The Vitamix's fast-whirring blades also create enough friction to heat up cold raw ingredients while blending, making hot soup instantly. When we tried it out, we got piping hot soup in 5 minutes. The Ninja? Forget it: It can't handle anything hot. Ingredients must be cooled to room temperature before blending. If you love puréeing soups, you'll be happier with the Vitamix.
Ice crushing: We place seven ice cubes in each blender and pulverize them to see how uniform and fine the ice gets. The goal: small fine flakes, for which a blender receives an Excellent rating. Well, neither the Vitamix nor the Ninja made the cut for the top rating. However, they both earn ratings of Very Good in this test, meaning the ice looks like what you'd see in a snow cone, with small uniform chips. That's not bad, and it's another draw.
Noise: Both blenders are noisy—as blenders tend to be—scoring middling Good ratings in that test. In fact, not a single one of the nearly 70 full-sized models in our ratings scores an Excellent for noise. It's another tie between the two blenders, but we can hardly take them to task, considering none of the Recommended models in our ratings score any better.
Convenience: Our testers found both blenders to be pretty convenient in terms of how easy they are to clean, how easy it is to pour from the blender container, how clear the controls and markings on the jar are to read, and the weight of the jar. The Ninja comes out slightly on top with an Excellent rating, and the Vitamix trails just behind with a Very Good rating—testers found the markings on the Vitamix jar to be a bit challenging to read.
Reliability and satisfaction: Vitamix and Ninja were the only two brands to receive Excellent ratings for predicted reliability, based on our annual CR member survey. Most brands get only a moderate Good rating for predicted reliability. Vitamix also earns an Excellent rating for owner satisfaction, and Ninja rates Very Good. So Vitamix owners are slightly more likely to recommend their blenders to others.
These two blenders are nearly neck and neck in our tests. The Vitamix scores slightly higher for making soup, but Ninja rates a little better for ease of use. They're tied in the icy drinks, ice crushing, and noise tests. Vitamix comes out a tad better in the survey data, too, with an Excellent rating for owner satisfaction. And its warranty lasts an entire decade. Still, even if your Ninja blender breaks, you can buy three more and still come in under the price of one Vitamix.
Considering the very close test results and very wide cost difference, we're crowning the Ninja BL642 the winner of this face-off. It'll make great smoothies and have no trouble crushing ice. And it'll turn out decent soups—as long as you don't blend ingredients while they're hot. Plus, you don't have to pay extra for personal-sized cups.
Do your own face-off by using the filters in our blender ratings to compare other Vitamix and Ninja models, or those from Blendtec, Breville, Cuisinart, KitchenAid, Tribest, and Wolf.