Class Action Lawsuit Filed Against Ikea Over Faulty Furniture Recall
Years after the company pulled millions of unsafe Malm dressers, consumers are denied refunds, the suit alleges A class action lawsuit was filed against Ikea on May 6, 2020, alleging that the company marketed and sold millions of dressers it knew were prone to dangerous tip-overs, and then failed to issue adequate notifications and refunds to customers for the dressers after they were recalled in 2016.
The lawsuit was filed in Pennsylvania on behalf of a Minnesota family with two young children. The parents had purchased two Ikea Malm dressers before they were recalled. When the couple tried to return the dressers to Ikea for a refund in August 2018, they were denied, according to the complaint.
Other families have had similar experiences, according to the lawsuit and Consumer Reports' previous reporting. In fact, it is emblematic of the failings of Ikea's overall recall process, says Alan Feldman of Feldman Shepherd, the law firm representing the couple.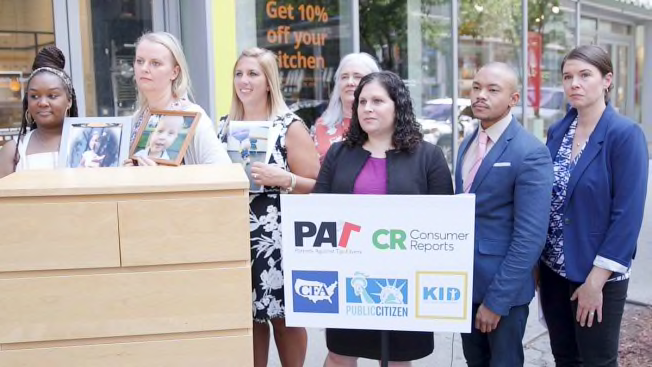 An Ikea spokesperson told CR that the company could not comment on ongoing litigation but said that Ikea has invested millions of dollars in communications about both the dresser recall and tip-over prevention through a variety of channels, including its website, stores, advertising, social media, and email.
To date, the company has provided 1,080,956 wall attachment kits to consumers and has refunded 448,082 dressers, out of the 17.3 million that were recalled. "Please keep in mind that many consumers may have chosen not to participate in the recall if their dressers were already attached to the wall in accordance with the assembly instructions or if they no longer had the product in their home," the spokesperson said.
The Consumer Product Safety Commission declined to comment on the lawsuit.
Marietta Robinson, a former CPSC commissioner, told CR in June 2019 that Ikea has not made "a good faith effort to actually get the millions of dangerous dressers out of people's homes."
Advocacy groups agree. "We have been trying to warn Ikea for years that their recall is vastly ineffective and that the company must be more diligent in reaching consumers," says Keisha Bowles, a founding member of Parents Against Tip-Overs, a group that works toward stronger furniture stability standards and includes parents whose children have died from tip-overs. "We hope this lawsuit moves Ikea in that direction."
The class action suit, which is open to consumers who purchased an Ikea dresser that was part of the 2016 and 2017 recall announcements, is seeking full refunds for all plaintiffs—and is aiming to hold the company accountable for carrying out the terms of the recall and ensuring that the dressers do not pose a threat in people's homes.
"Ikea has had almost four years to get this right, yet because the company hasn't done its part, it's all but certain that there are millions of unstable Ikea dressers across the country—with children at risk of getting hurt or killed if one tips over onto them," says Oriene Shin, CR's policy counsel for product safety. "Ikea should finally put its customers first and fulfill its obligations to them."