Ikea's $46 Million Settlement in Furniture Tip-Over Death Sends Message to Companies
Lawyers cite company's failure to promote its recall as key reason for large payout Ikea has agreed to pay $46 million to the family of Jozef Dudek, a 2-year-old boy who died in May 2017 in Buena Park, Calif., after a three-drawer Ikea Malm dresser, recalled the year before, tipped over onto him and killed him.
The settlement was announced yesterday at a press conference held by Feldman Shepherd, the law firm representing Dudek's parents, Joleen and Craig Dudek. In addition to the payment, Ikea has also agreed to expand its outreach efforts so that more people who own the unstable recalled dressers know to get them out of their homes. The firm's lawyers said they hoped these efforts would include Ikea emailing every customer in the company database and engaging in prominent social media campaigns.
Feldman Shepherd believes the settlement is the largest for the wrongful death of a child in U.S. history and that the large payout was because Ikea "did not conduct its recall effectively."
The settlement "shows, without a doubt, that strong and effective consumer protection requires both government regulation and private enforcement of the laws through personal injury lawsuits. We cannot rely on just one or the other," says Pamela Gilbert, a former executive director of the Consumer Product Safety Commission, the government agency with oversight over more than 15,000 different types of consumer products.
Ikea first recalled the Malm line of dressers along with some other Ikea dresser models in June 2016 after the products were tied to the tip-over deaths of several children. In total, 17.3 million dressers were recalled for "posing a serious tip-over and entrapment hazard that can result in death or injuries to children," according to the announcement made by the CPSC. Further, the Ikea dressers did not adhere to the industry's voluntary stability standard at the time, which required dressers more than 30 inches tall to remain stable with a 50-pound weight hanging on an open drawer. (The voluntary standard has since been revised to include dressers at least 27 inches tall.)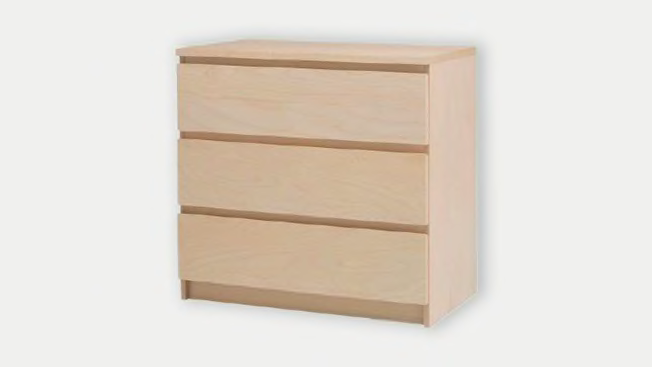 After the recall was announced, three of the families whose children died as a result of a Malm dresser tip-over settled the lawsuit they brought against Ikea for $50 million in December 2016, five months before Jozef Dudek died.
But "like so many others, the Dudeks were unaware of the recall or the dangerous unstable nature of the dresser," said Alan Feldman, the Dudeks' lawyer, who pointed out that it would not have been difficult for Ikea to contact the family. The Dudeks had been members of the Ikea Family loyalty program when they purchased the dresser in 2008. Ikea had their contact information on file and their purchase history, and yet the couple never received a warning letter or email alerting them to the dresser recall.
Jozef's death is thought to be the first Malm-linked fatality to happen after the recall was announced. The lawsuit alleges that in addition to knowing about the dangers and deaths linked to its dressers before the recall, Ikea failed to commit sufficient resources to alert consumers of the recall.
"We were devastated by the loss of our beautiful Jozef," said Jozef's mother, Joleen Dudek, through tears at the press conference. "We never thought that a 2-year-old could cause a short dresser to tip over and suffocate him. It was only later that we learned that this dresser did not meet safety standards, and that this had happened to other little boys," she said, referencing other Malm-related deaths.
The Dudeks also said during the press conference that they will be donating $1 million to be split between CR and two other consumer groups—Kids In Danger and the Consumer Federation of America—to continue ongoing efforts to prevent deaths and injuries from furniture tip-overs.
When asked for comment about the lawsuit, an Ikea spokesperson said that "while no settlement can alter the tragic events that brought us here, for the sake of the family and all involved, we're grateful that this litigation has reached a resolution. We remain committed to working proactively and collaboratively to address this very important home safety issue. Again, we offer our deepest condolences."
Marietta Robinson, who at the time of the June 2016 recall was one of several CPSC commissioners, is not optimistic the lawsuit will spur real change on Ikea's part. To date, "their recall efforts have been absolutely abysmal," she says. "So when they say they're going to broaden them, I don't know what that means."
In Robinson's view, Ikea failed "to make a good faith effort to actually get the millions of dangerous dressers out of people's homes," even after the company had already paid out $50 million in settlements involving the three other deaths. Indeed, as of June 2019, Ikea stated that out of the 17.3 million recalled dressers, the company had issued only 400,000 refunds for returned dressers.
Robinson also faults the company's messaging, which she says failed to sufficiently warn parents of the tip-over hazard and encouraged them to attach their furniture to the wall with anti-tip restraints, which she believes is an imperfect solution.
In her time at the CPSC, Robinson says she saw "many deaths" involving dressers where the anchors had fallen out of the drywall or detached from the dressers' particle board backing.
Anchoring can, in fact, be problematic because it typically requires power tools and carpentry skills, and might not be permitted by landlords, among other challenges. As a result, the majority of people don't do it. According to a nationally representative 2018 CR survey of 1,502 U.S. adults, 73 percent of Americans have never anchored furniture in their homes.
Ikea has stated that it has sent out 1.02 million free wall anchors since the "repair program" it initiated in July 2015 (which urged consumers to anchor their furniture) before the company eventually issued the recall in 2016.
But according to Crystal Ellis from Snohomish, Wash., who lost her 2-year-old son Camden when a Malm dresser tipped over onto him in 2014, Ikea's efforts to date have not been robust enough. "I believed that the recall and the $50 million settlement to our three families would make a bigger difference than it has for Ikea and the entire industry," says Ellis, who was part of the lawsuit that was settled in 2016.
Ellis, along with other parents whose children have died from a furniture tip-over, helped found Parents Against Tip-Overs (PAT), which advocates for improved furniture stability. The group has been trying for months to get an in-person meeting with Ikea to discuss ways to improve recall efforts and dresser safety. One of the terms of the Dudeks' settlement is that the company must meet with PAT.
The American Home Furnishings Alliance, an industry trade group, declined to comment on the settlement or any implications it has for its members.
Gilbert, the former executive director of the CPSC, notes that the agency also needs to work harder to keep consumers safe. She says she was saddened that the CPSC wasn't able to achieve strong enough recall and public education provisions that would have better protected the public.
Safety advocates, including CR, have also called on regulators to address the problem of furniture tip-overs through legislation. For example, the CR-backed bill called the Stop Tip-Overs of Unstable, Risky Dressers on Youth (STURDY) Act would require the CPSC to create a mandatory federal rule for dressers that's tougher than the industry's current voluntary standard. The bill passed the House in September 2019 and is currently awaiting a vote in the Senate.
In the meantime, if you have an Ikea dresser that was part of the 2016 recall that is not securely attached to the wall, contact Ikea at ikea-usa.com or 888-966-4532 for a full refund. The company can arrange to come to your home free of charge to pick up the dresser or attach it to the wall.
Though Ikea also offers anti-tip anchors as part of its recall, CR does not believe that distributing anchors meant to attach an unstable dresser to a wall is an effective solution on its own because there is no way to ensure that consumers will take the extra step to install the anchors.
For more on CR's work on this topic, go to CR.org/furnituretipover.