When you shop through retailer links on our site, we may earn affiliate commissions. 100% of the fees we collect are used to support our nonprofit mission.
Learn more.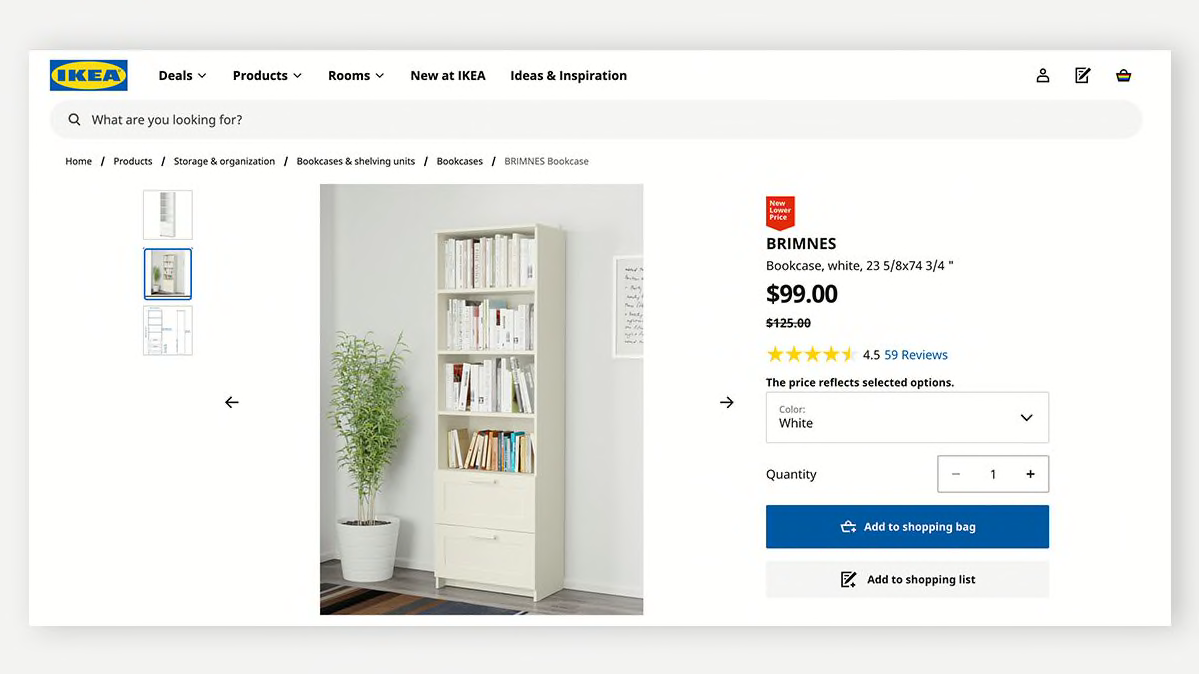 Nicole and Dan Oka of Santa Fe, Calif., thought they'd done everything possible to childproof their 2-year-old twins' bedroom. "Just a couple of weeks ago we moved our twins, Dominic and Clara, from their cribs into toddler beds, and we felt completely comfortable knowing that the furniture was mounted to the wall and their room was safe," Nicole says.
But the family's sense of security was shattered last week when the Ikea Brimnes bookcase that was anchored to a bedroom wall detached and fell on top of the toddlers, trapping them underneath.
By sheer luck, the shelving unit, more than 6 feet tall, didn't seriously injure the children. "I can't totally fathom how they didn't get hurt—but the way it fell, they were both right in between the shelves," Nicole says.
The incident, which occurred June 3, 2020, was captured on video by the baby monitor. It's harrowing to watch: The children get up from their beds, and after climbing into the bottom drawer, the shelving unit topples onto them. Their shrieks pierce the air from underneath the fallen bookcase, and both parents soon race into the room to lift up the furniture.
"Those cries were definitely not cries I've ever heard from them before," Nicole says. "I didn't know what I was going to see when I lifted that bookcase off of them. It was just terrifying."
An Ikea Brimnes Bookcase Tips Over
More On Furniture Tip-Overs
After seeing that the kids were unharmed, the Okas began to take in the magnitude of the situation. "I was furious, and I wanted to get the word out right away," Nicole says. "We'd heard about Ikea furniture tipping over from the media and it scared me, so we mounted my older son's Ikea furniture years ago. And when we were pregnant with the twins and we bought new Ikea furniture, we mounted it with the anchors and hardware that came with it."
Industry groups such as the American Home Furnishings Alliance have long maintained that requiring companies to provide hardware and instructions for anchoring furniture is an effective way to prevent potentially deadly tip-overs. The groups have also said that voluntary industry standards governing the stability and design of dressers adequately protect consumers.
But child and product safety advocates say this incident highlights concerns they have consistently raised about how furniture is regulated in this country.
"This video is a perfect example of why anchoring isn't the only answer," says Janet McGee, a founding member of Parents Against Tip-Overs (PAT), a consumer advocacy group led by people whose children have died from furniture tip-overs.
She adds that the voluntary standards aren't enough, either, a point underscored by other videos that have gone viral in which Ikea dressers tipped over onto toddlers.
In one of them, a mother in Dayton, Ohio, was barely able to block an Ikea three-drawer Hemnes dresser from falling onto her 2-year-old son after he grabbed the dresser's top drawer. In another, from parents in Utah, an eight-drawer Hemnes dresser tipped over onto a set of 2-year-old twin boys, trapping them below.
Both of those dressers are subject to the industry's voluntary standards and remain on the market—even though the eight-drawer model has been linked to the death of a child.
It's incidents like these that have consumer safety organizations—including Consumer Reports; Kids in Danger (KID), a nonprofit child safety organization; and PAT—championing stronger, mandatory product safety rules.
And they have made parents like the Okas angry.
"I never would have known to mount the furniture in the first place if I hadn't heard about the other toddlers who had died or gotten injured," Nicole says. "So if there's someone else like me who thinks their room is safe and babyproofed because the furniture is anchored, you shouldn't feel that safe with this furniture."
When asked about the incident, an Ikea spokesperson said, "We are grateful that none of the children were seriously injured." The company also said it was reviewing the video to get a better understanding of the details.
The company said it "believes wall attachment is the safest way to prevent tip-over."
Why Furniture Anchors Are Not Enough
In the Okas' incident, one of the anchors was pulled out of the wall yet remained attached to the back of the bookcase. The other anchor stayed in the stud of the wall yet broke off from the bookcase.
CR's ongoing investigation into furniture stability has also found that there are many obstacles to making anchors effective, not the least of which is that most people don't use them.
In fact, about 73 percent of Americans have never anchored furniture, according to a nationally representative CR survey of 1,502 U.S. adults conducted in 2018.
The most common reasons people don't anchor their furniture are that they think the furniture is stable enough (41 percent); they don't want to put holes in their walls (25 percent); they don't want to put holes in their furniture (16 percent); they're not sure what hardware to buy (7 percent); and they've never heard of anchoring furniture (7 percent).
And half of people with children in their household said their children aren't left unattended around furniture. But data has shown that many dresser tip-overs happen when children are alone in their rooms, before or after sleeping.
"Watching the video was absolutely horrifying," says McGee, whose 22-month-old son Ted died when an unanchored Ikea Malm dresser tipped over onto him in 2016. "It made me think of Ted, of course, but it also shows that we can't only rely on anchors."
"Most people don't know they should anchor furniture, let alone know how to anchor the furniture," she adds. "And even when you think you're doing it right, it still may not work."
A spokesperson for the Consumer Product Safety Commission, which regulates thousands of household products, couldn't comment on the Okas' video but said that the government agency "continues to advocate for tip-over restraints through its Anchor It! Safety campaign [while] also pursuing other improvements to assure stability."
An Ikea Hemnes Three-Drawer Dresser Tips Over
The Need for Stronger Standards
One person is injured about every 20 minutes—and one child dies about every two weeks—when a piece of furniture, an appliance, or a television falls onto them, according to the CPSC. The agency's most recent annual report shows that each year an estimated 1,400 children under 18 go to an emergency department with injuries from tip-overs involving shelving and bookcases, and about 3,200 are seen in the hospital for injuries involving dresser tip-overs.
But there are currently no mandatory government standards requiring furniture manufacturers to test their products and prove they're stable before putting them on the market. The voluntary industry standard for dressers (also known as clothing storage units) states that a product 27 inches or taller should stay upright when a 50-pound weight is hung on a single open drawer while the others are closed. In the case of bookcases, there's no voluntary standard at all.
"We need stronger mandatory stability standards that hold up under real-world scenarios and account for the way children interact and play with furniture," says Nancy Cowles, executive director at KID. "The onus shouldn't be on the consumer to make the furniture stable."
The Senate is currently considering legislation, already passed by the House, called the Stop Tip-Overs of Unstable, Risky Dressers on Youth (STURDY) Act. It would require the CPSC to create a mandatory federal rule for dressers that's tougher than the industry's voluntary standard.
"Wall anchors are no substitute for strong stability standards that keep a piece of furniture upright when a child climbs or pulls on it. Right now, bookcases aren't even covered by a voluntary stability standard, much less a mandatory one," says Oriene Shin, CR's policy counsel for product safety. "CR's rigorous dresser testing shows that it's possible for manufacturers to create sturdier furniture at all price points, and we urge them to do so—regardless of what kind of furniture it is—because families expect a certain level of safety."
Parents React
Sarah Fosnight, the Dayton, Ohio, mother who was filming when an Ikea dresser tipped over onto her son, says she was shocked by how unstable the dresser was.
"I knew that furniture could tip over but had no idea that it could that easily," Fosnight says. "We had just purchased that dresser and had not yet gotten around to anchoring it. After that scary incident, we went immediately to the hardware store and anchored it."
When CR asked Ikea about this incident, a spokesperson stated it "magnifies the importance of properly anchoring chests of drawers to the wall." The company added: "Product safety is reflected across our entire business. For many years, Ikea has invested in innovative safety solutions to increase stability . . . in addition to launching the Safer Homes app, safety workshops in our stores, and co-worker training."
Daniel J. Mann, a lawyer at the Feldman Shepherd firm who is representing the Okas and McGee, says the responsibility for furniture safety shouldn't be placed on parents. "Tip-over resistance should be incorporated into the design of furniture, rather than making consumers responsible for furniture stability," he says. "Manufacturers do not adequately warn consumers of the dangers of falling furniture, most families do not or cannot affix a dresser or bookshelf to a wall, and even when tip-over restraints are used, the restraints can fail."
Until furniture regulations change, McGee says that parents must be made aware of this danger.
"As hard as it was to watch the video of the Oka twins and listen to the audio of their screams, they were lucky that they could scream. Our kids couldn't because of the way they were trapped," McGee says of her son Ted and the children of her fellow PAT members, who were suffocated by dressers and unable to cry for help. "That was what my son was feeling but couldn't tell me."
To amplify her son's voice and prevent future tip-over tragedies, McGee urges parents to act. "I would tell parents to please watch this video, to anchor your furniture if it's not already anchored, and contact your U.S. senators in your state and ask them to support the STURDY Act, which would make the dresser safety standard stronger and mandatory, so that companies aren't able to just rely on anchor kits as being the primary source of safety."