Create an Indoor Green Space for Better Health
Science says plants make people happy—by reducing stress, boosting your immune system, and more Even if it ain't easy being green, it's worth it to try. Being around plants has been shown to give us an array of benefits.

According to a 2019 study in The Lancet, researchers found that access to green spaces is associated with better mental health, benefits to the immune system and to metabolism, improved pregnancy outcomes, a reduction in cardiovascular disease, and reduced premature mortality.
"The color green reduces stress in your central nervous system," says David Rojas, an assistant professor in Epidemiology at Colorado State University who co-authored the Lancet. However, a painted green wall or green-colored painting doesn't provide the health benefits of having plants at home.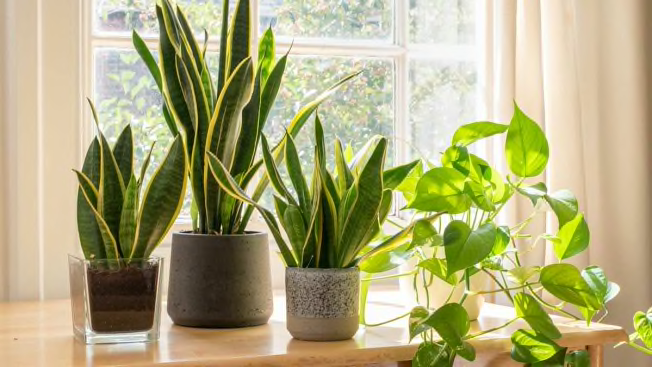 Pick a Plant, Any Plant, That Is Easy To Maintain
How do you know a plant is easy to care for? Both Rojas and Wolf suggest going to a local nursery and asking for options based on how much light you have and how much physical space you can allow for a plant.
You can also check the care tag that comes with a plant to see what kind of light it needs and how often you should water it. For instance, the sansevieria plant (also known as the snake plant) grows well in low light and doesn't require frequent watering. If it's unclear from the tag how to care for a plant, there are a number of guides online at the National Gardening Association that provide more detail. You can also buy plants online; just be sure to check the care instructions in the description.
You can increase the variety of plants you can keep indoors by getting a plant grow light, which can cost as little as $8 at stores like Home Depot and Walmart, or on Amazon. These bathe plants—like sun-loving succulents and desert plants—in the amount of light they need to stay healthy. So you can grow a great green space even in a dark room.
Choose Plants Based on Where You Live
Keep in mind when you shop that plants are generally harder to maintain when they're not native to your area. They often require more care, which could mean more water, and possibly fertilizer and other chemicals to keep them healthy. Using chemicals adds to indoor pollution, so you'll want to keep them to a minimum.
Again, Wolf suggests talking to workers at a local nursery to see if there are native plants that also do well indoors. "There are seasonal temperature changes, humidity, and light differences depending on where you live, even indoors," says Wolf.
For example, if you live in the Pacific Northwest, you could opt for a piggyback plant (Tolmiea menziesii), a native option that doesn't mind being potted up inside, provided you find a spot with bright, indirect light and no direct sun. If you live in Southern California, you could try the common lady fern (Athyrium filix-femina) in a bathroom window, as it likes humidity and some light. In the Midwest, wild geraniums (Geranium maculatum) do well in containers and also don't mind being somewhat in the shade.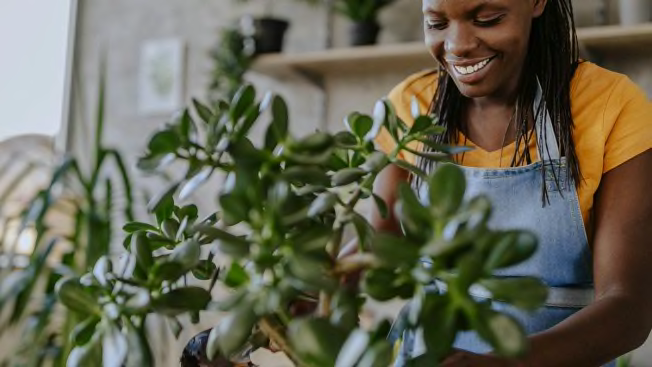 When You've Mastered Caring for Your First Plant, Add Variety
"Different plants introduce more bacteria into your microbiome," says Rojas. "Microbiomes" refers to the variety of bacteria in your gut which can improve everything from your digestive health to your immunity. The more diverse your microbiome, the healthier it is.
The microbiome is present on our skin, digestive tract, lungs, and other external tissues, Rojas says. "Touching plants and soil can help, but you'll also get bacteria through inhalation or ingestion."
Rojas points out that you may want to curb how often you wash your hands to maximize the benefits from plants. "If you wash your hands, you will remove those microorganisms that you touched and those you naturally have in your skin," says Rojas. "Washing your hands is essential to prevent infectious diseases. But doing it too often will also remove the good microorganisms that protect you."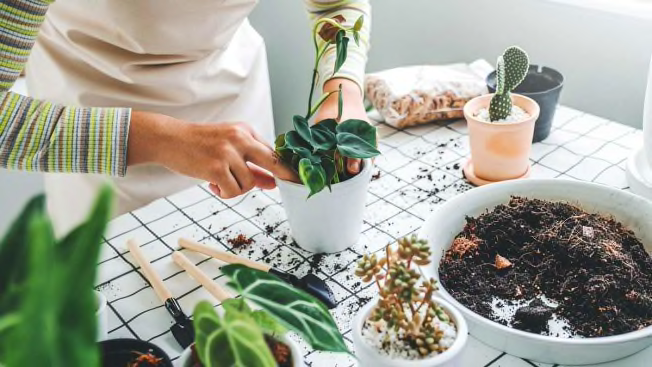 Make the Area Around Your Plants a Comforting Space
Wolf suggests adding comfortable seating to make it a welcoming spot in your home that you want to spend time in. "Create a place that you can become a part of," says Wolf. "You can create an interior-scape. Each of us finds fascination in different plant textures and flower colors and growth. Think, what is a composition that I can build around me?"
When you shop through retailer links on our site, we may earn affiliate commissions. 100% of the fees we collect are used to support our nonprofit mission. Learn more.