When you shop through retailer links on our site, we may earn affiliate commissions. 100% of the fees we collect are used to support our nonprofit mission.
Learn more.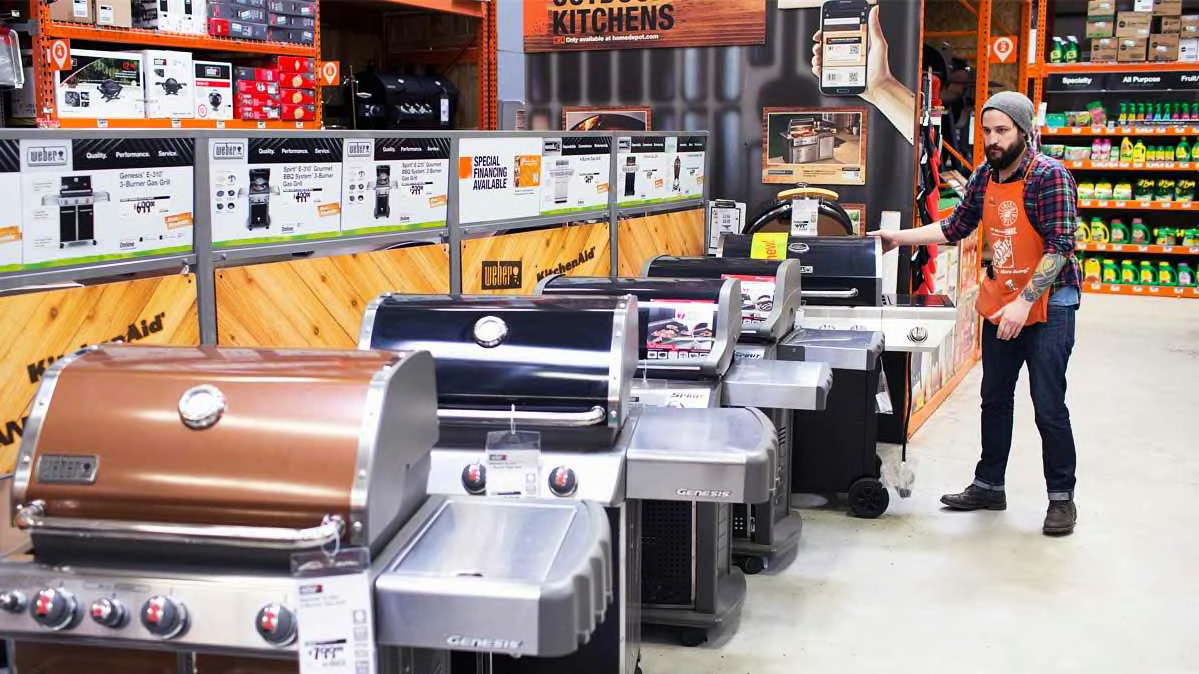 More than 50 percent of gas grills sold in the U.S. come from the home center giants Home Depot and Lowe's. Home Depot alone carries hundreds of models, dozens of which can be found on the floor of your local store. Of course, not every grill it sells is a winner.
That's why Consumer Reports tests dozens of new gas grill models every year. This year we've already added nearly 20 and hope to test an additional 25 before the season is over.
Below, we've compiled a list of the very best gas grills at Home Depot, including models from our latest tests. If you're unsure which size you need or which features matter, start with our gas grill buying guide. CR members can also jump right into our grill ratings to compare models.
Even if, like most Americans, you're under some form of restricted travel or stay-at-home order, you can still buy a grill. Home Depot has more than 300 models on its website.
Because it's a home center, Home Depot is considered an essential service provider. So its stores across the country are still open. Most are running with reduced hours to give employees a chance to restock and clean at night.
"Home Depot offers an exceptionally broad selection of models, particularly online," says Mark Allwood, a CR market analyst who oversees grills. "The website tends to include offerings from really premium brands as well, including Napoleon."
If Home Depot is your go-to, this CR reference guide will help you narrow your selection and steer clear of the losers. If you plan to buy your next grill at Lowe's or Walmart, we've got you covered, too. Check out our expert picks for the best gas grills at Lowe's and the best gas grills at Walmart.
If You Buy a Gas Grill at Home Depot
To ensure that we test the same grills available to you, Consumer Reports' secret shoppers purchase each one we test, either in-store or online. Here's their advice for making it a smooth experience:
In-store
• Check inventory online before you shop. The grill you want might be in a store near you. If it's not, Home Depot will ship it free of charge to a store where you can pick it up.
• Check the grill's dimensions on Home Depot's website or on the grill's summary page in our gas grill ratings. Assembly at the retailer is free, and the company says most grills are ready the day of purchase.

• Check your cargo space. You'll need an SUV or a pickup to haul the grill home. You can also rent a truck at some store locations ($19 for the first 75 minutes) or pay to have the retailer deliver an assembled grill. The delivery fee varies by market, but in most places it's $79. You can have most grills delivered unassembled at no charge. If you opt to rent a vehicle to move an assembled grill, check our quick guide to killing coronavirus in a car.
Online
• Check the box before you start assembling the grill to make sure all of the parts are included and nothing is broken or damaged. If something is missing, call Home Depot's customer service (800-430-3376). If the wait for a replacement is too long, you might try calling the manufacturer directly and pleading your case to get it sooner.

• Check your address. Beginning last May, Home Depot started offering in-home grill assembly to online buyers in the Carolinas, Central Texas, and South Florida for $79 and up.
Best Gas Grills at Home Depot
We test grills from nearly every brand sold at Home Depot, including Napoleon, Weber, Char-Broil, Nexgrill, KitchenAid, Huntington, and Dyna-Glo. Read on for ratings and reviews of the best grills we've tested that are available at the home improvement giant this summer.
One of the models below is exclusive to Home Depot. But for the rest, don't assume that Home Depot will always offer the best deal. It's possible that competing retailers might stock the same model at a lower price.
Worst Gas Grills at Home Depot
Both models below bombed in our evenness test. Without an even cooking surface, you can't even make the basics, like burgers or hot dogs, without burning them in some spots and leaving them undercooked in others.
From the 'Consumer 101' TV Show