When you shop through retailer links on our site, we may earn affiliate commissions. 100% of the fees we collect are used to support our nonprofit mission.
Learn more.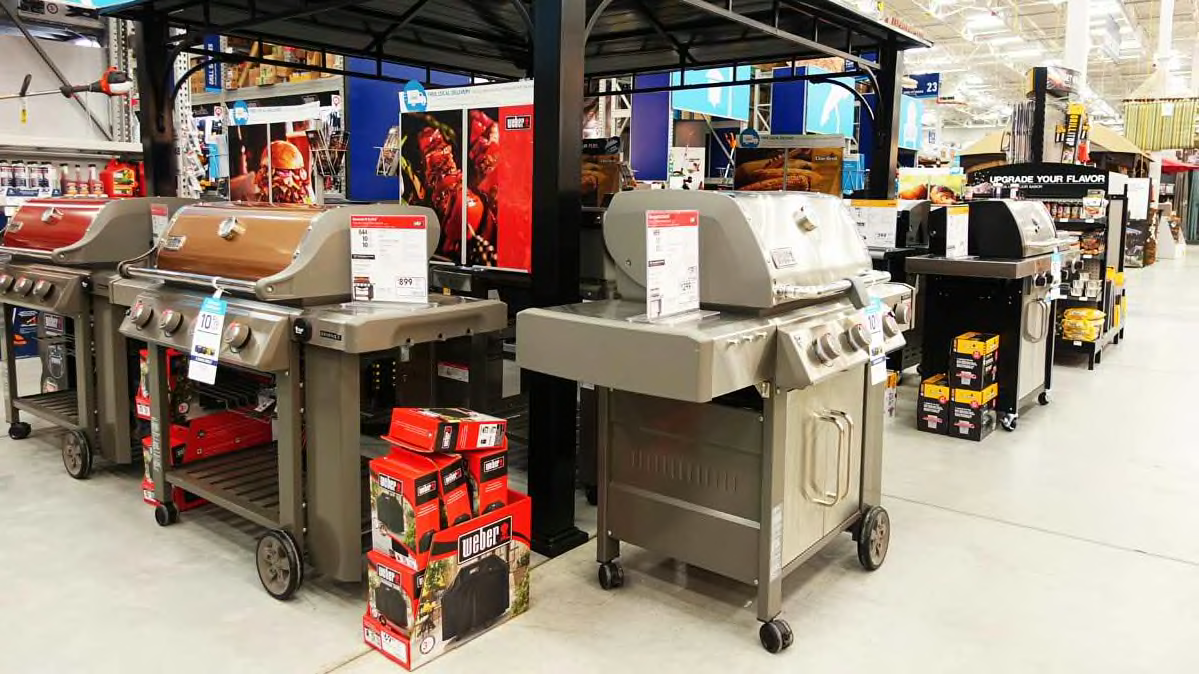 In years past, spring's arrival was announced—at home centers, at least—by an armada of grills taking over floor space and displays. Even now, Lowe's and Home Depot, where more than 50 percent of all gas grills in the U.S. are sold, are still stocking new models.
Consumer Reports tests dozens of new gas grill models every year. This year we've already added over 25, and as of early June our test engineers are in the process of building and assessing about 20 more for this season. That's on top of the nearly 200 that are already in our ratings.
Below, we've compiled a list of the very best gas grills you can buy at Lowe's, including models from our latest tests, in small, medium, and large sizes. If you're unsure which size you need or which features matter, start with our gas grill buying guide. CR members can also jump right into our grill ratings to compare models.
Even if you're anxious about shopping in person during the pandemic, you can still buy a grill. Lowe's alone has more than 200 models on its website. They also offer curbside pickup. With either of those options, be ready to tackle assembly yourself.
"Lowe's offers one of the broadest selections from Broil-King and Char-Broil, two brands that are exceptionally popular with CR members," says CR market analyst Mark Allwood. "But don't buy based upon those brand names alone. Not all their models fare well in our tests."
If Lowe's is your go-to spot, this CR reference guide will help you narrow your selection and steer clear of the losers.
If you plan to shop for your next grill at Home Depot or Walmart, we've got you covered there, too. Check out our expert picks for the best gas grills at Home Depot and the best gas grills at Walmart.
If You Buy a Gas Grill at Lowe's
Consumer Reports' secret shoppers offer these tips for a better shopping experience at Lowe's.
In a Store
• Check inventory online before you shop. The grill you want might be at a store near you. If it's not, Lowe's will ship it free of charge to a store where you can pick it up.
• Check the grill's dimensions on Lowe's website or on the grill's summary page in our gas grill ratings. Lowe's offers free assembly of full-sized grills if you buy in the store, and says its stores usually have assembled grills on hand.

• Check your cargo space. Lowe's will deliver an assembled grill to your home free of charge if it costs $499 or more. Otherwise, you'll pay a delivery fee or you can haul the grill home yourself. (If your car isn't big enough, you can rent a truck at some store locations for $19 for the first 75 minutes.) If you do rent a truck or van to move your new grill, make sure to read our guide to killing coronavirus in a car first.
Online
• Check the box before you start assembling the grill to make sure all of the parts are included and not broken or damaged. If something is missing, call Lowe's customer service (800-445-6937). If the wait for a replacement part is too long, call the manufacturer directly to see whether you can get it sooner.
Best Gas Grills at Lowe's
We test grills from nearly every brand sold at Lowe's, including Weber, Char-Broil, KitchenAid, Huntington, and Dyna-Glo.
One of the models below is exclusive to Lowe's. But for the rest, don't assume that Lowe's will always offer the best deal. It's possible that competing retailers may stock the same model at a lower price.
Read on for ratings and reviews of the best grills we've tested that are available at the home improvement giant this summer.
Worst Gas Grills at Lowe's
The models below struggled with evenness performance, our most important test. Without an even cooking surface, you can't even cook the basics like burgers or hot dogs without fear of burning them in some spots while leaving them undercooked in others.
From the 'Consumer 101' TV Show