When you shop through retailer links on our site, we may earn affiliate commissions. 100% of the fees we collect are used to support our nonprofit mission.
Learn more.
Sure, you can cook a stellar steak without any of these accessories. But with the versatility and safety they add to your outdoor culinary creations, why would you want to?
Digital Meat Thermometers, $20 to $40
Eliminate guesswork behind cooking meat thoroughly. Among the instant-read meat thermometers we tested, the $20 ThermoWorks Pocket RT600C is easy to use and offers fast, consistently accurate readings and auto-shutoff. The $40 Oregon Scientific Wireless BBQ/Oven AW131 is designed to be left in the meat while it cooks. The temperature reading can be sent to the wireless unit while you're about 100 feet away, and offers impressive, consistent accuracy and handy features such as a timer, audible alert, and auto-shutoff.
BakerStone Pizza Oven Box, $120
For grills with three or more burners, place this big, 27-pound, porcelain-enameled steel box on top of the grates. The BakerStone Pizza Oven Box houses a stone cooking chamber that concentrates heat to cook the pizza's top and bottom. We preheated the box for 30 minutes and baked eight fresh 12-inch pizzas in quick succession. They took only about 4 minutes each to bake (and were eaten almost as quickly by testers).
GrillGrates, $85
These interlocking panels made of anodized aluminum sit atop a grill's grates. They're meant to keep temperatures even across the grill and block flare-ups that char food. When we tested them, the grates improved evenness on one grill but not on another, so performance depends on the grill. Flare-ups were reduced when grilling fish but less so with burgers. Price is for a four-pack, which covers a midsized grill's cooking area.
Grill Baskets and Pizza Stones, $15 to $80
Look for a grill basket with small holes to let juices drain so that vegetables won't get soggy but shrimp doesn't fall through. White pizza stones are tougher to keep clean than dark ones, but all got very hot (for crispy crusts) in our tests and need careful monitoring to prevent pizza from burning.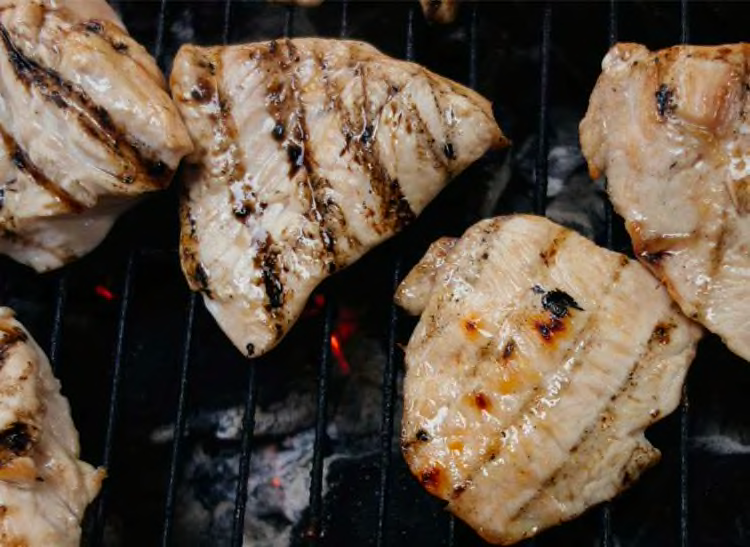 Cook With Confidence
It doesn't matter how beautifully browned your burger looks: If it's not cooked properly, it could make you sick. Be sure to:
• Wash hands, countertops, cutting boards, plates, platters, and utensils with hot, soapy water after they're exposed to raw meat.
• Cook ground beef to 160° F, poultry to 165° F (check with a meat thermometer). Rare or medium-­rare burgers don't reach a temperature high enough to kill harmful bacteria.
• Steaks that have been mechanically tenderized (check the label) should always be cooked to 160° F. The tenderizing process can drive surface bacteria deep into the meat, making it more difficult to kill.
• Eating heavily charred food can expose you to potentially cancer-­causing compounds. Using a marinade could reduce the risk.
Read our special report, "How Safe Is Your Ground Beef?"
Editor's Note: This article also appeared in the July 2016 issue of Consumer Reports magazine.