When you shop through retailer links on our site, we may earn affiliate commissions. 100% of the fees we collect are used to support our nonprofit mission.
Learn more.
Who doesn't love the convenience of a gas grill? Push a button and you're fired up, which is why year-round grilling has become more popular. You won't see many charcoal fans grilling on cold, snowy days. But come summer, they'll argue that the charcoal taste beats all. Hybrid grills, such as the Char-Broil Gas2Coal Hybrid grill and the Dyna-Glo Dual Fuel hybrid grill, let you cook with both gas and charcoal. Consumer Reports tested them and our food experts did blind taste tests of hamburgers grilled using charcoal and gas.
Some people own more than one grill—a midsized gas grill for cookouts, a portable for tailgating, and a charcoal grill when they want to slow-cook ribs or brisket and develop deep flavor, for example. So you can see why more hybrid grills are showing up in stores and online. "Seventy-one percent of all grill owners list 'flavor' as their top reason for grilling/smoking. Adding another fuel simply provides another option for a new, creative way to bring out the flavor in our foods," says Eric Davis, a spokesman for Heath, Patio & Barbecue Association trade group.
So can a hybrid grill do it all?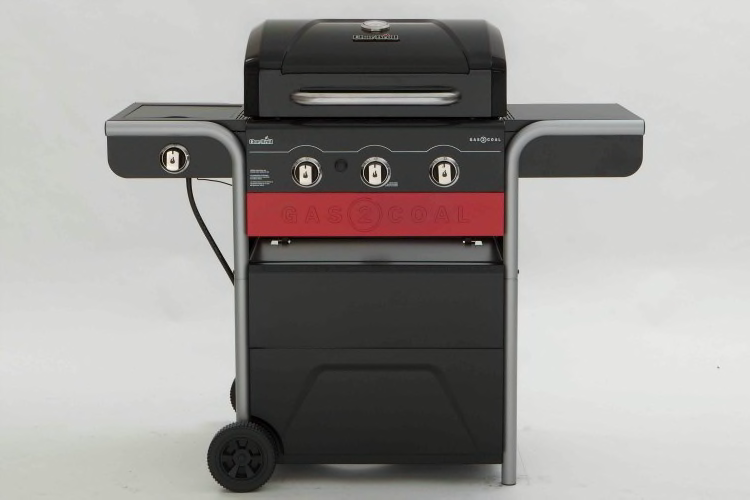 Char-Broil Gas2Coal Hybrid
The Char-Broil Gas2Coal Hybrid 463340516, $300, is a midsized grill, based on our measurements of the main cooking area (it fits 18 to 28 burgers). This hybrid grill lets you cook with either gas or charcoal in the same firebox, just not at the same time.
Grilling with gas. The Char-Broil was excellent in our preheat test. After 10 minutes you can toss on burgers and they'll sizzle. But evenness was just good, so move food around to cook it evenly. The temperature range is impressive. You can grill a variety of foods at different temperatures, and indirect cooking was also very good.
Grilling with charcoal. The Char-Broil gets the job done, but with some compromises. To fire up the charcoal, you place the special tray in the firebox and light using the gas burners. The tray cuts into the firebox, reducing the grilling area to that of a small grill. Heat was uniform across the grill surface but didn't get as hot as when we cooked with gas, and the temperature started to drop about 30 minutes after the coals were ready. The tray holds one layer of charcoal—no adding more as you cook—and you can't adjust its height. So cook fast and watch closely.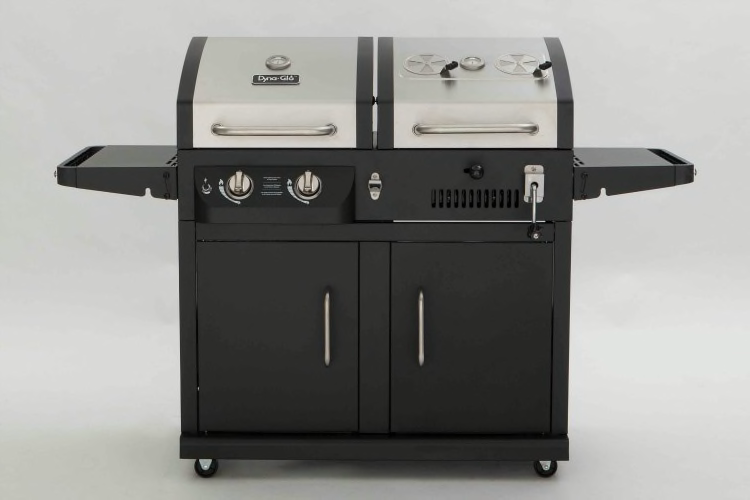 Dyna-Glo Dual Fuel
The Dyna-Glo Dual Fuel DGB730SNB-D, $570, is a small hybrid grill with two same-size fireboxes, one for charcoal and another for gas. You can use them at the same time.
Grilling with gas. The grilling surface fits less than 18 burgers. After 10 minutes of preheating it wasn't hot enough to sizzle burgers so preheat a bit longer. Heat was even across the surface, but the temperature range is narrow, making this grill less versatile than the Char-Broil. Indirect cooking was impressive.

Grilling with charcoal. Now we're talking. The firebox is the type used in a regular charcoal grill, with air vents on the lid and firebox, and you can adjust the height of the charcoal tray. Use lighter fluid, an electric lighter, or a charcoal chimney to get the charcoal going. Cooking area is small, just like the gas side. The charcoal produced even heating across the grill surface even though it didn't get as hot as the gas, and the temperature began to drop about 30 minutes after the coals were ready. Add more charcoal as you cook to hold or raise the heat.
Charcoal vs. Gas Taste Tests
Fans of charcoal grilling rave about the superior taste, so we asked five of our food experts to do two side-by-side taste tests of gas-grilled and charcoal-grilled hamburgers. They concluded that the flavor differences were negligible and would disappear once the burger was on a bun with toppings.

Shopping for a Grill?
Start with our free gas grill buying guide and be sure to read the section on "Grill Brands: What Readers are Saying." Then use our gas grill Ratings to help you choose, and for the first time we offer you brand reliability information. You'll see it in the Ratings.
Email questions to me at kjaneway@consumer.org.