Weber Rolls Out New Genesis II Gas Grills
Consumer Reports has tested the eight grills in the new line
When you shop through retailer links on our site, we may earn affiliate commissions. 100% of the fees we collect are used to support our nonprofit mission. Learn more.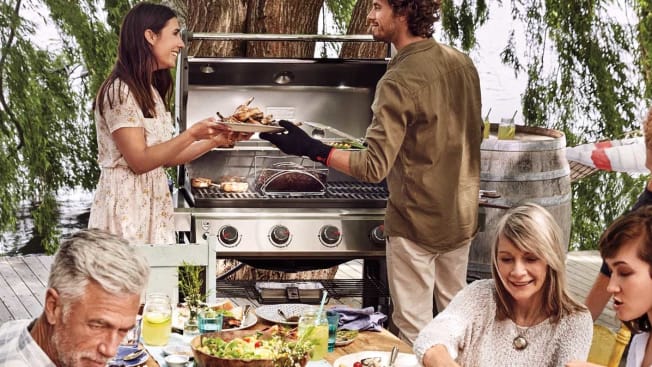 Weber revamped its iconic Genesis grill line this year, rolling out eight new grills that step up in size, features, and price, from two-burner to six-burner. They range in price from $500 to $2,000. To see whether the upgrades are indeed improvements, Consumer Reports bought all of these grills for testing.
What's Different?
• The first thing you'll notice is that the Weber Genesis II grills aren't as blocky as their predecessors: They have rounder hoods and a more streamlined appearance.
• The propane tank has been relocated to the right side of the grill, making it easier to change, and two of the four casters have been replaced by wheels.
• Under the hood and beneath the grates, the burners ports are bigger and rounder, replacing the old slits, and the burners are tapered. Weber says the tapered shape ensures that the heat is evenly distributed across the cooking surface. Our tests found that it is. (Note that the first number in each model name below indicates the number of burners that grill has.)
More Details
Priced between Weber's lower-priced Spirit line and its high-end Summit grills, Genesis II comes in two series: the E line and the spiffed-up LX. We were disappointed to see that the back panels on the higher-end Genesis II LX cabinets are attached with plastic fasteners instead of metal bolts—a corner-cutting measure at these prices. Some of the fasteners on the grills we bought broke during shipping or came out in our grilling lab.
Nuts and bolts aside, how do the new grills grill? All eight scored a very good overall in our tests, and one scored high enough to make our recommended list. We can't speak to the reliability of the Genesis II grills just yet, because they're new to the market. But Weber has been a solid brand, according to our reader survey of nearly 16,000 grill owners.

The Genesis II grills we tested appear here in order from basic to bristling with features.
(Some of these grills are available in liquid-propane and natural-gas versions; some also come in stainless steel or a porcelain-enamel finish.)
All of the grills in the Genesis II E series have an open cart, a porcelain-enameled lid, and porcelain-coated cast-iron grates. Each has an electronic igniter, a fuel guage, a side table, and a 10-year burner warranty.

With room for up to 18 four-ounce burgers, the Weber Genesis II E-210, $500, is in our small-grill category. This two-burner grill was slower to preheat than the top grills in our tests and might need more than 10 minutes to reach the grilling temperature you want. Once it does, our tests show that the temperature remains constant across the grates. Indirect cooking, where food is placed off a direct flame, was very good.
For $200 more, you get a third burner and a larger cooking area, bumping the Weber Genesis II E-310, $700, into our midsized category. Grills in this group can fit 18 to 28 burgers. Performance was similar to the E-210, and indirect cooking was even better.
Stepping up to the Weber Genesis II E-410, $900, grill gives you four burners and a choice of four colors—crimson (shown), copper, black, or smoke. The cooking surface can fit 28 burgers or more, putting it into our large grill group. Of all the E-series models we tested, the E-410 delivered the best heating evenness, which means no matter where you place the food, the cooking temperature is the same. That's important if you want to grill a batch of burgers and serve them all at once.
At $1,300, the six-burner Weber Genesis II E-610 grill has the largest cooking surface of the E-series grills, with room for 28 burgers or more. This is the most expensive in this series, and yet the others in this group performed slightly better overall. So if you aren't cooking for a baseball team, you might want to consider a smaller model.

All of the grills in the higher-priced Genesis II LX series have stainless lids and stainless grates, which aren't as prone to scratching and chipping as porcelain-coated grates. In addition to a side burner, the LX grills have a cabinet where you can stash your grilling accessories and an LED light that shines down from the lid when you open it. The grills in this series also come with electronic igniters, a fuel gauge, and a 10-year burner warranty.

The two-burner Weber Genesis II LX S-240 is a small grill, and at $1,000, it's one of the most expensive small grill in our tests. Heat was fairly well-distributed across the cooking surface and the temperature range was very good, but you'll need a bit more than 10 minutes of preheating to get it nice and hot.

If you don't care about stainless, check out the $900 Weber Genesis II LX E-240. It's the same grill except the lid is black porcelain enamel and the doors are black. (All grills in the LX S series have a similar counterpart.)
For $200 more, you get an extra burner and enhanced performance. In fact, the midsized Weber Genesis II LX S-340 grill is the best of the Weber Genesis II grills we tested, scoring high enough to make our list of top picks. Heating evenness was excellent, and preheating and indirect cooking were just a notch below that.
Indirect cooking wasn't quite as good on the larger, four-burner Weber Genesis II LX S-440, $1,600, but preheating, evenness, and cooking at very low and very high temperatures were impressive. This large grill can accommodate 28 burgers or more.
This brings us to the LX grill with the largest cooking surface, the six-burner Weber Genesis II LX S-640. It costs $2,000 and scores almost as well as the four-burner model above, although its temperature range wasn't as wide. At 6 feet long, it takes up about as much space as a couch.