Best Gas Ranges of 2022
These single- and double-oven models handily aced our rigorous lab tests—hatching reliable batches of evenly baked cookies and melting chocolate with ease.
When you shop through retailer links on our site, we may earn affiliate commissions. 100% of the fees we collect are used to support our nonprofit mission. Learn more.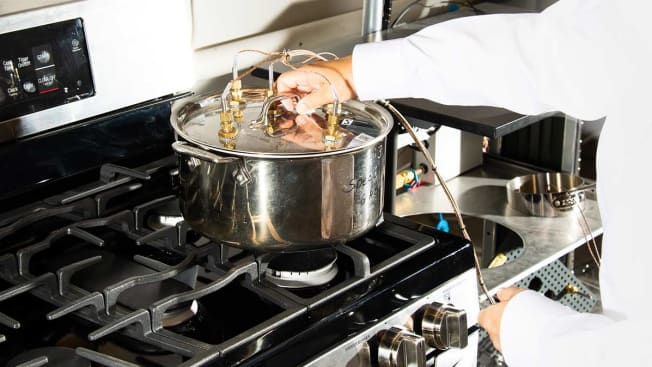 About a third of households in the U.S. cook with a gas range. Its appeal lies in its immediate response, complete with satisfying visual feedback, to a cook's every wish—the flame growing and shrinking with the simple turn of a knob. Gas ranges also work well with almost any cookware, including traditional round-bottomed woks that wobble on a smoothtop or induction range.
While the impact of gas stoves on the environment and respiratory health has stirred controversy, one thing is clear: Ventilation is crucial when cooking with a gas stove. Whether you're stir-frying or baking, turn on your hood, and if your hood doesn't expel your cooking exhaust to the outside, crack open a window.
You may think most gas ranges do a decent job of heating and baking. But in Consumer Reports' tests, some models struggle just to hold a steady simmer or brown a sheet of cookies. In fact, there's a staggering 52-point difference in the Overall Score between the best and worst gas ranges in our tests.
Best Single-Oven Gas Ranges
If you don't typically need to bake or broil more than one dish at a time, consider opting for a single-oven range to save some money. Bonus: You won't have to stoop over as much as with a double-oven model to access your roast.
Best Double-Oven Gas Ranges
These models make baking up two recipes at once a cinch. Be prepared, though, to bend a bit lower than you normally would to access what's cooking in the lower portion.